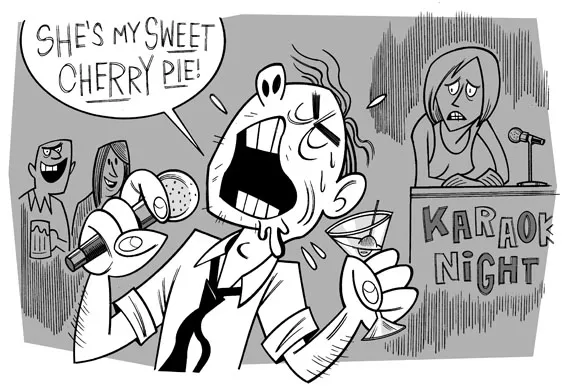 Illustration by Mike Gorman
Karaoke can be a dangerous endeavor. What can you sing that won't make friends shun you? How can you go balls-out during your next performance? Each week in "Ask a Karaoke Host," RFT Music writer and professional karaoke host Allison Babka answers your burning questions about maximizing your melodious mutterings and minimizing your friends' pain. Ask her stuff by emailing rftkaraoke@gmail.com or hashtagging #rftkaraoke on Twitter.
My co-workers who like to get together outside of our cubicle walls occasionally bring up the idea of taking the office out for karaoke (I know an excellent KJ in town). People seem hesitant on pulling the trigger, though. The idea usually gets shot down with a litany of excuses, including that karaoke needs to be "more spontaneous" and that you need the right "motivation" (*tips imaginary bottle into mouth*). I think people just don't want to embarrass themselves in front of the people they have to work with every day. So is karaoke a bad group activity or can an office karaoke night really work? -- Men (and Women) at Work
I love when corporate culture enables mingling outside of the office. Spending time with coworkers because you legitimately like each other instead of because you're forced to do so on a cheesy bonding retreat is an overlooked aspect of good employers. Kudos to your company for being such a friendly place to work.
That said, karaoke can be scary for many people. Maybe some of your coworkers who are down on the idea haven't performed in front of people since a church solo at age six. Maybe they had a terrible experience the last time they tried karaoke. Or maybe they've never sung in public at all. Everyone comes from different backgrounds and abilities, so it's no wonder that performing for strangers, friends and coworkers gives folks some anxiety.
If you really think your group would enjoy karaoke if they'd just give it a chance, you may want to have one of your fun higher-ups bring up the idea, just to set the tone that even bosses are willing to embarrass themselves. You also could start with a small group of folks who are eager to sing and hope that others eventually join you once they hear about your exciting shenanigans.
If you do manage to drag the whole crew to a karaoke bar, try these tips:
1. Let the boss sing first: Your coworkers are going to feel much more comfortable (and not fear their performance reviews will be based upon singing ability!) if a director is the first one up to the mic. But watch out: a boss with average vocal cords is better in this role than a Whitney Houston soundalike.
2. Sing in small groups: Sign up for the first few songs in pairs or trios so no one feels alone on the stage. Don't bring all fifteen office workers up at once, though; there aren't enough mics, you'll sound awful and your KJ will hate you.
3. Be brave: If you've been encouraging your workplace to do karaoke night, then you should be one of the first people to sing solo once everyone is comfortable. Choose something that will be a natural singalong so you can show your friends that the crowd really is on the singer's side.
4. Clap loudly: Your coworkers are going to need all the encouragement they can get. No matter how they sound, be a good cheerleader and give them the applause and wolf whistles they've earned.
5. Share my column: I'm serious. I've got recommendations for the "I'm so scared" set here, here, here and here. Tip sheets and knowing what to expect may help some of your more introverted would-be singers finally go for it. Who knows? Bill from accounting may end up being your company's Mick Jagger.
Oh, and yeah, drinking helps. Buy your officemates a round.
What do you do about girls who wear leggings as pants, are drunk on Long Island iced teas, fist pump with abandon and sing awful songs? -- I Hate Everything About You
As a KJ, I loathe this situation. When I match the five names on the "Shoop" request slip to the ridiculous girls sitting on each others's laps and scrunching up pages in my song book, I put their song off as long as possible, hoping they'll get bored and leave before any of us have to live through what I know will be visual and aural hell. Mean? Maybe. But that's the power that comes with being the karaoke host.
When I can't delay the inevitable any longer, I turn down their mic volume and crank up the music to spare the ears of those in the crowd. I also tweet the awfulness to my 1,551 Twitter followers. You've been warned, people.
What do you think about user-added profanity? Many moons ago, my future wife dared me to drop F-bombs during "Come Sail Away." I won $1. -- Fuck the Pain Away
No one likes a "fuck-er." It might be Adam Sandler-funny at first, but if you drop "fuck" after "fuck" after "fuck" into "Wake Me Up Before You Go-Go," your audience is bound to get bored and your KJ will wish lasers could shoot out of her eyes and disintegrate you. Don't be that guy.
That's not you, though. You sound like the kind of guy who would thoughtfully make sure no children are eating dinner in the bar (it happens) when you're considering going full-pottymouth. The kind of guy who would assess his audience's song interests and humor level before trying his hand at blue karaoke. The kind of guy who would know exactly where to drop the most "fucks" into his song for maximum impact. In other words, you sound like a classy kind of "fuck-er," and I would happily welcome you to the stage.
Unti you fuck it up, that is. Then I'm turning down your mic.
As an in-demand karaoke host at multiple bars and events, Allison Babka receives her share of drunken song dedications, occasionally makes people cry and even has been glorified by a singing psychic. She's considering adding "Call Me Maybe" to her personal karaoke repertoire, and she hates herself for it. Bug her with karaoke nonsense on Twitter at @ambabka, and use #rftkaraoke.
Follow RFT Music on Twitter or Facebook. But go with Twitter. Facebook blows.