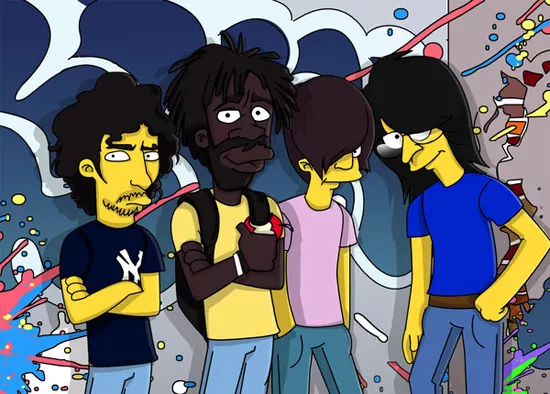 Nattalia Alonso
Bloc Party - Saturday @ The Pageant
Whenever Kiernan Maletsky (remember that guy?) first announced to our small freelance music writing staff that Daniel Hill would be taking over the reigns at RFT Music, it was sort of emotional. Kiernan put in some really heartfelt words. It was nice. Daniel's response? He assured us all that the section would maintain similar momentum but with "a little more Bart Simpson-style mischief."
When I hit up Google to find photos for some of the bands coming through town this week, it only seemed appropriate to use this fan-drawn likeness of Bloc Party. You can check out more of Nattalia Alonso's work here. The Pageant welcomes them along with Reel Big Fish and Corey Smith this week. Read on for some more highlights including The Bad Plus, Natural Child and more.
Foxing Mon., 7:00 p.m., January 14 w/ State Lines, Run Forever, Ethnic Women, Flawless @ Blank Space - $5 By RFT Staff The revival of late-'90s-style emo among the barely legal demographic of Midwestern indie punks is upon us, and Foxing is poised to become the movement's local torchbearer. The quintet's members -- some of whom cannot legally purchase booze -- are lifers in the making, having honed their craft in bands like Hunter Gatherer, Family Might, Badger Hunt and Torchlight Red. With its pedigree, Foxing could apply its skill set toward vulgar displays of technicality, but instead it opts to make the live show a passionate and frighteningly vulnerable experience. What makes Foxing unique is the strange elegance that can result from its willingness to bare its collective bones; in rare moments, the band sheds its similarities to Cap'n Jazz and resembles a less emotionally distant Broken Social Scene.
Reel Big Fish Tues., 8:00 p.m., January 15 w/ Dan Potthast, The Pilfers @ The Pageant - $22.50 By Allison Babka Mainstream ska-punk bands often get thrown onto '90s fad lists, lumped together with Hypercolor t-shirts and Gak as "that thing that happened that one time." But despite pop radio's quick dismissal of the genre, bands like Reel Big Fish have continued to skank away with energetic brass, distorted guitar and catchy lyrics for more than twenty years. Relentless touring with third-wave ska standouts such as Less Than Jake, Goldfinger and Let's Go Bowling has ensured that RBF fans get the most bang for their concert buck, and with The Pilfers and St. Louis's own Dan Potthast on the Pageant bill, this show will be no exception. 'Toon Time: Reel Big Fish stars in and performs "A-W-E-S-O-M-E" in an episode of Waterman, an animated web series that ran 2003-2009. The band also performs the show's theme song, a cover of J. Geils Band's "Give It to Me."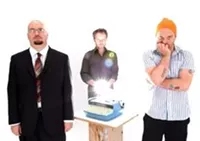 The Bad Plus Wed., January 16 through Sat., January 19, 7:30 p.m. and 9:30 p.m. @ Jazz at the Bistro - $32/$37 By Ryan Wasoba From 2012: Last time The Bad Plus rolled through Jazz At The Bistro, the trio played with the fire of a group intent on proving itself. This time around, pianist Ethan Iverson, bassist Reid Anderson and drummer David King appeared comfortable and relaxed, even when the tempos blazed. The band is touring behind its first album of all original material Never Stop, and its setlist at the 7:30 set on Friday reflected this fact. Gone were the repurposed pop songs, the games of "name that tune" that the trio tends to use as a crutch. By playing its own songs, the Bad Plus forced the crowd to tune in to its impressive, occasionally innovative musicianship.
Natural Child Thurs., 9:00 p.m., January 17 w/ The Brainstems, Rat Heart, Flaming Death Trap @ The Firebird - $10 By Jaime Lees Natural Child is known as a party band, but that's not to say the music isn't good - after years of constant touring and working the 24/7 hustle that is SXSW, the Nashville band is primed for a breakthrough. The music is babe-and-booze-influenced dirty rock & roll, and though it is fun, it's not necessarily low-brow. It's the three members of Natural Child themselves that have the low-brow sense of humor, maintaining a funny online presence that highlights their intoxicated everyman ways. This is a tour kick-off show, so expect extra high energy and on-stage shenanigans. Get loose and participate - don't fight it, just dig it.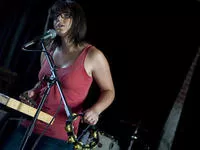 Beth Bombara Fri., 8:00 p.m., January 18 w/ Langen Neubacher and the Defeated County @ Livery Company - free By Christian Schaeffer From this 2010 album review: For her first full-length under her own name, Beth Bombara builds on the singer-songwriter folk stylings and more adventurous rock & roll of her previous two EPs. Wish I Were You culls the best attributes of those earlier releases and amplifies the strains of genteel country-rock and pensive, wizened balladry.
Corey Smith Fri. 8:00 p.m., January 18 w/ Connor Christian & Southern Gothic @ The Pageant - $17.50-$20 By Shae Moseley From 2010: Corey Smith's career took off around 2007, when Internet buzz and the golden age of MySpace helped the independent country strummer gain a large and devoted fan base. But while many of his peers have been swallowed up by Nashville's current love affair with all things Deep South, Smith has remained his own man. The former high school teacher tours incessantly and crafts the gritty, charmingly dirty country music that his supporters have come to love and expect.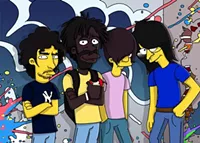 Bloc Party Sat. 8:00 p.m., January 19 w/ IO Echo @ The Pageant - $25-30 By Ryan Wasoba Emerging amongst a scene of new wave revivalists, Bloc Party was never a band with obvious staying power. Its debut Silent Alarm was fueled by unsustainable energy and the breakthrough "Helicopter" still sounds like a song played at gunpoint. Bloc Party used subsequent releases to chill out, sharpen Kele Okereke's soul-punk vocals, and buy more pedals for sometimes-genius guitarist Russell Lissack. Creative results were mixed; commercial results took an obvious downturn. After a three year hiatus that seemed even longer, Bloc Party's new album Four is not its best, but it doesn't have to be if it puts the band back on the road.
Tetsuo Sat. 8:00 p.m., January 19 w/ Beach Bum Alcoholics, We're A Happy Family - a tribute to Ramones, Resoldered @ Lemmons - $5 By Mabel Suen Take a mixed bag of rock influences like Fugazi, Modest Mouse, Television and the Pixies, and here's what you'd get: tongue in cheek lyrics, raw garage sensibilities with occasional hints of post-hardcore, and guitar lines that sing over solid, steady power chords. That description also fits Tennessee's Tetsuo, in which frontman and guitarist Ardis Redford projects his grittily sung words over the expertly-executed rock & roll of his bandmates. Tetsuo has had plenty of practice over their three prolific years together, including hundreds of shows and an album for every year they've been active. Stream all this music online for free and then catch the band in action.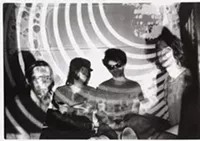 Troubadour Dali Sun. 7:00 p.m., January 20 @ Off Broadway - free By Christian Schaeffer From 2011: Troubadour Dali writes pretty good songs, but the psych-rock band is better at making albums. Its swirling sonic palette doesn't alter much from track to track -- jangling British Invasion-era licks, fuzzy, buzzy bass lines and coolly arid vocal performances set the stage for nearly every song, and they often bleed into each other after a few listens.