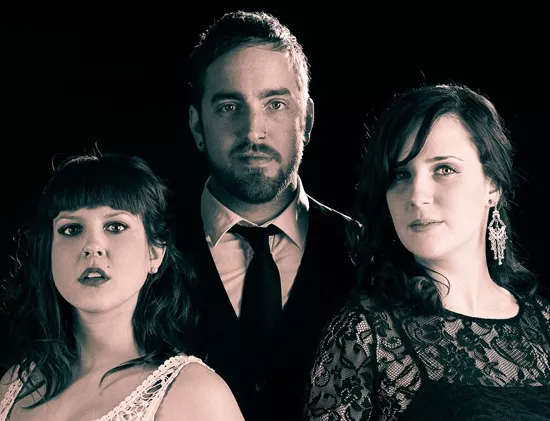 Wax Wine CD Release - Saturday @ The Firebird
Making an album is a damn fine accomplishment, be it a self-mixed basement recording hand-dubbed to limited tapes, a mass quantity of printed CDs that might ultimately end up in the bargain bin or even a pricier high-end studio recording committed immortally to vinyl (ok - perhaps records are a tad more susceptible than I'm making them out to be). Whatever the case, the initiative and hard work required are certainly to be noted.
A slew of St. Louis artists are releasing new material to start the year off strong. As noted in this week's show announcements, artists such as DinoFight! and Thelonius Kryptonite have release parties planned for the next month or so. This weekend, look forward to fresh tracks in compact form from Melody Den, Wax Wine and The Trophy Mules. Read on for more on these shows and the rest of this week's picks.
Friday:
Bruiser Queen w/ 33 On the Needle, The Cuban Missiles @ Schlafly Tap Room 9 p.m. | free Melodic rock and punk sounds abound during this all-locals bill of charismatic crooners. (MS)
CALILUV w/ ChrisB., Trill Murray, jOBOT and more @ 2720 Cherokee 8 p.m. | $15-18 Hey lookit, EDM fans: I am paying attention. This show will be a huge, loud party, importing talent from California with several openers. Wear brightly-colored clothes.(DH)
Consonant Drift w/ Jake Leech, Syna So Pro, Eric Hall, Travis Bursik, Kevin McDermott, Mikey Wehling @ mushmaus 8 p.m. | $5 Bundle up and absorb atmospheric disturbances as six solo performers conjure ambient, textural sounds using elements such as drone and voice. (MS)
Post Xmas Multimedia Satanic Meltdown: Solidarity with Satan w/ Kevin Harris/Nathan Cook, Wamhoda, No POMO/Textbook Punk @ Blank Space 9 p.m. | This weirdo dance party features visual media from local artists to accompany "the soothing sounds of solar-techno-lazer-house." Not sure what that means? Neither are we, and there's only one way to find out. (MS)
The Trophy Mules CD Release w/ The Bob Band @ The Stagger Inn Again 9:30 p.m. | $3 I had not heard this band before going over the shows this weekend, and once I found some streaming tracks I listen for the next hour at least. Exceptionally well-played, pleasant country / americana. (DH) The Scam - Sunday @ Lemmons
Saturday:
Seymour Awesome @ Cicero's w/ ProbCause, 12 to 6 Movement, Timmy Stallone, Metropolotix, Jonezy 8:30 p.m. | $7 Seymour Awesome lists influences by Wu-Tang Clan, weed, and skateboarding. Seymour Awesome and I have a few things in common. Oh yeah, the music is good too. (DH)
LaSalle Park Music Festival w/ Bo & The Locomotive, Pernikoff Brothers, DJ Mahf, 18andCounting, Elemental Shakedown, Goodness Gracious, Spectator,The Reverbs, Mathias & The Pirates, Downstereo, Bruiser Queen, (it!), Beth Bombara, Rucka Puff & Toilet Water, Mikey Wehling vs Adult Fur DJ Set A-Game, Acoustics Anonymous, Scarlet Tanager, Mom's Kitchen Acoustic, One Take @ Old Rock House 4 p.m. | $5-10 This event is RFT-sponsored and loaded with several of St. Louis' best artists. Hey, remember how you guys all miss that guy Kiernan Maletsky? Well, he helped pick the line-up for this thing, so consider this show a parting gift. (DH)
Melody Den CD Release w/ Saint Gnome, Half Knots @ Off Broadway 8 p.m. | $10 Tune in for musical story time with Americana outfit Melody Den's release of their new album "Storylines." (MS)
Wax Wine CD Release w/ Ian Fisher and the Present, Frances with Wolves @ The Firebird 9 p.m. | $7/$12 Keys, cello, drums and soulful vocals make up Wax Wine. RIYL: Tori Amos, Fiona Apple.(MS)
Sunday:
The Scam w/ The Haddonfields, The Unmutuals, Gerry's Kids @ Lemmons 6 p.m. | $5 Gerry Lundquist, trombonist of Skankin' Pickle and hometown heroes MU330, has mounting medical bills and could use your help! Read more about it here. (DH)