There were a lot of grim faces on Monday morning as the electro-loving masses emerged off the MSC Poesia -- a.k.a. the EDM party boat Holy Ship!! -- and did a slow zombie shuffle through U.S. customs and back into the real world (a.k.a. Fort Lauderdale). Here in the industrial port, the sky was overcast, a light rain was falling and all 3,000 of us were thinking something like, "Whoa, wait weren't we all just on a private island together partying on the beach, dancing, and feeling like we had all collectively won the game of life?"
See also: - Holy Ship!! Day One: A Surprise Guest Whose Name Rhymes With Drillex - A Dude's Dream Comes True Aboard the Holy Ship!!
Oh, you weren't there? Here's what it was like during the second and third days of Holy Ship!! 2013:
Saturday night
7 p.m.: The costume theme for the night is "Ghost Ship," which of course means a lot of scantily clad ghosts dancing to Jack Beats, Dillon Francis, Zedd and Tommy Trash, who are all playing the main stage tonight.
5 a.m.: Italy's Crookers destroys the floor in a relentless and well-attended set that brings temperatures in the room way up. Lots of people sweating through their shirts, and many shirtless. One woman wears nothing but a ship-provided bathrobe.
Sunday morning
8 a.m.: On the main deck, a faction of people who have not yet gone to bed sit around a table by the pool with dazed looks on their faces. They drink potentially soothing beverages including coffee, milk, Bloody Marys and vodka Red Bulls, which is a bold move this early.
11:30 a.m.: Haggard-looking folks including myself file onto a smaller boat that will take them from the Poesia to the day's private island beach party in the Bahamas. There is a collective hangover in the air and everyone looks approximately as happy as the people on the Titanic at crunch time. It was a big night we all just had.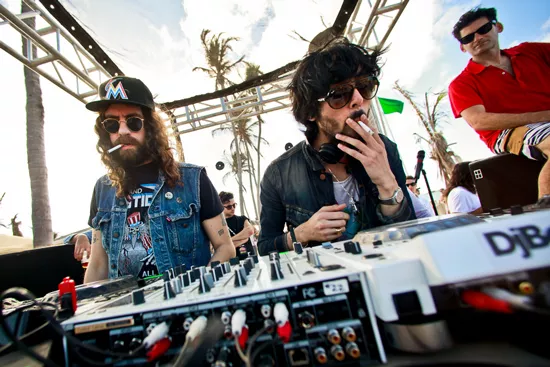 Ian Witlen
Justice on the beach.
12:30 a.m.: On the island, Brodinski is on the decks. He's followed by Diplo and then Justice who is joined by Boyz Noise and Jimillionaire, Destructo and... what the hell I can't really keep track of everyone who's up there right now but it's basically an all star DJ stew onstage. Everything they're dropping is right on, at least as gauged by the MTV Grind-style booty popping happening on the beach and in the water. It seems most everyone has rebounded in a big way since the sad sack boat ride over here.
Katie Bain
Diplo, Gary Richards, etc.

2 pm: Justice plays not one but two Will Smith samples, "Getting Jiggy With It" and "Miami," which are very much appreciated, at least if you happen to be I.

2:30 p.m.: Diplo joins fans on the beach, making people's days as he works his way through the crowd in his swim trunks shaking hands and posing for pictures. Women in particular react with looks ranging between "excited" and "I'm about to lose my mind right now."

4 p.m.: We take the boat back to the Poesia as the sun begins to set. Onboard people are eating, napping and showering. It is the calm before the storm, with the impending storm being relentless bass music, adrenaline and alcohol.

10 p.m.: The Major Lazer-sponsored Blue Beard's Booty Club is happening in the Zebra Bar, where Jillionaire does a set that even the security guards are dancing to.

12:30 a.m.: Into the Teatro Felice, where an epic three-hour hip-hop marathon is just getting started. The room goes from zero to hyphy in a quick minute as we all rap along and get low, get low, get lower. ("Pony" by Ginuwine happens.) Participating DJs include A-Trak, Brodinski, Skrillex, and Skream. Possibly the show of the weekend.

3:30 a.m.: I momentarily tag along with Skrillex and his crew as they move through the boat, and watch fans thrust themselves at him, gushing about how much they love him. Like, literally yelling it in his face. He's gracious.

5 a.m.: A girl in the bathroom announces how she almost got a picture with Diplo on the beach today but the battery in her camera died the moment her friend pressed the button. "I'm not sure," she says, "that I will ever get over it."

5:30 a.m.: On a back deck, an observer posits that while many of the ships we can see in the distance might be hosting similarly ecstatic experiences for their guests, (this part of the Caribbean seems to be some sort of cruise ship parking lot), ours is likely the most culturally relevant ship out to sea, because ours is the one hosting ground-breaking artists and music. A waning crescent moon rises over the sea and reflects on the water. It will be a bit sad when this is over.

Monday

8 a.m.: An impossibly loud announcement comes over the loudspeaker saying that it's time to begin the disembarkation process. This is crap news for everyone who went to bed two hours ago or less. Back to sleep.
Katie Bain

9:30 am: Another announcement comes on from a man who identifies himself as Sgt. Buzzkill (the same dude who sent out a mass e-mail before we took off reminding attendees that "marijuana is federally illegal, even if it's prescribed to you by a physician in your state"). He informs us that there will be drug dogs waiting for us when we get off the boat and that it is illegal to bring substances including vegetables and "freshly harvested human organs" off the ship. In a fit of panic, I throw my freshly harvested human organs overboard and drag myself to the shower.

11 a.m.: The Fort Lauderdale airport looks like a raver refugee camp with worn and haggard Holy Ship!! attendees passed out all over the floor. I put on my headphones, pull up Spotify's "soothing ocean waves" track and sleep until I hear the final boarding call for my plane home.