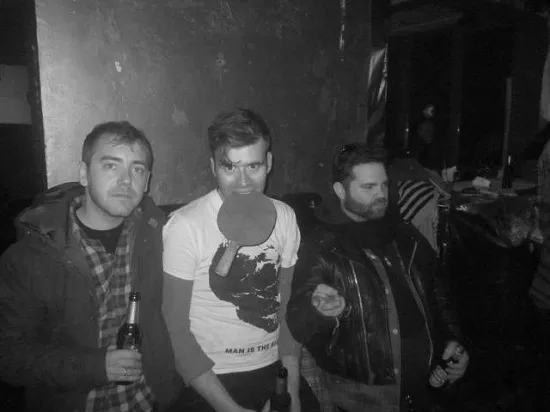 Doom Town in Hamburg, Germany
Hard times, high gas prices and an ill economy did little to derail local artists from expanding outward in 2012. As a musician, I've never seen so many of my peers crawl out from these red brick buildings to push their River City sounds than in the past 12 months. Many return with invaluable advice on touring and supporting fellow artists.
"Always change your underwear," says Josh Jenkins of local post-punk trio Trauma Harness." If you don't change your underwear, after a couple days you'll start to smell," he says.
See also: - The Best Hip-Hop Release to Come Out of Saint Louis This Year - St. Louis Music in 2012: Break 'Em Off with a Little Review of the Remix - The Six Most Absurd Pop Songs Of 2012
St. Louis bands were everywhere this year. Pokey LaFarge and the South City Three appeared on Jools-Holland on New Year's Day. Doom Town ripped through Europe in early January, bringing back a tighter and more world-weathered punk rock. Before February came, St. Louis sent out Britches to sling esoteric noise down the collective Midwest's throat. Britches would crawl back out several times before a hiatus.
Yowie brought a mindful mess to progressive music this year, releasing Damning With Faint Praise. Yowie spread that wax abroad in Europe, and encountered obstacles missing from the typical trek through America.
"Figure out roughly what currency equivalent you will want for your merch in each of the countries you visit. Try to stick to round numbers. Change can be a bitch. Euros are easy. The other ten currencies you will be futzing with are not so much," says drummer Shawn O'Connor. "You will rarely be able to find regular bottled water in Europe. It is usually sparkling, which is pretty gross. If you are like me and just want to use tap water, make sure you look around for signs that may say, in German, 'NON-POTABLE; DO NOT DRINK,'"
Springtime shot hardcore heavies Overdoser and Who Fucking Cares? up the East Coast and back while noise tanks Global Distance and Radiator Grays followed close behind. Raglani piled on modular mania with Keith Fullerton Whitman in New York, Boston and Philadelphia. Summer in St. Louis feels like breathing in a swamp; Volcanoes escaped that humid mess with a jaunt across the country flaunting their disco-through-distortion sound. Catholic Guilt sweat it out with improvised noise jams, spreading its River City juice to beyond and back.
Yowie, making London a noisier place
Tied for cutest indie-rock duo, both Sleepy Kitty and Bruiser Queen shot through many major cities. Everything Went Black primed local metal and toured relentlessly all year long. St. Louis psychedelia matured in 2012, giving Kisser, Bug Chaser and Little Big Bangs proper bodies to move and shake through the South and Midwest.
"Make connections. Should you meet nice, welcoming, honest and genuine people or bands who share your influences, build a relationship with them. It could lead to new opportunities for collaboration and new friends," says Eric Boschen of Little Big Bangs. Her summation is right.
The general flow goes like this: St. Louis-based freaks open for Band A from Chicago, in St. Louis. These freaks bring their pals and fans to share in the show. Several months later, our aforementioned freaks drop a line to Band A asking for help with a show in Chi-town, and said band reciprocates. Many bands live through this collective effort. Give and receive, but be fearless.
"Always talk to touring bands that come through St. Louis." says Brian Fleschute, who performs and tours with The Pat Sajak Assassins while managing events for local venue Lemmons. "They know the best places to play in their home town and places to visit while you're there. Once you build a relationship, offer show swaps. Offer places to stay if you can. Once you go out, most bands will return the favor. As a booking agent, I would say keep contacting places until you get an answer. It's never a bad idea to be a little pushy."
Chris Eck and Ben Salyers share in this line of thinking, and continuously brought new bands to St. Louis throughout 2012 while their group Shaved Women trekked the East Coast, playing Cropped Out Fest in Louisville and celebrating two 7" release shows in Chicago (on the same day). Most recently, Shaved Women and sister group Violations swapped punk-rock flavored spit with Iowa City in a show trade featuring Midwest brethren Nerv.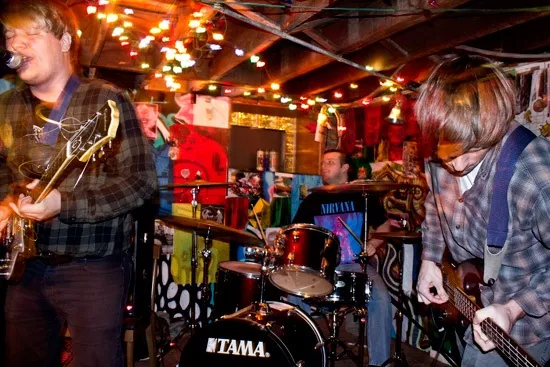 Mabel Suen
Trauma Harness in Columbia, MO
AJ Hofstetter hit the grindstone with booking post-hardcore at the Lemp Arts Center, CBGBs and other venues about town. Hofstetter's group Anodes debuted in March with a week-long tour that included two dates at SXSW (unofficial, of course). Anodes makes one think differently about emo with an oppressive wall of sound--melodic and intentional.
Local bands are becoming emboldened enough to venture outside of St. Louis' borders due in part to continued support from local fans and media. Promoters like Mike Cracchiolo and Johnny Vegas drive local artists into opening spots for buzz-worthy touring bands. DIY show bookers such as Luc Michalski, Rob Ruzicka, Meghan Cowling, Tiffany Minx (just to name a few) helped pack South city basements, riverside vans and other non-traditional spaces all year. Former venue Pig Slop brought a pile of noise artists north to a church in Chicago for a party more sacrilegious than usual, featuring Beauty Pageant, Melanympha and more.
Mushmaus and Blank Space are two of many new venues in town providing places for musicians and fans to meet and mingle. Videographers Chad Eivins and Graham Matthews document the local scene persistently through frequent footage featured on Youtube and Vimeo. The area's most talented photographers captured many moments through memorable images.
No effort could comprehensively count the heads and bodies responsible for the bevy of events, parties and media St. Louis has to offer. Our city is no stranger to segregation, and its art reflects the divides constructed through the music scene's many cliques and genres. The desire to expand and grow outside of city limits unites the sum of our local efforts. These groups merely start the list of St. Louis' outward growth -- I could continue. The Conformists, Jack Buck and IT! left town. Let's talk punks. What about Voight-Kampff or Lumpy and the Dumpers? The road has been hit. The breadth of travel feels staggering. 2012 clearly marked a collective scene looking at the bigger picture. As a fellow musician, I'm welcoming the shift.