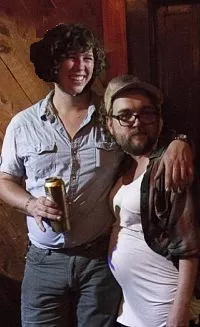 The author, Cassie Kohler, and his girlfriend Ryne Watts of the Hobosexuals
Editor's note: Yesterday we published a blog post entitled Six Tips for Dating a Musician, which was well-read and (mostly) well-recieved, but we did get some blowback, and accusations of sexism (most notably, in this lengthy post from singer / pianist / composer Normandie Wilson). We gave the issue some consideration, and you're right! Please accept these new tips for dating female musicians, with our apologies.
Musicians have an uncanny ability to send shivers down the pants of even their most a-sexual of onlookers. Even the ugliest asshole on the planet, wielding his/her musical weapon of choice in front of a crowd, can garner the underwear-throwing attention of an audience. Musicians uphold, perhaps even created, the "cool affect." Some people simply want nothing more than to be a part of their club. I spent the last year head-deep in that club as a boyfriend-of-a-musician -- these are the lessons I quickly learned. All of these tips work just as well for girlfriends of male musicians too, by the way. Or girlfriends of girlfriends, or boyfriends of boyfriends -- whatever turns you on, as they say.
1. Don't Yoko Ono
Seriously, it's the biggest cliché in the book -- do you want to be a part of it? Your girlfriend is a wonderful musician. She works very hard, but she is not always better than the rest of her band. She does not need to branch out and gain more recognition and individual praise from the music community. That is what you are there for (see The Support Factor).
In short, she is not always the best part of the band. The band unit is a highly important force -- their bond fuels their collaborations and it is the combination of their ideas that make their music. They need to fight, they need to get trashed together, or break things or do whatever it is that feeds their inspiration. They need each other, and it is your responsibility to make sure that you don't get in the way.
Do not beg her, in your infinite neediness, to stay home from band practice. Do not yell at her and tell her scornfully that the band is more important than you are (if it is more important, you'll find out the hard way). Do not bogart her attention at shows (see Proper Show Behavior). In fact, do not bogart her attention ever, but especially from people within her music community. Music is a part of her that she cannot explain to you. It makes up a large part of who she is, how she looks at the world and how she sees herself fitting into it. To be a part of that, you must learn your place.
2. The Support Factor
You must support her music. After all, it is likely the reason you were attracted to her in the first place. In that case, there are areas wherein you can extend a helping hand. Help carry gear or merch if you can. Musicians have a lot of baggage (and more than just the emotional kind that seems to shine through in their songs). Instruments, amps, merchandise: They all need to make it to the gig. If your car is needed, offer it. And after you're done loading it all it, stay. You should go to as many shows as humanly possible (see Proper Show Behavior). Your presence there is very appreciated. Encourage practices, bookings, writing; encourage the good stuff.
Part of the local scene is networking. She needs to not only book her own shows, but also to go to other people's shows. Her friend's, the local DJ's event, this party, that party; she needs to show her face around town. Everyone knows everyone in St. Louis, and the more people she knows in the local scene, the better. Be the pretty face on her arm that understands her and her music. Be her networking buddy.
In order to not Yoko Ono, you must be on board for whatever she needs musically. Lastly, if you don't like her music, you are dating the wrong musician. Do not try to veer her a new direction. She creates what she wants to create -- bottom line. Which leads me to number three.... 3: Balance Your Opinion
You are not her manager. Maybe at home your word is law, but not here. Your opinion needs to be perfectly balanced. She will probably ask you what you thought of the set or new song or album. Remember, you are there to support, so you think it sounds good. But that doesn't mean you can't tell her when it sucked. Tact comes in handy. Start with what was good and then add your true opinion. If you are attending shows a lot, remember that not everyone there has seen the performance over and over and therefore probably didn't notice the tiny mistake. Take things from the position of the crowd. When things are rough, let her know, that way she can improve them next time around. "Honey, you just can't have eight whiskeys before you go on stage. Puking in the bucket did not make the set cooler."
4: Proper Show Behavior
Do not distract her from the show. She is focused, she is determined, she is trying to perform. So please, do not yell out "That's my girlfriend" or "That's my baby momma" while she is on stage. You may get bored while she is up there. Maybe you have seen her perform over 100 times. No matter what, do not turn into a wasted mess. Save the nights that you need a babysitter for when she is not playing; she is not going to come off the stage and stop you from making an absolute fool of yourself. Plus acting a fool makes her look bad. St. Louis is a small city, people will find out. Do not be this dude.
While you are enjoying her set, sipping casually on your drink, understand there may be a hole you need to fill. This hole is the merchandise booth: Work the merch booth if no one else can. This typically happens while the band is actually on stage, but it is during this time that fans decide whether or not they are going to buy something. If no one is there to take the money, one of two things will happen: They won't buy anything or they will steal it.
Lastly, do not get jealous if dudes hit on her. Remember when you were gazing at her from the crowd all googly-eyed? Well there are other dudes out there doing the same thing. They are going to want to flirt with her. They do not know or care if she is in a relationship with you. Trust and have faith, unless you have already broken some of these rules, she is still most likely coming home with you at the end of the night (especially if you have driven her and helped carry all of her gear). Flirting with boys is part of the job. It usually gets them to buy stuff. 5. Be a Modest Muse
Accept that she may write songs about your personal lives. Then, she will sing those songs to masses of people that you know and don't know. She will describe your deepest romantic moments and most insane freak-outs to strangers. Possibly worse than this, is that she will tell them to your closest friends also. They may learn your favorite sex position, your secret nicknames, or that you like to pee with the bathroom door open.
Get used to it, but don't get a big head about it either. No one wants to continually be reminded that "This song is about me!" They probably already figured that out. (If you need to get out the excitement that you are a musical muse, go listen to the Naked and Famous' "Girls Like You" in your headphones while you dance around your bedroom in your underwear, double checking how hot your bod is in the mirror.)
Accept that she writes song about other people. You are probably not the first boy she fell in love with. They have songs too, and she's not going to stop playing them. Plus, not every song out there is about romance and heartbreak. Inspiration finds her in the strangest places. Her father, her love for booze and weed, her best friend, all the times she got mugged: All these and more will probably enter the picture at some point. I once witnessed a city squirrel inspire lyrics: "Ghetto squirrel, where do you hide your nuts?"
6. Music Talk 24/7
She's a musician. She loves music. She will want to talk about music at every chance she gets. Not just her music, but her friends' music and the music that she loves and strives to emulate. If you're not into this music, that's okay, but don't sit around bashing the things she thinks are great. If you can't find common ground when it comes to music, you are dating within the wrong genre. You can have different tastes, but you are going to need to be open and understanding to her likes and dislikes, as she will need to do the same. Sometimes you won't want to hear about the same album that changed her life over and over again -- but you are going to. Get used to it, and try to love that album also.
In short, if you're not into talking about music, going to shows, or hearing songs about yourself...you need to stop dating a musician.
Follow RFT Music on Twitter or Facebook. But go with Twitter. Facebook blows.