Nelly's 7th Annual Black & White ball was this weekend at the St. Louis Science Center. The charity event brought out some of the city's best and brightest, all dressed in finery for an evening of music, food, drinks and hobnobbery. Also in attendance were a couple Stag-swilling chumps with absolutely no money invested in the stock market: Namely, myself and fellow RFT Music writer Ryan Wasoba. Here's how our night went.
See also: -Nelly's 2012 Black and White Ball: Slideshow -Nelly's Black and White Ball: 2010 -Here is Nelly Performing "Hot in Herre" with the Roots (Video)
5 p.m. We head to Value Village to purchase suits, me because I don't own one and Ryan because he did not know he was going to the Black & White Ball when he left home this morning. Total cost of our evening's attire: $23, combined. There is a faint series of chalky stains on the edge of my jacket I choose to not think too hard about.
Ryan Wasoba gets ready for the Ball.
7:30 p.m. We get to the Science Center, where it is immediately apparent that if we are not the worst-dressed attendees of the 7th Annual Black & White Ball, we are at the very least those with the loosest-fitting clothing.
7:45 p.m. People keep arriving and posing on the red* carpet. A gaggle of press photographers click into action. I assume these are movers and shakers but I am not in the movers and shakers club so I don't know for sure. Definitely I recognize Joe Edwards, Murphy Lee and Steven Jackson, who is noticeably limping, maybe because he spent his afternoon getting hit by men the size of trucks.
*actually black, in this case, which I guess is in keeping with the theme anyway.
8 p.m. Ryan Wasoba engages the two blue-clad security guards at the entrance to the Exploradome, where the Ball is being held. It goes like this:
Ryan Wasoba: Are you with the Science Center? Security Guard: Yeah RW: How much would it take for me to ride a dinosaur? Security guard: There ain't enough money for one of those, even Nelly ain't got enough money for a dinosaur RW: I don't want one, I just want to ride one. You can have it back after. Security guard: Ahh, nah, man. RW: Fifteen dollars. Security guard: This guy's trying to pay me fifteen dollars to ride a dinosaur! RW: Sixteen.
8:15 p.m. Cirque act the Skating Aratas performs. There is stripping of clothing and precarious flinging of the woman by the man. I'll let Nelly describe the situation, as he did later from the stage: "If you gotta skate around a coffee table, skate! Do whatever it takes to make your marriage work."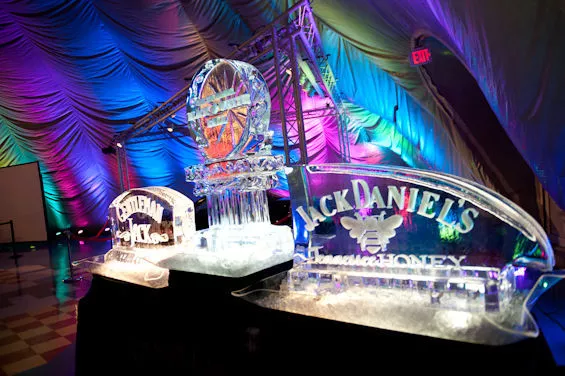 8:30 p.m Seviin Li performs.
9:00 -ish Sponsor Gentleman Jack is blurring my eye for detail, though it is taking much longer than anticipated because the bartenders are forbidden from just pouring anyone a whiskey on the rocks. "There has to be some kind of mixer in it," I am told. Probably a smart move, given that there are four open bars and an ice luge for shot-taking.
9:00 -ish Oh right. The main focus of this thing is to award full scholarships to two area high-school students to attend Lindenwood University. This year's winners are Jordan Powell and Leticia Goss. Congratulations to them and best of luck in St. Chuck.
9:30 p.m. Dessert is served. It includes mini-cupcakes with arches and 3D Cardinals logos on them and cake pops dressed as tuxedos. They are delicious and we eat an inordinate number of them. I'd feel worse about that except every time I came back the plates were miraculously full. I realize that just means someone was replenishing them, but I never once saw anyone actually in that act. And it seems like I should have. There was very, very little time between most of my return trips. The service is superlative, is I guess what I'm getting at.
10:20 p.m. A promo is aired for an upcoming TV show entitled Real Husbands of Hollywood. It features (among others) Nelly and Nick Cannon. So...get excited.
10:30 p.m. The night's special guest turns out to be Taylor Dayne. During the hosts' (Darius Bradford, Curt Copeland and Mike Claiborne) fairly lengthy introduction, Ryan walks up to a woman standing by the stage.
RW: Wait, are you Taylor Dayne? Taylor Dayne: I might be. RW: Do you really have ten different top-ten singles? Taylor Dayne: They messed it up. I actually have seventeen. No, eighteen. RW: You have eighteen top-ten singles? Taylor Dayne: Yeah RW: That's like, 180 singles Taylor Dayne: What?
Jon Gitchoff
Special guest Taylor Dayne
10:45 p.m. Rapper Tab (Nelly's nephew) takes the stage. The crowd livens up immediately. But don't take my word for it:
RW: Who's better, the person on stage right now (Tab) or Taylor Dane? Random guy: Aw man... RW: You have to decide. Random guy: Look at the crowd, man. They're getting into this shit. They've decided. RW: So you're not a Taylor Dane fan? Random guy: Who the fuck was that? Who the fuck's idea was that? That could have cost somebody a lot of money. RW: Tell it to my heart. Random guy: What?
11 p.m. Nelly, Murphy Lee, Kyjuan and friends get on microphones. At this point the evening goes from a very nice event with some very well behaved people to a real, actual party. Ryan and I both go stand in front of the stage with everyone else, singing along to the hits. Nelly says, "If you're on the fence about rap music, now would be a good time to leave."
Not many take him up on that. Nelly may have taken his act (and many aspects of his appeal) from the city to deep West County. But old, young, black, white, the one percent or the 99, it doesn't matter: In St. Louis, this man is still king.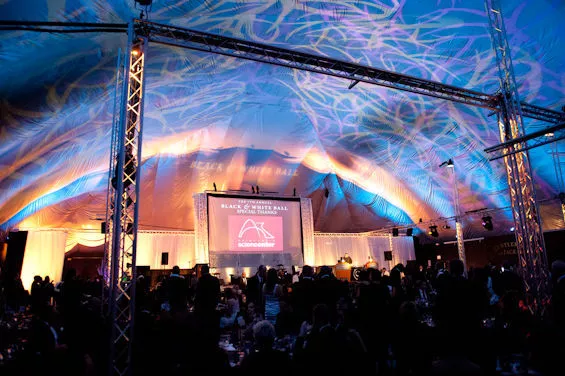 Follow RFT Music on Twitter or Facebook. But go with Twitter. Facebook blows.