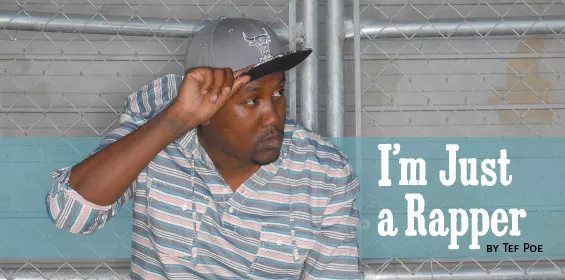 Editor: Tef Poe is an artist from St. Louis City. Through powerful imagery and complicated honesty, he has earned a reputation as one of the best rappers telling the story of St. Louis, which is about much more than one place. Poe has been featured in music publications such as XXL and Urb Magazine. His newest project War Machine 2 was released on June 5th and will be followed up by a full-length with DJ Burn One entitled Cheer For The Villain. Follow him on twitter @tefpoe. Get War Machine 2 here.
In a rapidly growing hip-hop genre filled with young talent, Timmy "Timmy Stallone" Menzel is turning a lot of heads in the local St. Louis scene.
A recent graduate from Webster Groves High School, he just released his first project The One Step Program, which has generated a massive number of downloads without any major blog support or cosigns. With a strong online presence and large following at shows, people are wondering what is in store for this young artist.
Born in 1992, Timmy grew up around a lot of music from his uncles who played in rock bands. He also spent a lot of time with his older brother, who was always showing him different types of music, mainly hip-hop.
Timmy had become a fan of artists such as Outkast, Nelly, Eminem, DMX and Dr. Dre by the age of eight. At age sixteen, he developed a reputation at his high school for freestyling and recording rough tracks with childhood friend Parker "P. Stoves" Stovall.
While at Webster Groves High School, he became a fan of local rap duo the ChalkBoyz, who have a large fan base. "That is how I was introduced to the St. Louis local scene. I came across artists like Rockwell Knuckles, Tef Poe, Ruka Puff, Indiana Rome, Vandalyzm, and Family Affair all through the ChalkBoyz shows and web presence," he says.
By Timmy's sophomore year of high school, he was heavily influenced by the St. Louis local scene as well as artists like Three 6 Mafia, Young Jeezy, Lil Wyte, and Rick Ross. This is when Timmy started writing raps and formulating his plot to become an artist.

In 2009, he started recording rough tracks with P.Stoves as well as working with rapper/producer Calvin "C-Swaggg" Lewis, who is one half of the production duo "The District.
"The District produced over half of my project and that is who I've built my sound with over the years," says Stallone. Timmy did his first show in the summer of 2010, where he opened for MVP, William H, and the ChalkBoyz. That same summer he opened the Local Legends II show with Murphy Lee. He has since then been picking up opening slots in the St. Louis area and building his fan base. Timmy just headlined his first show for his release party at the Gramophone, which drew over 250 people. Even though Timmy has reached a wide audience, he knows there is still an endless amount of work to be done.
He plans on pushing his The One Step Program project as well as working on his next project at the same time. Timmy will be releasing music videos and doing more shows to build his fan base. Timmy also insists that he will only make music that is in his vision and he will not change his style in order to appeal to others. "Music for me is an outlet," says Stallone. "I'm not just doing this to be the man and get on. When people listen to my music, I want them to get to know me. I have a lot of people that believe in me, and I'm not going to force my music into something that would let them down."




On December 22nd Timmy Stallone will officially step into the big leagues. He is slated to share the stage with me and the legendary Talib Kweli at the Old Rock House. This is undoubtedly the biggest show of his career thus far. The ChalkBoyz have built a bit of a legacy in St. Louis in their own right, and Timmy is the evolution of this legacy. He's a kid from suburbia America, rapping over hard-hitting 808 induced drums. Even though the music has the same energy as Wacka Flocka or Young Jeezy, it doesn't feel as if he's attempting paint himself as a Billy Badass.
Stallone's music is youthful and refreshing. He has built his own fan base in a cult-like manner from the ground up. Timmy Stallone fans are young, rowdy and ready to party. Often at his shows you'll see bouncers kicking out party dwellers that have had a little bit too much fun. His fans are often young, drunk, and overly excited to see him in person. His concerts carry the energy of a Machine Gun Kelly show minus the MTV cameras and extra security.
You want to see that cosmic energy that only comes around once every blue moon. Timmy Stallone has officially been stamped by Tef Poe. See Timmy Stallone Live in Concert Dec 22nd at The Old Rock House w/ Tef Poe and Talib Kweli.