"Andrew is going to tell you a story while I get a drink. By the way, Andrew has extreme stage fright." And so Nate Ruess hangs his bandmate out to dry. Andrew hunches lower at his piano and tells us he'll need a few seconds to come up with a story, then starts talking about his grandpa and a car...there are some car components listed...really at this point the only reason anyone's interested is because we're sympathetic. But right then, guitarist Jack Antanoff, back at his mic after taping up his fingers, bails him out, sort of. "Tell 'em about the time in college you rubbed soap on that girl's boobs," he says.
See also: - fun. at the Peabody Opera House photo slideshow - The New fun. Fan's Guide to the Format - Nate Ruess jumps off the drum riser at Lollapalooza 2012: GIF - Gift Guide for Musicians We Love (and Love to Hate)
Now we're listening, although it is apparent immediately that Andrew Dost never did any such thing in college. Antanoff certainly might have, had he gone to college. Ruess is back now, too, and they're all laughing. Ruess asks Dost what he did do in college, and Dost says he played a lot of Magic cards, and they make him repeat that.
What a disparate trio of weirdos fun. is. There's Dost, the bookish multi-instrumentalist who came from Anathallo. He looks like he'd be happiest if they just shoved his piano/keyboard rig a few feet further right, straight behind the wall of the stage, and he could perform from there. Opposite him is Antanoff who comes from punk and counts Scarlett Johansson and Alia Shawkat among his former girlfriends. He plays his parts with a shit-eating grin, mugging most cartoonishly on a five-note acoustic guitar solo.
And Ruess, of course, the bent-up trumpet who fronted the delightfully downtrodden the Format. He is in some ways the rock star his Grammy nominations and anthematic delivery suggest, smiling and bouncing around the stage and spurring the crowd endlessly on -- more clapping, more woah-ohs, higher! louder! with more abandon! But he is still strange, too, biting his tongue like a toddler and peering skeptically into the confetti cannon and pacing song breaks expressly so that they start and stop out of step with the crowd's cheers.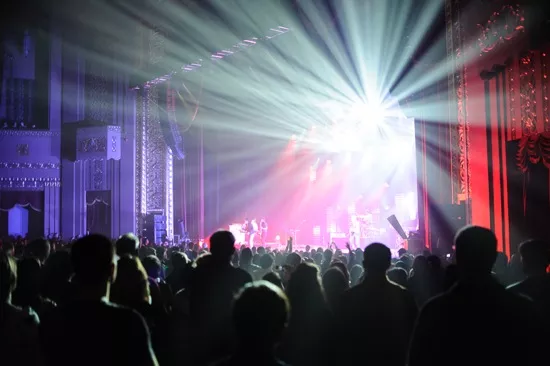 So, then, are these decidedly not-weird pop songs, one home run swing after another, insincere? I don't think so. Not when officially certified crazy person Phil Spector made a career out of teenage love slogans made symphonically huge. But maybe that comparison is a little unfair in our age of irony and exposure, where no artist can disentangle his personality from his craft. Still, fun. means it a hell of a lot more than, like, LMFAO. Ruess is conflicted about his new home on Top 40, and he, as always, isn't shy about that. Enter the hall of mirrors that is this man's lyrics, starting with a chunk from the band's second biggest hit ("Some Nights"):
So this is it? I sold my soul for this? Washed my hands of that for this? I miss my mom and dad for this?
Imagine the strange scene last night at the sold-out Peabody as Nate Ruess takes stock of his surroundings while the thousands howl blissfully on. Because make no mistake, the "this" he's referring to is exactly where we were, in a city a thousand miles from Arizona, singing pop songs for people who love the familiar way the melodies roll through their brains, who (and this one is directly his sentiment from earlier in the song) idolize him but will never actually be his friends for so many reasons.
But was he better off with the Format, slapped onto the bill at a half-full club in Kansas City as part of a confusingly conceived benefit show to prevent genocide (a thing I actually witnessed just five years ago)? Or even as something else? I bet Nate Ruess would make one hell of an Elementary School teacher. Let's pick up those lyrics where we left off:
No. When I see stars, when I see stars, that's all they are When I hear songs, they sound like this one, so come on Oh, come on. Oh, come on, OH COME ON!
And we do.
fun. at the Peabody Opera House photo slideshow
Critic's Notebook
Personal Bias: I love the Format and always thought of fun. as an act of resignation (Well, I guess let's just write really obvious songs and polish the fuck out of them. That's what people want, right?). Mea culpa: The show I saw last night was not the sound of selling out.
Notebook Dump: This show is 90 percent chorus and clap-along.
Overheard: The screams of several thousand teenagers who, if they didn't have a photo of Nate Ruess taped to the inside of their locker yesterday, they sure as shit will today.
fun. at the Peabody Opera House, December 11: Setlist
One Foot Carry On At Least I'm Not As Sad (As I Used to Be) All Alone Why Am I the One All the Pretty Girls It Gets Better Barlights All Alright The Gambler We Are Young You Can't Always Get What You Want (Rolling Stones cover) Encore Some Nights Stars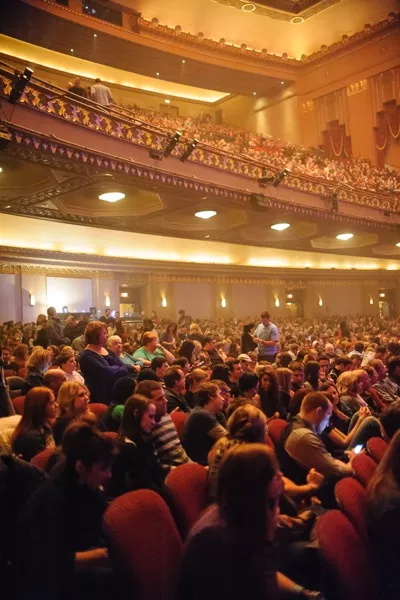 Follow RFT Music on Twitter or Facebook. But go with Twitter. Facebook blows.