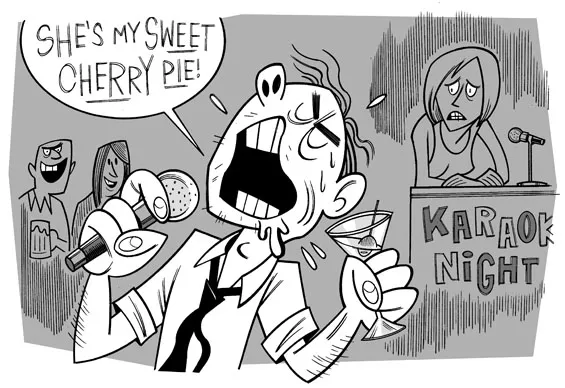 Illustration by Mike Gorman
Karaoke can be a dangerous endeavor. What can you sing that won't make friends shun you? How can you go balls-out during your next performance? Each week in "Ask a Karaoke Host," RFT Music writer and professional karaoke host Allison Babka answers your burning questions about maximizing your melodious mutterings and minimizing your friends' pain. Ask her stuff by emailing [email protected] or hashtagging #rftkaraoke on Twitter.
I've never done karaoke before because I have a feeling that people dance around and pretend like they're rock stars while they're singing. I can't do that! HOW DO I DO THAT? -- All She Wants to Do Is Dance
Ok, calm down. By your use of all caps, this is obviously a really vexing issue for you. And why shouldn't it be? I mean, you're constantly bombarded with performers on AmericanVoiceTalentFactorIdol who belt out some Aretha while prancing around like nobody's business. It's natural to feel pressured to do the same and apprehensive when you know that's just not your style.
But you know what? IT WILL BE OK! The TV singers have been coached on "presence." Your favorite band members have spent years learning how to work a stage. Hell, even Steve Jobs practiced those Apple presentations so that the fanboys wouldn't pick him apart on teh interwebz. These people didn't pop out of the womb ready to rock, and neither did you. So long as you don't look like a stiff taxidermy experiment gone wrong, no one will care that you're not licking the microphone the way Steven Tyler does. Just believe in your song or in the silliness behind it, and it will show on your face and in your voice.
I can tell that's not enough for you, though, so I'm going to share the real secret: sometimes you have to fake it to make it. Yeah, sorrynotsorry for sort of turning this into a sex column yet again. But when you're trying something for the first time, when you're not quite feeling the rhythm or when you don't really want to be there, you can change your outcome by changing your attitude. Grandma always told me that even when the day is shit, I should put on lipstick because I'll feel a little more confident and people won't think I'm a pasty, surly wench -- and it's true. Sex and karaoke work from the same principle. So here are a few simple fake-it moves to get you into the mood:
Diva hand: Hold the microphone in one hand and let your other hand rise and fall as you sing inspirational lyrics. You also could try the finger-wag if you're singing a "boy/girlfriend done me wrong" tune.
Come hither: Sing something you're super-familiar with so that you can periodically look away from the screen and make eye contact with others. Wink, if you're up for it.
Don't look: Close your eyes and channel some attitude on those rock-out parts, or just do the whole thing with your peepers shut.
Jump around: When your song builds up to the super-spazzy fun part, you might as well jump -- even if it's just once.
Smile: Seriously, this is the easiest thing. If you're smiling while you're singing, you'll feel happier inside, plus you'll get the audience in your corner. So pick a song that makes you happy and go to town.
I can't really tell you what to do about straight-up dancing, as I'm pretty much Willard from "Footloose," but without the triumph of being Kevin Bacon's star student. Still, using these tips to fake your confidence should help make you comfortable while you build up your performance prowess. Who knows? You may even turn into Steven Tyler eventually. Is "Short Dick Man" by 20 Fingers the best karaoke song? -- All the Small Things
The best karaoke song in general? Or the best karaoke song for you? Because there's a big difference.
In general, hell no, it's not the best karaoke song. The repetitive lyrics eventually bore the audience, and the singers (no one ever sings this alone) want to quit once they realize how long the song is. You'll also make an enemy out of your KJ. Unless the entire bar is full of drunk college kids, "Short Dick Man" isn't your best option.
But for you, personally? Yeah, "SDM" might be the best karaoke song if it falls within your range and you get such a fantastic high from singing it that you can really sell the performance. Draw people in, and it really doesn't matter what you sing.
How often do you get new songs? I really want to sing that one song that was just released last week. -- Just a Little Patience
Honestly, it varies. It depends on how quickly karaoke versions of songs are released, what software your KJ is using, which companies she buys songs from, what kind of licensing or bundling agreements she has, and when she has time to test songs and update her system with a bunch of new garbage.
That's a vague answer, I know. Speaking personally, we get batches of new releases about once a month and then make them available a couple of weeks after that. Considering our schedules and how many systems we have to update, that's just what works best for us. Your mileage may vary, but you probably shouldn't expect to karaoke a new radio single the day after it's released.
As a Friday-night karaoke host at a South County bar, Allison Babka receives her share of drunken song dedications, occasionally makes people cry and even has been glorified by a singing psychic. She's considering adding "Call Me Maybe" to her personal karaoke repertoire, and she hates herself for it. Bug her with karaoke nonsense on Twitter at @ambabka, and use #rftkaraoke.
Follow RFT Music on Twitter or Facebook. But go with Twitter. Facebook blows.