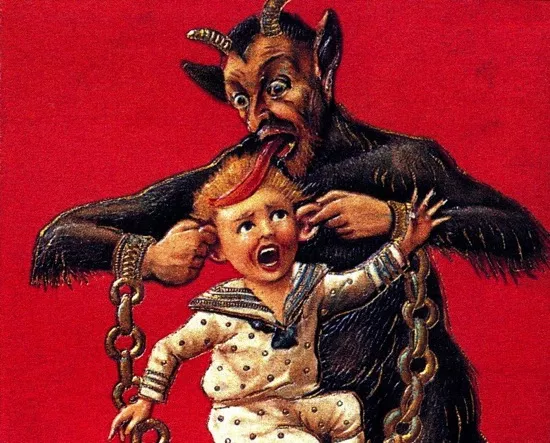 The War on Christmas is upon us! Time to take sides! Did you know there was a War on Christmas? There is! Us Godless heathens are burning all the mangers, or at least politely asking that they not be forcibly erected (oh, I said it) in public spaces.
But you know what? Fine. You want a War on Christmas? We'll give you a freakin' War on Christmas. We here at RFT Music actually really enjoy the Holidays, what with the lights and goodwill and family bonding and gift exchanging and such. Still, there is no shortage of ammunition out there: Christmas has moved pretty far from a very meaningful parable about a baby in a manger. So here it is, our ten part War on Christmas battle cry.
See also: -The Ten Worst Christmas Songs. Ever. -For Christmas, What do you Get the Music-Loving Acquaintance who Already has Nothing? -Why People Hate Christmas Music
10. Oscar the Grouch - "I Hate Christmas" Hating Christmas is such a pervasive sentiment that surly characters from more than one children's show sing about it. "Sesame Street's" Oscar the Grouch goes beyond simply waxing poetic about the holidays, though; he actually puts his words into action. Oscar "takes presents back from you," ruins a street band's concert and vows to tell Santa "where to put his toys." That's Christmas cheer we can endorse. (Allison Babka)
9. Zebrahead - "Deck The Halls (I Hate Christmas)" Unless you went to Warped Tour in 2001, the name Zebrahead probably means nothing. The band was like Limp Bizkit if you replaced the nu-metal with pop punk, so nobody is expecting a thoughtful Christmas diss with "Deck The Halls (I Hate Christmas)." But this track is more pervasive than it seems. One listen through, and the phrase "I hate Christmas" will seem like the natural follow-up to "Tis the season to be jolly" the same way that "Jingle bells" will always lead into "Batman smells." And the mid-song rap, which 99 times out of 99 is a bad idea, works as a riff on "Twas The Night Before Christmas," if only because Santa is quoted asking "Where the ladies at?" (Ryan Wasoba) 8. Tom Leher -- "A Christmas Carol" It ain't subtle, but Tom Leher's breezy wit works wonders on the commercial fatigue of the season. "Deck the halls with hunks of holly" makes us laugh every time, as does the matching pen and pencil from a distant relation. Brother, here we go again! (Kiernan Maletsky)
7. Voodoo Glow Skulls - "Land of Misfit Toys" Kids, play with any toy you want, as long as it's educational, not pointy or too electronic and doesn't allude to violence in any way! Imaginations are fun! (KM)
6. Ren Hoek - "I Hate Christmas" The twinkly piano at the beginning of the song momentarily fools you into thinking that you're in for a Burl Ives tune filled with sweetness and love, but make no mistake: this is not something you want playing as you decorate the tree with Grandma. Ren Hoek, the sour, often foul-mouthed chihuahua from Nickelodeon's "Ren & Stimpy" cartoon of the '90s, shares what we all secretly feel about the holidays -- that "Christmas music makes me gag" and "I'm getting sick on Christmas cheers." (AB) 5. Fear - "Fuck Christmas" It's all pretty much right there in the title. Allow us to be the 156th person to like the following comment, from YouTube user JoyGrenade: "At the café where I work, we closed early on Christmas Eve, but people refused to leave. So I cranked up the stereo and played this. They cleared out in a hurry."
4. South Park -- "The Most Offensive Song Ever" This track is titled "The Most Offensive Song Ever," which probably isn't true. But it's close, and it certainly qualifies as the most offensive Christmas song ever. Let's just call it a theme song for the Technically Virgin Mary. (RW)
3. Showcase Showdown - "Merry Christmas, I Fucked Your Snowman" We keep hearing that the Christmas season is all about giving, about thinking of others. In that regard, this song should fit right into the pantheon of charitable Christmas ditties. Here, you have a young man enthusiastically singing about sharing a tender moment with a snowman, which something that even the drunkest frat boy would turn down. In a shining, selfless moment, this gentleman has offered the lawn guardian intimacy and love, the most precious gifts of all. "Ho, ho, ho, my heart was gone," indeed. (AB) 2. Weird Al Yankovic - "The Night Santa Went Crazy" In which Santa turns the World's most beloved underdog into sausage and his wife sells the movie rights, and neither is even close to the most traumatizing thing that happens. (KM)
1. The A Team - "Christmas Claws" This is not only my favorite Christmas song ever written but also one of my favorite hardcore bands of all time. Breakdowns that make me wish I could end entire worlds like a Death Star. Interestingly, this was the only track I could even find from this album, but the band never got its due, so I suppose that makes sense. Some lyrics from memory -- stream a much better version of the audio below: (Daniel Hill)
Christmas beast from the polar caps Full of bloodlust, kicking ass He doesn't need a fucking sleigh He's come to ruin your holiday

Christmas claws stay away Help me! Collecting dues on christmas day Help me!

???????, tree's in shambles Getting out's a major gamble Blood on the lawn, dead reindeer Get me the fuck out of here

Christmas claws! Get me out! Christmas Claws! It's in the fucking house!

HO HO HO FUCKING HO!!