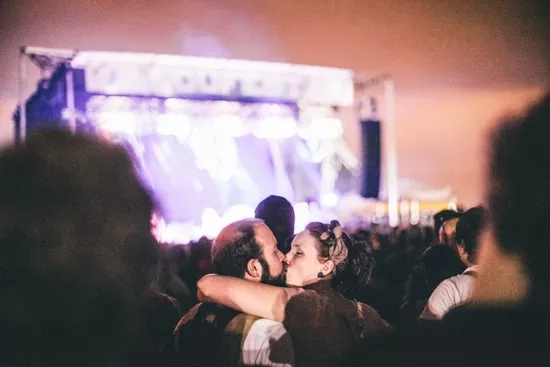 Photo by Jarred Gastreich
Earlier, we introduced you to our ten favorite concert photographers in St. Louis. We got well over fifty nominations, and our judges narrowed the field to these ten folks. Over the coming week-plus, we'll be introducing you to each of the finalists in turn by having them share with you five of their favorite concert photos and answering a few questions about their process and passion. Up next is Jarred Gastreich. If you would like to view more of his work or get to know him, he can be contacted at jarred.gastreich@gmail.com. He would also like to note that he enjoys meeting new people over coffee.
See also: -The Ten Best Music Photographers in St. Louis: Meet the Finalists -Finalist Profile: Bryan Sutter -Finalist profile: Corey Woodruff -Finalist profile: Nate Burrell -Finalist Profile: Jason Stoff -Finalist Profile: Ben Fournier
Photo by Jarred Gastreich
RFT Music: If you had to guess at the ballpark number, how many concerts would you say you've photographed?
I'd like to say I've shot around 314 shows, but that can't be true. I started just about two years ago. I've probably only shot about #41 (I'm a big Dave Matthews fan).
What makes a great concert photo?
The recipe to a great concert photo goes something like this: four gallons of great composition, three cups of an exceptional moment, two big tablespoons of knowledge of your equipment, and one teaspoon of post-work (editing). Composition is what will separate your shot from all the other photographers in the photo pit going after the same moment.
It's not about what equipment you have. If I can get portfolio-worthy photos from a film camera loaded with 400 asa film and/or a point-and-shoot from the very back of the Pageant then I don't want to hear that your entry level DSLR won't cut it.
I recommend not being that geek who loves the label "straight from the camera," as if the camera records absolute pureness and is just like the human eye. A great concert photo has some post work done to it. Alter the contrast, exposure, perhaps you want to bring down the power of the magenta lights, or perhaps you want to highlight the individual you caught in the front row picking his nose, etc.
What's the best thing about live music?
The best thing about going to see a live show is seeing the musicians veer from their studio recordings. Combine that with an intimate experience and it's equivalent to a rain dance that summons water in your eyes. For example: the Damien Jurado performance at the Firebird last month. I wasn't expecting him to be playing solo -- without a band -- and between the very first and very last strum of his guitar that night, the Firebird was so quiet that I was thankful I didn't have Mexican food for dinner.
Photo by Jarred Gastreich
What's the strangest thing that has happened to you while photographing live music?
The strangest thing that's happened to me since I started shooting concerts is (ready to get sappy?) that I've made a lot of really great, high-quality friends. The smaller venues (Off Broadway, Firebird, Old Rock House, Plush) are where it's at. That's where you'll see the greatest shows, and that's where you'll meet the greatest people St. Louis has to offer. Simply put, there's a lot of hard-working, creative, talented, friendly and extremely fun people who love to go to shows.
What makes a professional photographer as opposed to an amateur?
The only difference between a professional and an amateur is that a professional has been doing this for a little while longer. We know things like: You shouldn't park on President Street near Off Broadway.
I don't like the classification of professional and amateur. I'd rather everyone who considers herself to be a "photographer" to stand behind her work and be able to "defend" it from criticism. And when I look at the work, I better find it inspiring.
A professional photographer is inspiring.
Photo by Jarred Gastreich
Pick one of the photos you've submitted and tell us a little about it: Where was it shot, who is featured and (most importantly) how did you capture it? We'd love to hear logistical description or technical breakdowns or whatever else you want to tell us.
This is my favorite of the bunch because it speaks to my style. I prefer wider shots that play with the surroundings. I prefer running around with a prime (non-zoom) lens. I prefer my little rangefinder film camera because it's such a joy to shoot. I love simplicity, a little grain, and a happy candid moment. Charity Rose Thielen from the Head and the Heart looks like she is enjoying the show as much as the audience. And above all, as any photograph should do, it recalls a great personal memory for me. Hours before their nearly-sold-out show at the Pageant, I was honored to spend time with the band on a rooftop across the street for my one-shot music video series Show Me Shows and through some Schlafly Beer they proved to be some of the nicest people in the whole wide world -- as nice as she seems in this photograph.
The camera settings were far from ideal for concert photography. Inside my Leica M6 with a Voigtlander 40mm lens, I had Fuji Superia 400 asa film and I snapped it at 1/30sec shutter speed, with my aperture at f/1.4. It just goes to show that you can achieve a lovely photo from behind the photo pit with what you have.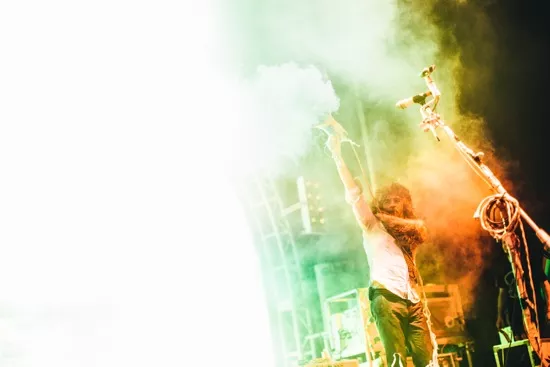 Photo by Jarred Gastreich
---