Earlier, we introduced you to our ten favorite concert photographers in St. Louis. We got well over fifty nominations, and our judges narrowed the field to these ten folks. Over the coming week-plus, we'll be introducing you to each of the finalists in turn by having them share with you five of their favorite concert photos and answering a few questions about their process and passion. Up next is Ben Fournier, whose work can be viewed (and purchased) from his web site, www.benfournierphotographer.com.
See also: -The Ten Best Music Photographers in St. Louis: Meet the Finalists -Finalist profile: Corey Woodruff -Finalist profile: Nate Burrell -Finalist Profile: Jason Stoff
RFT Music: If you had to guess at the ballpark number, how many concerts would you say you've photographed?
Ben Fournier: Thats a tough question, but if I had to guess, somewhere between 150-200. It's a guess -- I've been shooting shows for a few years now.
What makes a great concert photo?
In my opinion, a great concert photo should capture the essence of the show. The look of the artist might not always match the sound of the music, but I should be able to get a vibe of what kind of music the band is performing by looking at the photo. It has to be clear enough to see whats going on, but it doesn't have to look like it was a show with high production value. It should should be shot from an angle that compliments what you are seeing and should work with the lighting. Wider shots should set the scene for whats happening on stage, and I prefer my up close tight shots to convey emotion rather than just a musician playing his instrument.
What's the best thing about live music?
The best thing about live music is that anything can happen during a show. Even though a band has their act they relive each night, anything can happen to make that experience unique to the show you are at. Technical difficulties, a spur of the moment decision by a band member to do something wild, crazy crowd interaction...Anything can happen!
What's the strangest thing that has happened to you while photographing live music?
Other than being sprayed with intergalactic space jizz and blood (compliments of GWAR)? It may not be the strangest thing, but definitely out of the ordinary: I once had a singer of a band spit a mouthful of water right at me. It was very clear he did it on purpose, but he didn't pay any attention to me before or after that, which is what makes it strange to me. I would understand if I did something to annoy him, but this was just out of the blue.
What makes a professional photographer as opposed to an amateur?
Its hard to set that distinguishing line between the two. I guess it depends on your definition of professional and amateur. I think there are multiple factors that separate the two. The ability to adapt to situations you are not used to or are unexpected. Anyone can use a camera, but only those who know the craft can save what they are doing when they run into major issues. If you don't know what you are doing, you are going to sink fast when things go wrong. A huge key factor is your behavior when shooting, being respectful of the other photographers sharing the pit, and being respectful to the staff of the venue as well as the performers and their crews. Trying to sneak backstage for an autograph or anything of the sort is completely unprofessional.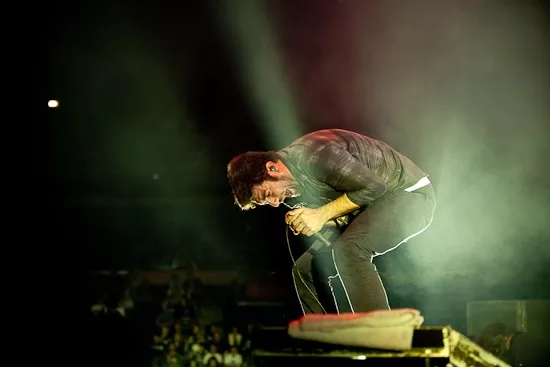 Pick one of the photos you've submitted and tell us a little about it: Where was it shot, who is featured and (most importantly) how did you capture it? We'd love to hear logistical description or technical breakdowns or whatever else you want to tell us.
Shooting the Deftones for the first time was a huge deal for me. They are one of my all time favorite bands, so I jumped at the chance to photograph them. They were playing at Scottrade Center with Alice In Chains, but I was really there for Deftones. It was my first show at Scottrade, as well as my first huge production show outside of a small venue.
At that point I was used to only shooting in smaller venues with bad lighting. I wasn't used to shooting shows with so much light, so at first I over exposed a huge chunk of the first song. After I dialed in my exposure, I was determined to get that shot of Chino. It wasn't until the end of the third song I was able to capture it. The pit was divided in the middle where the stage protruded out farther than the rest, which cut down on shooting real estate. The pit wasn't too crowded, but it was cramped. Every chance I had leading up to this photo, either the lights went down, or Chino was looking the other way, or the lighting from the opposite side flared up just right to cover his face. After those three songs were over, and I was able to scroll through all of my photos I was so excited to see that I nailed the main photo I set out to capture! Because of that, this will always be one of my favorite concert photos.
---