Before the Thanksgiving break, we introduced you to our ten favorite concert photographers in St. Louis. We got well over fifty nominations, and our judges narrowed the field to these ten folks. Over the coming week-plus, we'll be introducing you to each of the finalists in turn by having them share with you five of their favorite concert photos and answering a few questions about their process and passion. Up next is Jason Stoff (also a contributor to RFT Music), whose work can be viewed (and purchased) from his web site, Encor.es/.
See also: -The Ten Best Music Photographers in St. Louis: Meet the Finalists -Finalist profile: Corey Woodruff -Finalist profile: Nate Burrell
RFT Music: If you had to guess at the ballpark number, how many concerts would you say you've photographed?
Jason Stoff: Probably somewhere around 400 or 500 shows, most of which have had multiple bands on the bill. Tons and tons of bands, and I usually shoot about one show per week.
What makes a great concert photo?
In my opinion, a truly great concert photo makes you want to relive the show if you were there -- or alternately, makes you regret not attending the show.
Concert photography can straddle a fine line between photojournalism and photography as Art with a capital "A", as it's easy for a concert photographer to imprint their personal vision on a show's events to tell a different story.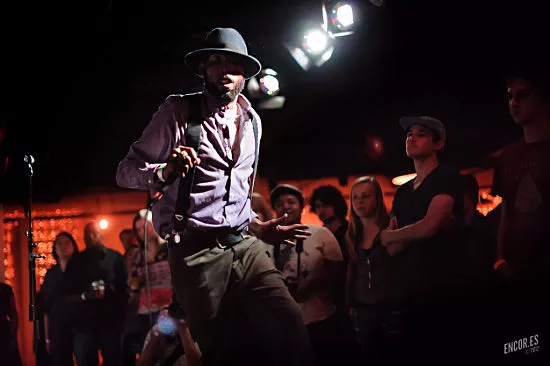 What's the best thing about live music?
There's something amazing about live performers feeding off the energy of their bandmates and audience, or solo musicians putting themselves out on a stage in front of people that may or may not care about what they've got to say. A live show is, at some level, unpredictable, and sometimes things don't go as planned.
How To Dress Well's recent Firebird show is a perfect example of what I find so compelling about live music. Tom Krell's live band wasn't able to get into the country, and his lighting tech was stuck in Paraguay -- so Krell sang along to sparse accompaniment from his laptop, emphasizing how the show would be . The audience of 50+ people was completely silent for much of the set, awed by the music one guy could make with a laptop and a few microphones. Krell later tweeted that the show was "motherfucking LIFE AFFIRMING," and I'll bet that most of the audience felt the same way.
What's the strangest thing that has happened to you while photographing live music?
At Kanrocksas in 2011, a fan at the front of the crowd against the stage's barricade wouldn't stop shouting at me to get out of her way. I politely explained that I was on a job, and would be completely out of the area after three songs -- she wouldn't have it, and asked the security guard to throw me from the pit. He reiterated that I was doing my job. After swearing at the security, she asked if I had a card so she could see my photos later -- and when I handed her a card with a photo of Cypress Hill on it, she asked why I "gave her a picture of a n----r."
So, you know... you meet some classy people at shows.
What makes a professional photographer as opposed to an amateur?
A photo pass and an adherence to timeliness. Pro level gear is less important than a professional attitude (in my opinion).
A professional attitude is pretty easy to sum up, too -- an unrelenting focus on creating great images, respect for your fellow photographers, and respect for the crowd that paid to see the show.
Pick one of the photos you've submitted and tell us a little about it: Where was it shot, who is featured and (most importantly) how did you capture it? We'd love to hear logistical description or technical breakdowns or whatever else you want to tell us.
Let's talk about the photo of Andy at this year's An Undercover Weekend.
Andy is a hell of a frontman, and I knew that going in -- I've seen him perform a few times with Via Dove, and even a few years ago, he had serious charisma.
Now, AUCW is held at The Firebird (which is a fantastic place to see a show). The Firebird isn't a venue that usually has a photo pit, so photographers are generallly holed up near the front of the stage for the duration of the set.
I don't like staying in one place for a full set -- I like to vary angles and shots whenever I can, so I generally move on from the front of the stage after a song or two.
In this case, I was returning to the stage through the crowd when Andy jumped right up front, wailing. I thought it'd be interesting to take the shot from the vantage point of someone in the midst of the crowd to really give it a sense of "being there."
The technicals aren't really that interesting -- D700, 1/250, 50mm at f/1.4, ISO 3200 -- but I really do believe in creating images that make it feel like you were really there, and this shot is a pretty good example of that. Plus, Andy's a cool guy, so there's that.
---