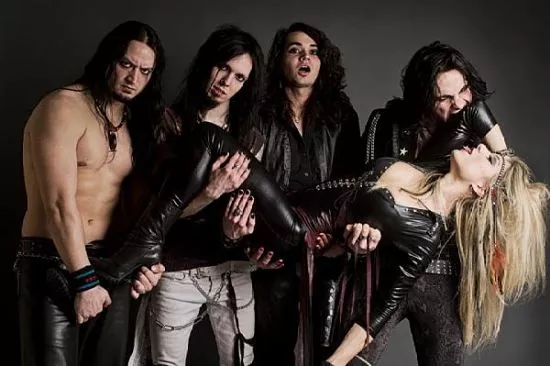 Hessler - Saturday @ Cusumano's
This week's weekend post is the most balanced, evenly distributed list of picks I've yet seen in my tenure at RFT Music. Three shows Friday, four on Saturday, and three on Sunday. Perfect. As an obsessive-compulsive fan of symmetry, I am absolutely fucking delighted by this, but to be fair I get excited about really really stupid shit sometimes. AAAAAnyway....
The King Kahn and BBQ Show will be at Off Broadway on Friday! Last time the duo was scheduled to come through town one of the boys got arrested or something (hazy on the details; helluva music journalist I am, right? Oof) and the show was cancelled. I'm the type of guy who kind of likes to watch the world burn though, so hopefully that happens again. Springfield, Illinois' NIL-8 will hit the Firebird on Saturday. Wouldn't it be hilarious if, after 25 years of being a band, they got into some kind of blow-out fight onstage, broke up, and didn't even play a single note? How unexpected! Finally, Coheed and Cambria will play Pop's on Sunday; it is the re-re-scheduling of their two recent consecutively-cancelled shows. How funny would it be if they actually showed up and played this time? You'd have never seen that coming, suckers! Ok fine, I admit it, I'm a dick. The rest of our picks follow.
Friday:
Demonlover @ The Heavy Anchor 9:00 p.m. | $5 I have it on good authority that this is going to be a shitshow. Don't miss is under any circumstances, because the talent involved is formidable. (KM)
The King Khan and BBQ Show w/ GONN, The Sights, The Nevermores @ Off Broadway 8:00 p.m | $12 Right, yeah, you read about the legal troubles. Forget that -- this is garage rock at its finest. (KM) ----- [DH's UNAUTHORIZED RESPONSE (as in, Kiernan doesn't know that I added this into this post after it was alread scheduled to be published, bwahaha!).... Anyway, King Kahn and BBQ Show is fucking awesome, belive me I am aware of that, I just make stupid jokes!. Go to this damn show or regret it. Check the video posted on page two of this post and then try to tell me this band isn't rad as fuck. (DH: The Un-Edited Uncensored Loose Cannon Version)]
John Pizzarelli Quartet Friday And Saturday Shows @ Jazz at the Bistro 7:30 p.m. AND 9:30 p.m. | $37-$42 Over a three-decade career, John Pizzarelli has earned acclaim for his exquisite craftsmanship and ceaseless wit. For proof, start with his 1983 debut, I'm Hip (Please Don't Tell My Father) (KM)
Saturday:
Kinky Friedman @ Off Broadway 8:00 p.m. | $25-$30 Vote for Kinky. All the meanings. (KM)
Hessler w/ Rites of Impiety, Bonerkill, Tropical Storm @ Cusumano's Pizza 8:00 p.m. | $5 Hessler is a female-fronted 80's style dirty metal / rock and roll band from Chicago. Rites of Impiety is a blasphemous goat / black metal band from right here in our hometown. Bonerkill and Tropical Storm are the newest new wave of crossover thrash in St. Louis. And this show is at Cusumano's, which as I've explained before has $5 pizzas and $3 pitchers. In conclusion, this show is going to rule all kinds of ass. (DH)
King Kahn & BBQ Show - Friday @ Off Broadway
NIL-8 w/ the Dead Rabbit, Naked Strangers @ The Firebird 8:00 p.m. | $10 With 25 years under its belt and no signs of stopping anytime soon, Springfield's NIL-8 is one of the longest running alternative rock bands in the Midwest, and the band's live shows are still as entertaining as ever. (DH)
King Britt @ Lola 10:00 p.m | $10 Did you know that "King Britt" is this dudes actual, real name? Because I did not, and I think that's pretty cool. Also cool is the fact that he's kinda sorta, you know, a legendary DJ who has worked with the likes of Digable Planets, De La Soul, Madlib and many more since he first got his start 22 years ago. (DH)
Sunday:
Jack Grelle & The Johnson Family Band w/ Dock Ellis Band & Little Rachel @ Off Broadway 8:00 p.m. | $5 Ain't no party like a Big Muddy Party. Seriously. And this record is exceptional. Go drink Stags. (KM)
Coheed & Cambria @ Pop's Nightclub 7:00 p.m. | $25 This is the band's re-re-scheduled show. We recommend double-checking Pop's website to make sure this one is actually going down before you leave the house. (DH)
Tok w/ Soma @ Lemmons 6:00 p.m. | $5 Seem's like Tok and Soma have been playing together a lot lately, and I feel like both bands have been frequenting Lemmons a fair amount lately as well. This is a good thing, because, well, these are all good things. (DH)