Todd Owyoung
Machine Head at Pop's Nightclub
Selecting Riverfront Times' Best of St. Louis 2012 was no picnic. Choosing the winner meant several worthy candidates would go unmentioned -- until now. In this RFT Music series, we're working our way through notable runners up in a number of categories. This week: The best blues clubs in St. Louis.
See also: - The Seven Best Places for Karaoke in St. Louis - The Ten Best Gay Bars in St. Louis - The Ten Best 3 a.m. bars in St. Louis. - The Ten Best Neighborhood Bars in St. Louis
Blueberry Hill It almost goes without saying, but we'll say it anyway: There's just not a better place to hang out in St. Louis, for various and sundry reasons, than Blueberry Hill. But let's tick a few of them off: They've got great food, including world-class burgers; a wide array of beers; and ambiance -- in the form of bar owner Joe Edwards' lifelong obsession with collecting records, posters, comic books, satyr statues, you name it -- that's second to none. You can go there to play darts, pinball and video games; smoke a fine cigar; pump some quarters into the jukebox; or just wait around for Bob Costas to show up. And the the Duck Room, arguably our town's finest small-sized music venue, presents terrific national acts and monthly gigs by St. Louis' own Chuck Berry.
Jon Gitchoff
Sleigh Bells at the Firebird in 2010.
The Firebird The Firebird undoubtedly deserves a place on a list of the city's Best Rock Clubs, but in this case the word "rock" may be a bit of a misnomer. Yes, the club frequently caters to a rock crowd, but its overwhelming appeal is primarily in its eclectic how-the-fuck-did-they-get-that-band booking. No matter what your personal tastes are, it is likely that one of your favorite bands has been to the Firebird. An inquisitive look at the club's 2012 concert calendar reveals staggering findings: Sludge-metal punk the Melvins sold out the joint in May. Hip-hop tastemakers Diplo and Chiddy Bang played an unannounced Axe-sponsored show in March. Death-metal legend Deicide hasn't played a show in St. Louis in fifteen years -- guess which club convinced the band to come to town. Still not a believer? We'll just throw out a few more names for good measure: Naked Raygun, Gaslight Anthem, Lil B, Mission of Burma, Doomtree, Mayer Hawthorne and the County, Propagandhi...skeptical still? You probably listen to some obscure genre of music, like "sissy bounce" -- and you probably didn't realize that even the Queen Diva, Big Freedia herself knows that in St. Louis, the Firebird is the place to be.
Jon Gitchoff
Post Teens at Fubar
Fubar Fubar, at the renovated former Olive Motor Company building is owned and managed by Bob Fancher, who did time for more than a decade at the Creepy Crawl. Fresh coats of paint, digital jukeboxes, video games, two bars and even some natural light filtering in provides some great atmosphere for this loud as bombs rock venue. When patrons enter the door at Fubar, they'll step into a small foyer with entrances to two equally sized, larger rooms. On the right side is the venue, with a stage at the front of the room to the right. One can expect the best local and regional rock bands, cheap drink specials and some good natured hazing from the bartenders at this midtown watering hole.
The Heavy Anchor The Heavy Anchor is a newish nightspot on South Gravois. The bartenders serve cocktails in Mason jars, Heavy Anchor pins to festive-up that tatty punk jacket, and, just in case your Franzia problem is so out of control that you need a fix even in full view of strangers, boxed wine. Formerly the home of Antarctica, this bar/venue is one of a growing number of gin joints offering live, original music from the legions of talented music makers on the local scene and, yes, even some national artists as well. It's always free to get into the bar for drinks or movie nights, and shows are just $5. Artists lent their painting prowess to the bar, so the walls are covered with nautical-themed murals, including a glaring narwhal and a friendly blue octopus toppling a cityscape with its tentacles. You'll find local brews on tap, as well as such hometown munchies as Dogtown pizza, Billy Goat chips and Gus' pretzels.
Photo by Laura Ann Miller
Lemmons Haven't you heard? Lemmons is the new Cheers, where regulars mingle with newbies, hipsters freely embrace an older element, and, of course, everybody knows your name. Lemmons is split into three areas: the music venue, which boasts a raised stage in the back for local and touring acts (and the occasional DJ night); the game area, replete with Foosball, table-shuffle, video games, board games and Lemmons' famous trivia nights; and the basement, which is a haven of billiards and beer. The bar dominates the room, but the surrounding tables provide ample seating to partake in popular Black Thorn pizza.
Steve Truesdell
Those Darlins at Off Broadway
Off Broadway The best rock clubs feel like home -- no matter if your version of home is a dirty dive, a cozy theater or a history-laden bar. Benton Park's flagship venue, Off Broadway, is a little bit of all three. More important, in recent years the club has become a haven for the city's bands and musicians. Annual traditions -- the local band scramble, a Thanksgiving-eve performance of the Band's Last Waltz and KDHX-sponsored benefits/tribute nights for people such as Alex Chilton or Warren Zevon -- are inked on the calendar like holidays. National acts such as Deer Tick, Bobby Bare Jr. and Ha Ha Tonka appear (and reappear) on Off Broadway's schedule next to family-friendly matinees and local CD-release shows. Best of all, the venue isn't content to rest on its laurels: Improvements such as a bigger stage and more standing room in the back have made it a more comfortable place to guzzle a beer and see some raucous rock.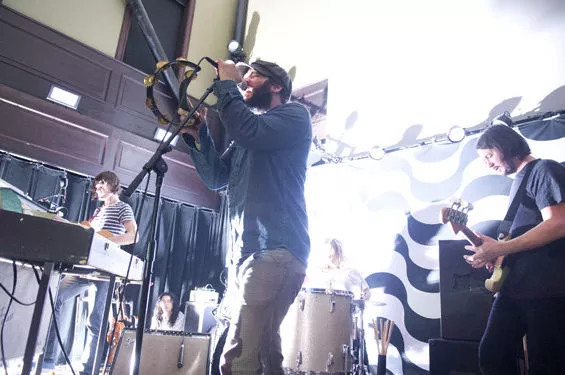 Jon Gitchoff
The Black Angels at Old Rock House
Old Rock House In today's music environment, with the "loudness war" at its peak, it's not uncommon to have an otherwise enjoyable concert experience marred by deafening sound levels, garbled vocals or horrendous feedback and distortion. That's not the case at the Old Rock House, where head sound engineer Josh Limpert is on hand to make sure that the sound complements the performance rather than spoiling it. And his challenges include a diverse array of acts, from some of the city's finest hip-hop offerings to sold-out indie rock royalty to jam band staples.
Steve Truesdell
Alabama Shakes at the Pageant
The Pageant The queue starts forming outside the Pageant the afternoon of a good show, hours before the doors open, as hardcore fans geek out over the thought of being able to be close enough to feel the sweat of their favorite band. Inside, the atmosphere is hardly that of the average rock venue. Seats and tables are plentiful (if you get there early enough or buy a reserved ticket), the sight lines are impeccable, the drinks reasonably priced if you're old enough. Unlike other clubs, the under-age section doesn't involve condescending cages or roped-off areas. Plus, the all-day thrill of making friends in line and then planting yourself in the front row to scream along with every word is well worth the wait, given that the space is in the top ten club-level venues in the World in terms of tickets sold.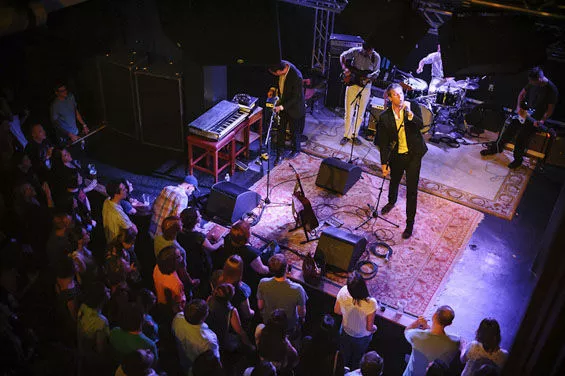 Jason Stoff
The Walkmen at Plush
Plush Welcome to Plush, the newest midtown wonder. It took two years and $4 million to turn the 40,000 square foot behemoth into a fully operational club, venue, bar and restaurant. Open from 7 a.m to 1 a.m. daily--that's right, the kitchen is open if the doors are--Plush is one of the only places in town where you can study for a test, take in a concert, play ping pong and dine in style (meatloaf cupcakes anyone?). The menu features eclectic American food that riffs on greasy spoon fare, and the kitchen prides itself on making everything in-house, from sawmill gravy to curing their own bacon.
Todd Owyoung
Suicide Silence at Pop's Nightclub
Pop's Nightclub Drive up to Pop's, and you might just lose your nerve in that vast, concrete Illinois wasteland, brightly lit by gas station flood lights and blazing neon strip clubs. But you'll pull up and park anyway because hell, the damn place never closes. No matter if you arrive at 6 p.m. for a local show or major rock band, or six a.m. after a bizarre strip-club crawl wending from the Brooklyn sin strip to Sauget, there's one thing you can count on at Pop's: Someone is always drunker than you could ever hope to be at this truck stop-venue-watering hole.
See also: - The Ten Best Sports Bars in St. Louis - The Ten Best Juke Boxes in St. Louis - The Nine Best Blues Clubs in St. Louis - The Eight Bars With the Best Beer Selections in St. Louis