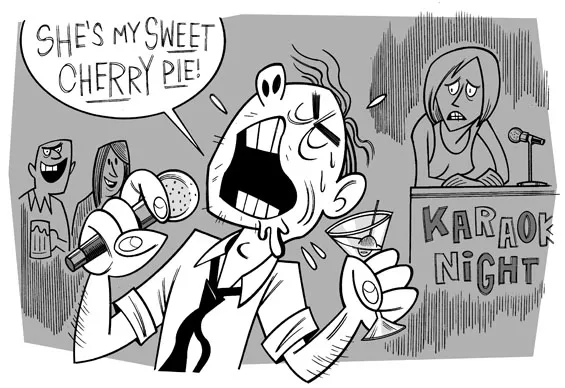 Illustration by Mike Gorman
Karaoke can be a dangerous endeavor. What can you sing that won't make friends shun you? How can you go balls-out during your next performance? Each week in "Ask a Karaoke Host," RFT Music writer and professional karaoke host Allison Babka answers your burning questions about maximizing your melodious mutterings and minimizing your friends' pain. Ask her stuff by emailing rftkaraoke@gmail.com or hashtagging #rftkaraoke on Twitter.
Have celebrities ever stopped by your bar for karaoke? -- Paparazzi
Ha! I've had a lot of people who think they're celebrities stop by. Really, sing enough karaoke at this or any bar, and people start to recognize you. Some customers might even buy you drinks if you're awesomely nice or a good singer or you perform their requests.
An American Idol contestant often visits when he's home from school. He was on TV somewhere beyond the audition shows but cut before the judges picked their ten or whatever finalists. That's about as "celebrity" as it gets in my little South County bar, and I sort of like it that way.
Would karaoke make for a good date? What song should I sing? -- Lips of an Angel
Should I read this as "What song should I sing if I want to impress my date and make them feel good enough to sleep with me?" Because I totally am.
First, I love that you want to take a date out for karaoke. It shows that you're creative with your dating activities and not afraid of a little silliness. As long as you've already identified that the object of your affection is the type of person who would be entertained by public performance instead of mortified by it, you're halfway to Rumpshakerland.
As for song choice, consider if you're a karaoke regular. If not, refer to my rules for n00bs. If you get your groove on often, choose something that you've gotten pretty good at singing. Beyond that, tie your song choice to something the two of you have already discussed. Did you talk about Jon Bon Jovi's heroin-addled daughter during the car ride? Sing "Wanted Dead or Alive." Did you each catch that Grease-themed episode of Glee? Offer to duet to "Summer Nights." Have you had that magical conversation about what music means to you and the precise moment you began liking your top ten bands? No? That's just me? Fine then.
The point is to have fun while making your date feel special, like you've paid attention to them other than just at nookie time. Oddly enough, that begets even more of said nookie time. But whatever you do, don't sing "I'll Make Love to You" while staring into your favorite person's eyes. Just... ick.
It's an uncharacteristically slow night, with just a core group of regulars and some non-singing drinkers. What do you do to liven it up? -- Fire It Up
This is another "know your audience" thing that we've come to love.
First I figure out if the bar even wants to be livened up. If the joint is filled with regulars like you said, it'll be easy for me to determine. Sometimes people just want to drink and yap, singing maybe one or two songs. If things are really dead and it's obvious that I'm going to be the only one performing, I'll take requests for both karaoke and the videos I play.
If I can see that people are just a little tired but they're still looking for a Bluebird of Happiness, I'll amp things up. Just projecting my voice a bit more and joking on the mic with customers gets people smiling and in more of a singing mood. If there are only a couple of us singing, I'll declare that the next hour belongs to a musical genre -- 80s usually gets people going. And when I see some of my more daring customers, I'll cajole them into duets. After that, they've usually loosened up enough to put their own song into the rotation within five minutes. Speaking of duets...
Is it OK to sing with someone? What's a good duet song? -- That's What Friends Are For
Of course it's OK to sing with someone, as long as you're both good with the arrangement and you're not dragging up someone who doesn't want to be there.
What kind of duet are you looking to do? An honest-to-goodness duet that was made for two singers, or just a random song that you'll sing at the same time? In my book, the former beats the latter, but both have their places.
For traditional duets with two singing parts, try these: "I Got You Babe" by Sonny and Cher, "Islands in the Stream" by Kenny Rogers and Dolly Parton, "Need You Now" by Lady Antebellum, "Telephone" by Lady Gaga and Beyonce, "The Girl Is Mine" by Michael Jackson and Paul McCartney, and "(I've Had) the Time of My Life" by Bill Medley and Jennifer Warnes (Please note that I will sing along with you and request that someone in the bar "do the lift.").
As for songs that aren't meant to be duets, sure, you can sing simultaneously, but it's more fun for you and the audience if you try to segment parts out like in a typical duet. There are plenty of songs with layers that can be performed by more than one singer or even by a main singer and backup vocals. Try "Bad Romance" by Lady Gaga, "Orange Crush" by R.E.M., "I Gotta Feeling" by Black Eyed Peas (I'm so sorry for suggesting it!), or "Take a Walk on the Wild Side" by Lou Reed (or Marky Mark, ugh).
But for the love of all things holy, will someone PLEASE sing "Under Pressure" already? I've been asking for months!
As a Friday-night karaoke host at a South County bar, Allison Babka receives her share of drunken song dedications, occasionally makes people cry and even has been glorified by a singing psychic. She's considering adding "Call Me Maybe" to her personal karaoke repertoire, and she hates herself for it. Bug her with karaoke nonsense on Twitter at @ambabka, and use #rftkaraoke.