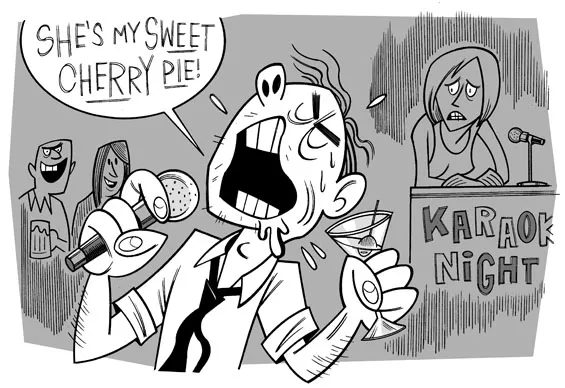 Illustration by Mike Gorman
Karaoke can be a dangerous endeavor. What can you sing that won't make friends shun you? How can you go balls-out during your next performance? Each week in "Ask a Karaoke Host," RFT Music writer and professional karaoke host Allison Babka answers your burning questions about maximizing your melodious mutterings and minimizing your friends' pain. Ask her stuff by emailing rftkaraoke@gmail.com or hashtagging #rftkaraoke on Twitter.
In your time as a karaoke host, what performance has shocked you the most? What was your "Susan Boyle moment," if you will? -- Shock the Monkey
A lot of weird crap happens at karaoke, so I hardly register anything as "shocking" anymore. In the past, I used to be awed by grand performances. Now, though, I have so many regulars singing "their songs" -- good and bad -- that most Fridays are simply alright.
The stuff that imprints into my brain the most has more to do with emotion than singing prowess. One night, a new guy was sitting at the bar. He was tough-looking, with a long scraggly beard, well-worn Harley-Davidson jacket and plenty of tattoos. He occasionally talked to people around him, but it didn't seem like he had come in with anyone. About 30 minutes after I started the show, he asked me how to be put into the rotation. When his turn eventually came around, he sincerely and tearfully spoke at length about a friend -- a soldier and fellow biker -- who had just passed away, and then he launched into one of the most beautiful renditions of "Danny Boy" I'd ever heard. The man sang exactly what was in his heart and what was meaningful to his late friend, and it was nearly impossible not to be moved by that. The crowd was stunned, and I fought to hold myself together.
You know how I wrote last week about music being like The Force? Well, this guy definitely had The Force, and he wielded it beautifully and powerfully.
If I asked you very nicely to harmonize with me on Skynyrd's "Simple Man," would you? -- Saturday Night Special
I'm happy to jump into a duet with just about anyone. But really? A six-minute Skynyrd song? Get the hell out of my bar before I Force-choke you. I'll even give you three steps.
I'm sure that this varies among different types of karaoke establishments, but are there any best practices surrounding the popularity of the songs that you pick to sing? In other words, who is karaoke for: the singer or the audience? -- Sell Out
First, karaoke is for you, the singer. It's therapy for some of us and a realization of rock star dreams for others. If you're not having fun and feeling a high from the song vomit or from the attention, the rest won't matter.
Secondly, karaoke is for the audience. People at the bar -- some singers, some not -- want to be entertained, and like it or not, you're part of the pleasure crew. Does this mean you have to give everybody lyrical happy endings? No, but it does mean that you should consider how people want to be massaged.
Like I've written before, nothing kills a karaoke night like an out-of-place song. If the audience has been eating up Justin Timberlake songs all night, they probably will give you the stinkeye if you cry through "Nothing Compares 2 U." So yeah, don't do that.
As for the popularity of the songs themselves, I advise performing stuff that people can mumble along to. I'm not talking about big bar singalongs like "Piano Man," but rather straight-up radio singles. If others are adding their voices to yours because they, too, have heard Katy Perry sing "Firework" during drive time, you'll get a boost of self esteem as well as some instant cred. Once you level up in the audience's eyes (could take a single song, could take a month), then you can tell them "Hey, check this forgotten tune out" without much fear of figurative tomatoes being thrown.
What do you think the average karaoke-goer appreciates more: someone singing in his or her own voice, or in the voice of the tune's original signer? I sing Digital Underground's "Humpty Dance," and it seems to be a hit when I sing it in my own voice, but I also can do a pretty solid impression of Shock G. What should I do? -- Sing Loud, Sing Proud
Boy, it's really "Know your audience" day around here, isn't it?
Like most things, the answer is this: it depends.
Do other people at your favorite karaoke joint sing in their own voices? When someone does try to channel Celine Dion, are they giving a full-out, face-contorting performance, or are they merely sprinkling her weird pronunciations throughout the song? Figure out what seems to be the standard and go with that.
That's not to say you shouldn't do your own thing -- lord knows that the audience needs some variety, you need some extra creative outlets and I need an Advil. What I'm more saying is that you should take note of your audience and your singing brethren before immersing yourself into something that falls flat. Performing completely as somebody else can be tricky, as I've mentioned. Do the whole song that way, and the schtick gets old. Do only a bit, and you force the crowd to look at you with "WTF?" eyes. There's a balance in there somewhere, but hell if I know how to tell you to achieve it.
In the end, just make yourself happy without making the audience hate you. Find your own glowy ball of Jedi light.
As a Friday-night karaoke host at a South County bar, Allison Babka receives her share of drunken song dedications, occasionally makes people cry and even has been glorified by a singing psychic. She's considering adding "Call Me Maybe" to her personal karaoke repertoire, and she hates herself for it. Bug her with karaoke nonsense on Twitter at @ambabka, and use #rftkaraoke.
---