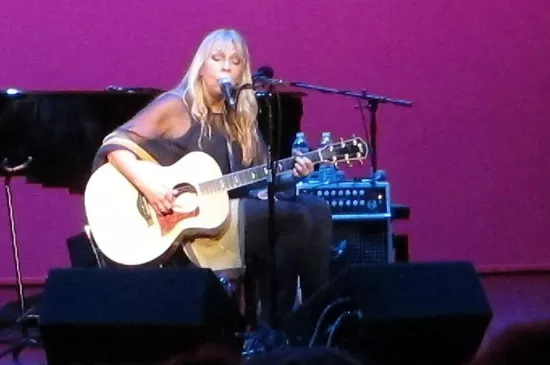 Roy Kasten
Rickie Lee Jones at the Wildey Theatre
Rickie Lee Jones
The Wildey Theatre
November 24, 2012
I've asked this question many times before but ask again: When is an act not an act, a show not a show, a concert not a performance but an expression of what the artist is -- in that moment and in every moment of feeling?
I'm not waiting for an answer. Neither is Rickie Lee Jones.
Slated on a concert schedule of the fried and forgotten by all but the hardcore, KSHE-ossified boomers -- we're talking Wishbone Ash and Brewer and Shipley here -- Rickie Lee Jones appeared at the Wildey Theatre on the old main drag of Edwardsville, Illinois on Saturday night, but she played and sang as if she didn't know it.
"Where am I?" she asked midway through the set. "Edwardsville, OK, seems like a nice town. I ate some fish or something." If you're looking for the Wildey, it's the renovated movie house, across from the office of the Madison Record (Metro East's Legal Journal) and next door to Edwardsville Frozen Foods (Quality Retail Meat shop). If you're wondering what to expect, expect a small concert hall, floor capacity maybe 300, with fold up cinema seats, and a balcony beneath a ceiling twice as high as the room is deep or wide. Out front, a co-ed with a laptop in a ticket station the size of a phone booth rings up patrons, and next door there's a wine bar with a good selection. A double vodka pour will set you back $9. The hall itself is like a utilitarian, shrunken Sheldon, with good sound, though you wouldn't have known it on Saturday night. Jones barely tested the PA; she and her band -- Jeff Pevar on guitar and organ and Ed Willett on cello and tapping-of-cello -- played so quietly, so sparingly they could have unplugged fully and filled the room with whatever the hell Jones thought she was doing.
And that's the point: She wasn't thinking about what she was doing. She was just doing, and doing one of the most riveting shows, start to finish, of the year.
There was no opener. The 58-year-old singer, who has recently released The Devil You Know -- a collection of "covers" whose scare quotes will be explained shortly -- walked out from the shadows at 8:15 p.m. to begin with "Sympathy for the Devil," the first track on the aforementioned album, a song that classic and unclassic rockers know by heart. But they've never heard it like this before. Cradling a jumbo acoustic guitar, dressed in a sheer, flowing pancho, shaking her wild mane of hair, Jones started to curdle and chill and leech blood. "Please allow me to introduce myself," she whispered with a glottal shiver. And it got worse or better, depending on your tolerance for torturing an already well-tortured history. Pevar and Willett stared at her, watching every thump and strum -- who needs a jazzed-up rhythm section when you have Jones' sense of time? -- and following every move, even as she raised a muscular arm in the air to grab at something invisible above her. "Just call me Lucifer, I'm in need of some restraint!" Whatever this was, it wasn't a "cover."
And so whatever you think of Jones' foray into rock and folk standards, the strung-out minimalism of her interpretations -- and The Devil You Know isn't the first such project -- it's a smart move for an artist who still has it -- the voice, the chops, the presence, the blood-deep musicality -- but who suffers from writer's block, infamously and publicly. Of late, Jones has turned to collaborating with poets and philosophers, to digging up unfinished scraps of songs, and now and then emerging with something that doesn't pale next to the blues, jazz, rock and folk songbook she's always loved to sing. It would be one thing if she just knocked out Steely Dan's "Show Biz Kids" or Rod McKuen's "Cycles," but she fully rewrites them in her own way, fusing the former with the great original "We Belong Together" and whispering the latter with a surreal chill.
That's how the set moved, shuttling coolly between some of her best-known early work -- though no "Chuck E.'s in Love" -- and her best covers, even some her accompanists didn't remember. "Come on white boy!" Jones called to Willett as he tried to respond to her phrasing on "Love Is Gonna Bring Us Back Alive," a song from Flying Cowboys she had taught him in the car. When she turned to the baby grand piano for the first time she chose the second song on her first album, "On Saturday Afternoons in 1963," one of her purest reveries of passing youth. She contemplated the simple refrain "years may go by" and smiled a little, letting Willett stretch out on the cello, because in moments like that she still feels she has all the years ahead of her, not behind.
"We forgot our light show," she said and gestured at the blank screen behind her; then it filled with red light. "Don't worry, that's not the future." What did she ever mean by that? No one knew, so she chose "We Belong Together," a song "we haven't done much before," because it was the last show of the U.S. tour. The great solidarity in shared loneliness, the shared young-blood outsiderness of her theme, of all her themes, rang true, especially in the dark slur given to the "only angel who sees us now," the one who "watches through each other's eyes." She played the song for deep, deep keeps.
It would be hard to imagine a better setlist or a better duo to back her -- Pevar again and again teased out faint, weird sounds a Telecaster isn't known to make -- what with "The Horses," a song of hope and protection for a daughter, sailing into the ad-libbed lines "Looking for redemption, it goes on and on," repeated like a spontaneous Van Morrison vocal riff, and then straight into the scariest place on Earth, "Coolsville," also played on the piano, with long, slow chords and falsetto wails that pricked like a remembered junkie's needle.
No one can sing like that, certainly not as she sang on "Last Chance Texaco," her final song -- no encore, though the room stood to applaud over the house music for a good five minutes -- with her streaming-by siren wails, a pluck and pull on guitars and cello, orchestrated by an artist who will not go quietly -- no matter how quietly she played -- into the night.
Critic's Notebook:
Personal bias: This was just my second time seeing Jones in person. The first was a video taping at SXSW 2007, an utterly staged set, one I can barely remember now. Her Wildey show won't be so forgotten.
Overheard: Next to nothing. Everyone in the hall was stunned to silence.
Setlist:
Sympathy for the Devil
Danny's All-Star Joint
Seems Like a Long Time
Weasel and the White Boys Cool
Altar Boy
Cycles
It Must Be Love
Young Blood
Catch the Wind
On Saturday Afternoons in 1963
The Horses
Coolsville
We Belong Together
Show Biz Kids
Love Is Gonna Bring Us Back Alive
Lap Dog
Last Chance Texaco
---