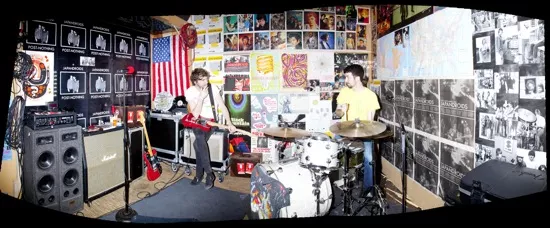 Japandroids | Swearin' The Firebird November 20, 2012
Eyes closed, head bowed and rhythmically jogging in place with his guitar over his shoulder, Brian King looked like a linebacker psyching himself up for kickoff as David Prowse started in on the drums.
Japandroids dove into an extended introductory jam that gradually built to a crescendo, finally exploding into...a comedy set. In his fury, Prowse broke the kick drum, leaving several awkward minutes to fill, which King gamely did with an impromptu series of jokes. I'll spare the details of why hipsters make poor lovers, but the unfortunate beginning only made Japandroids more determined to "make up for it" by "tearing the house down".
See also: -See Japandroids Tonight, Because The Band Might Break Up Tomorrow: An Interview With Guitarist Brian King -Japandroids induces moshing at the Billiken Club -Brian King's five-stack of Fender cabs: Japandroids' unofficial third member
Mission accomplished. Throughout their frenetic seventeen-song set, the Vancouver duo showed why it has earned its reputation as a great live band, blessing the Firebird with what was unquestionably one of the best St. Louis shows of the year. Fusing great technical acumen with non-stop energy and enthusiasm, Japandroids played with the urgency of a band that regularly acknowledges it could break up at any time.
King was a dervish on stage, whipping his mop of hair around like a Will Smith offspring and covering every square inch of the stage with spastic dancing, often having to leap back toward his microphone stand to avoid missing his vocal cue. Prowse's drumming was sharp, precise and powerful. Not since Super Bowl XVIII have skins taken such a beating. The comment most frequently heard leaving the show was amazement at how much noise was made by just two people (clearly people making that observation don't have children).
King had amazing rapport with the crowd, slapping hands with the first row, providing background stories about many songs and letting everyone know when it was time to "fucking rock." The only risk he took was when he boasted that the hockey team that is locked out in Vancouver is superior to the hockey team that is locked out in St. Louis. Ouch. King may have alienated the two or three people that may still care about the sport with that unprovoked attack. One of Japandroids' calling cards is its call and response-type chants, particularly with the "hit" from this year's Celebration Rock, "The House That Heaven Built", the highlight of the set. The crowd participated loudly throughout the night, chanting "XOXOX" during "Heart Sweats," "French kiss some French girls" during "Wet Hair" and knew precisely how many "oooooo"s belonged in each part of the choruses of "The Nights of Wine and Roses" and "Fire's Highway". Other highlights included raucous renditions of "Younger Us" and the closest thing the band has to a slow song, "Continuous Thunder".
Japandroids doesn't have a deep catalogue, with just two eight-song albums to date, but the duo plowed through fifteen of those songs with the zeal of a band choosing its favorite songs from a discography ten times that size.
At the conclusion of "The Boys Are Leaving Town", King again addressed the crowd, apologizing for not having been to St. Louis for more than three years and profusely thanking it for coming out to the show "when we know you have shit to do". On behalf of all fortunate occupants of the Firebird last night, thank you, Brian and David, for reminding us why we do go to concerts that extend into the wee hours of a Tuesday night - that is the shit we want to do.
Swearin' opened with a twelve-song, 45 minute set that was unfortunately fraught with technical issues. The Philadelphia quartet, drawing primarily from its 2012 self-titled release, showed great promise with its hook-heavy songs that evoked the Ramones, Hole, the Pixies and Nirvana. Vocals are not the strong suit of Swearin', a problem exacerbated by too little volume on Allison Crutchfield's microphone and too much on Kyle Gilbride's. With a little more seasoning and better stage setup, however, it is easy to imagine the talented band headlining such a venue the next time through town.
Follow Dave Geeting on Twitter at @thegeeter.
Setlist: Adrenaline Nightshift Fire's Highway Art Czars The Boys Are Leaving Town The Nights of Wine and Roses Rockers East Vancouver Younger Us Heart Sweats Wet Hair Evil's Sway The House That Heaven Built Crazy/Forever Sovereignty Continuous Thunder To Hell With Good Intentions Young Hearts Spark Fire For the Love of Ivy
---