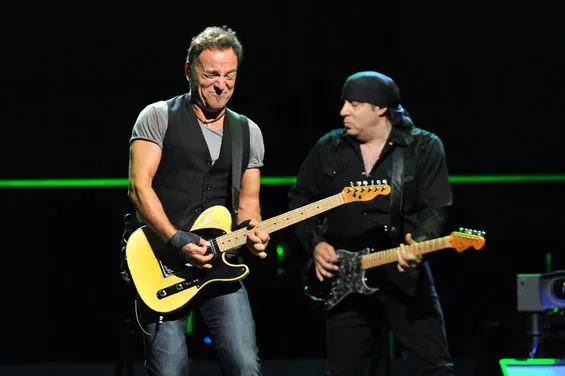 1. Yes, I know tickets are expensive. Especially to arena shows. But you know what the great thing is about these arena shows in this marvelous Internet age of ours? When you buy your ticket -- unless, of course, you got it from a scalper -- you can look at a little diagram of the arena that shows you where your seats are! Did you notice that section 222, where your seats are, is in the outermost of the three tiers, farthest from the little box marked "Stage"? That should be a sign to you that your seats are up high.
See also: -Mind Your Fucking iPhones -Bruce Springsteen and the E Street Band Do it Right: SXSW 2012 -Bruce Springsteen's evangelical nation baptized me in St. Paul
Now, you look old enough to have been to an arena before. So perhaps you have noticed that the top tier of arena seats tend to be rather steep, an architectural necessity so that everyone can see what's happening on the the floor.
And still, knowing these things, you still decided you would rather not pay the extra $25 for a seat in one of the lower sections. And instead of refusing to acknowledge your own cheapness and lack of foresight, you instead spend the last half-hour before the show begins complaining about your lousy seats loudly enough so everyone else in section 222 can hear you while gesticulating angrily.
Which leads us to point 2. See what you were missing?
2. When you are gesticulating angrily and you accidentally spill beer all over the person in front of you, the correct response is to say "I'm sorry." If you are a particularly chivalrous individual, you might even offer to get some napkins or something, but, really, "Sorry" will do.
The correct response is never to look at the person blankly and shrug.
3. When, half an hour later, it occurs to you that maybe you should apologize for spilling your beer over the person in front of you, you should apologize to the person in front of you, the one you spilled beer on. Not her boyfriend.
4. And after you fail to exhibit the most basic form of concert etiquette, you have absolutely no right to get up and lecture other people about standing up and dancing. Particularly at a Springsteen concert, which, whatever you may think of the music itself, is about joy and generosity of spirit.
But since you possess neither of these qualities, it should probably come as no surprise that you will get up and leave the show at regular intervals and for long periods of time, and then disrupt everyone else's seating arrangements upon your return.
5. As you make everyone get up and move around because of you, you continue to blame the altitude of section 222 for your bad behavior. But hey guess what? It ain't section 222, you asshole. It's all you.
---