Local rocker John Henry has Eddie Vedder's hair, Paul Simon's thoughtfulness, Otis Redding's soul and a bit of Roger Miller's singing drawl. And if Henry's music incorporates ideas from all music genres, why shouldn't his personality, too? Henry will show off his innate musical melange when he performs with his band, The Engine (Neal Klein, Michael Hickey, Nate Moran and Jordan Heimburger), at Off Broadway on Saturday, November 17. We talked to Henry about his new EP Spinning Wheel, what it's like playing guitar under water and how it feels getting the third degree from the Secret Service.
Allison Babka: What's special about Spinning Wheel?
John Henry: This was the first thing I'd ever done where the guys that I tour and play with didn't play on the album. It was different, a unique experience, and one that I really loved. But I also really love what we do together as a band.
An opportunity just opened up to record with a group of musicians down in Nashville -- guys that I kind of idolized. I'd never written songs with people before, and three out of four songs on the EP now are cowrites. That was a different thing, but now I love, love, love it. It was really rewarding to write with these people.
Do you have to let go to let other people in during that writing process?
I think you do. You also have to not self-edit right away, which is something I never was really good at, but I'm better. You wanna jump on it right away and be like, "Oh no, this isn't the way I want to go," but sometimes you can't steer. You just have to let it go.
That's one of the things I really like about Nashville - people there treat writing like a job. They write every day. Sometimes you end up with something cool or not cool, but every day, you're working that muscle. It's like working out. Rock has taken a firm grasp down in Nashville -- and Americana and country, too -- but the lines between them are blurring. There's music being made there every single day, that's the guarantee. Can you become part of that? Can you write with these people?
Is Nashville where you want to end up?
I think so, yeah. I think that St. Louis will always be my home, but Nashville is ultimately a place where the majority of stuff is happening.
It's just a really exciting time. When I think of "Spinning Wheel," I think of embracing this really exciting moment of being in Nashville for the first time. Everything was really fresh, really exciting. There were no boundaries. And it was really liberating, like, "Who knows? Maybe we'll write something really exciting today."
I love St. Louis, though. There's a lot of really, really neat music being made here, for sure. But when I think of the Spinning Wheel EP, I think of that exciting time in Nashville. It's just really exciting. [laughs] I keep saying that over and over.
The video for "Spinning Wheel" sort of looks like Instagram in motion. Whose idea was it for that kind of style?
My friend Doc Crotzer is a film editor in L.A. and edits the TV show Glee. Doc was coming to town and I really wanted to shoot the video, and he was able to do it with a small crew of some local guys (Kein Bartlett, Brian Cummings and Derek Feldman). As for the concept, he was seeing the Eagles in L.A. and called me during the show. He said, "You can maybe barely hear me, but I have this idea for the video! It just hit me!"
Doc came up with the concept of a little bit of live stuff plus the underwater stuff. The meaning of the song is that the same things keep going, good/bad/good/bad. That's what we used the water for, to show how you're soaked and then you're dry again. Always moving.
Doc could see it all. It makes all the difference in the world when you're with somebody who has a vision and knows how to execute it. It just gives you a lot of confidence.
Did you actually immerse yourself with a guitar, or was that just an effect in post-production?
That was really me and my old guitar! The pool was really deep, and to get the shot, we had to sync it up. We had a crew guy holding speakers underwater so I could lip sync to the song. So we'd count to ten, take 5-10 seconds to get to the bottom of the pool, and then they'd play the music. By the time we'd play five seconds of stuff, I'd start to lose my breath because I was singing, and then we'd have to shoot back to the top and do it again. It was fun, but definitely harder than I thought it would be.
Does it raise the bar for the next video?
Yeah. Whether you're making a record or making a video, you never want to go back. You want to write a better song, you want to sing better, you want to have a better video, you want to have a bigger show. You never want to go back. I'm terrified of going backwards. It doesn't accomplish anything.
Your music kind of fuses a few genres together. Do you remember, Donny and Marie Osmond used to sing that one song...?
"I'm a Little Bit Country [I'm a Little Bit Rock and Roll]," yep.
Do you feel like that?
Well, St. Louis is a neat music town. I think there are a lot of country twang things that came through here, and a lot of R&B like early Otis Redding, James Brown or Ike & Tina Turner. And I've never really thought about the boundaries between them as much as just playing what I like to play.
I think now, people are more open to not having genre boundaries. You know, when you have a band like Mumford & Sons sell a million records, that is so far from mainstream, but it's real. People sense that, and I think they just want to feel something that's legit and real and emotional and passionate. I think those are the things I care about as opposed to weather it's country or rock. I always just try to do emotional music.
Be that as it may, if I begged you to perform "I'm a Little Bit Country," would you?
[laughs] We'll see. I'm trying to think about how it goes and how we would do it. I'll think about it, I promise. [laughs] Donny and Marie. Yeah, she does all those weird commercials now, but hey, they had their moment.
So are there more songs in the can? Will a full album come out?
Oh, there are a lot of songs. What I'm trying to focus on right now is who to do it with and how to finance it. Like I said, I don't like going backwards, and I'm very proud of the way "Spinning Wheel" came out. And to do something with producers and engineers and guys who master, it's expensive.
This has been the first time in, like, six years where we haven't toured a ton. We were doing 80-110 shows a year, and that was great. But I've just been doing a lot more writing in St. Louis and Nashville and fewer shows lately, which has been different. But by playing less, you're also bringing in less revenue, so we'll have to crank up the touring again if we're going to make this album. I've really enjoyed the writing stuff, but I'm ready to go back to playing more.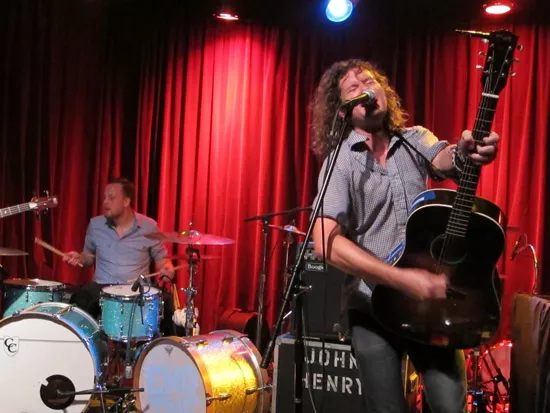 Roy Kasten
John Henry & the Engine performs at the Open Highway Music Festival in August.
In August, you brought a lot of your fancy music friends here for the Open Highway Music Festival that you coordinated. What had planted the seed for that?
When I got out of college [University of Missouri], I was bartending and helping to book a club in Columbia. I began to notice the way the music business was changing. People weren't buying as many records as they used to, but they were still coming to shows. I ended up starting a company called Open Highway Booking, acting as a talent buyer, and if there were really good shows, we would open them. We just started building up relationships with a lot of bands -- touring, hanging out, drinking at 2 a.m.
I'm helping Steve Pohlman book Off Broadway now. You kind of have to know how to do a little bit of everything -- writing, playing, booking, managing. The idea for Open Highway developed from our band touring a bunch with "red dirt country bands" from Texas and Oklahoma, and there would be these huge crowds. We'd go to little towns like North Platte, Neb., find a crowd and were like "What the heck is this?" And none of these bands came to St. Louis, so I started booking them at Off Broadway and then came up with the festival.
How did the first year go?
The Open Highway Festival ran really smoothly. Next year, it's going to be bigger and hopefully continue to grow. But it was a really nice weekend for sure. I think all the bands were happy. All the shows did really well, so it was cool. We're holding dates already and looking at acts for next year.
I've been thinking a lot about this with Steve lately. A lot of people come to the festival, the bands make money, their agents make money, their management makes money. Bartenders get paid for that night, breweries and distributors get something. But the most important thing out of all of this is that people are happy. You're doing a lot of good for a lot of people. It sounds really basic, but it's true. Concerts are good for the community.
Do musicians consider St. Louis a good place to play?
I think there are a lot of good club owners in this town -- people who care. You know, Steve is great with it. The Firebird, the Pageant, the Duck Room. I really like Cicero's a lot. I think most musicians would consider St. Louis a good scene. At least in my world with Off Broadway, people love it and they're having good shows. St. Louis isn't that big in size, but it's a good music town. People come out to the shows here.
What did you study at Mizzou?
Political science. I'm very politically oriented. I read a lot about it, I study it. But I think I was really getting a degree in music business, because that's what we were doing all the time.
We actually played an Obama rally in Columbia in 2008, and it was a massive crowd. It was one of the biggest honors of my life to be one tiny particle of that. Secret Service had to check our guitars [laughs]. It was crazy. But it was such an exciting time.
Maybe one day you'll get up to Jay-Z status and be BFFs with the president.
Yeah right. But it blew my mind at the time. I didn't have to pay for a drink in Columbia for months.
If we popped up to Vintage Vinyl right now, which section would you go to?
I'd go to the vinyl section and see if they have any Otis Redding stuff that I don't have. I really, really, really like Cory Chisel's new record, "Old Believers." I've been listening to that like crazy, and I'd probably buy that on vinyl.
I really like old R&B, and I've been listening to a lot of Hank Williams lately, so I'd probably look some of that up. It's all soulful music. The only difference is the aesthetic of it. He sings with a twang, he sings with a black voice. It's the same seed of emotional thought that just comes out slightly different.
Last time I was in Nashville, I won an Otis Redding record at a trivia thing, which I thought was really funny -- a St. Louis kid comes down to Nashville and wins something at The 5 Spot, and I'm just walking around with this album like a trophy, like "What up, Nashville?" [laughs]