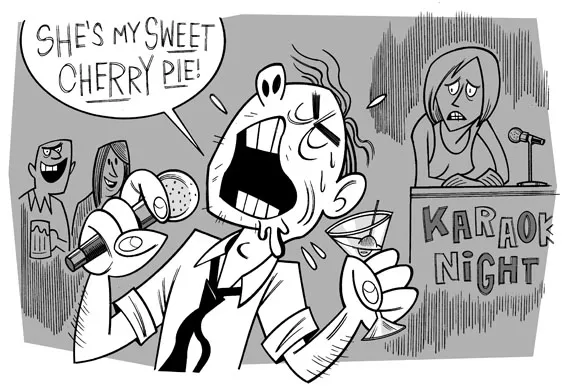 Illustration by Mike Gorman
Karaoke can be a dangerous endeavor. What can you sing that won't make friends shun you? How can you go balls-out during your next performance? Each week in "Ask a Karaoke Host," RFT Music writer and professional karaoke host Allison Babka answers your burning questions about maximizing your melodious mutterings and minimizing your friends' pain. Ask her stuff by emailing rftkaraoke@gmail.com or hashtagging #rftkaraoke on Twitter.
Can we get DJs and KJs nationwide to unite and delete "Wabble With It" from their filler list of songs? -- Wabbly Wabbit
Confession: I have no idea what this presumed song is. No one has requested it, I've not heard it on any of the terrible radio stations we have around here, I don't go to clubs that encourage women to wear shiny clothing and six-inch heels, and I'm not going to YouTube it and get an earworm. But I'm guessing that I'd be proud to be part of your movement. Start a petition, and let's secede from the union!
[Update: Oh god, I looked.]
Should I be tipping my KJ? I haven't yet, but I sort of feel like I should. -- Just the Tip
Tipping the KJ is a touchy subject, as is tipping in general, but it's really sweet of you to consider it. Personally, I believe that you should show appreciation for bar folks who do good things for you. Sometimes that means giving a dollar a drink, sometimes that means offering a sincere "Thank you."
Like the bartenders, we KJs remember you and give you perks if you occasionally ply us with money. "Occasionally" can depend on your bar or city's customs, of course. Every once in a while, a guy will shove $10 at me to bump his song up before his girlfriend has to leave, but more often, customers just give me gift cards around the holidays to show their appreciation for the fun they've had throughout the year. I never expect this and am always quite touched when it happens.
To answer your question, just do what you think is right. Consider your relationship with your KJ, your frequency at the bar and what you get out of being there. Continue to live by my motto, "Don't be a douche."
Is "Girls Just Wanna Have Fun" one of the worst karaoke songs, or is it the worst karaoke song? -- The One to Walk in the Sun
Oy. I wouldn't call it the worst karaoke song; some people can sing it pretty darn well. But when eight ladies in a bachelorette party drunkenly clop up to the mic to perform it while waving their pink feather boas, yeah, I pretty much want to die.
Why do you do it? I mean, there are a million other things you could do with your time, like writing a novel or learning to juggle or, heck, going to a karaoke bar to actually sing? What makes being a host worthwhile? -- Once More, With Feeling
Who's to say I'm not writing a novel or juggling? I typically host karaoke only once a week (plus some special events and parties), so I fill the rest of my time with my regular profession, going to concerts and researching pageants that my cat may be able to enter and win.
But obviously karaoke has become quite important to me. I've always enjoyed singing, though my voice is merely adequate instead of spectacular. I was the six-year-old urchin who pushed her way into a solo during the Vacation Bible School recital. When Rock Band came out, I gladly kept the mic while my friends were content to flick buttons on plastic guitars. I regularly waste gasoline driving and singing for hours at a time, and my brain focuses more on making playlists and music videos than it does figuring out ways to keep my car out of impound. Basically, I want to turn my life into "Glee," but without the dumb Rachel Berry singing faces.
Karaoke is a way to channel all of that and more. As I've karaoked with friends over the years, I've leveled up in confidence, engagement, silliness and peace. That last one is important. For me, karaoke has turned into a form of therapy, a way to lyrically barf out the feelings that I can't simply talk about. In love? Performing Katrina and the Waves' "Walking on Sunshine" hits the spot. Break up? Out comes "You Oughta Know" by Alanis Morissette. General surliness? I've got a 90s grunge songlist a mile long.
And once I became a karaoke host, I realized that I could play a small part in contributing to others' emotions and well-being. I can read a room and decide if I need to raise the party level with One Direction (shudder) or indulge folks in their collective melancholy with some Smiths. I can help a newbie gain confidence and incrementally blossom until they rock Europe's "The Final Countdown" without fail or fear. I can comfort a regular with some selections from Peggy Lee, his late wife's favorite. And I can throw karaoke parties that bring ten former high school cliques together to sing "Party in the U.S.A."
It may sound ridiculous, but this is all powerful stuff for me. I'm a big believer in using The Force. It's just that sometimes The Force happens to be song instead of a way to blow up the Death Star.
As a Friday-night karaoke host at a South County bar, Allison Babka receives her share of drunken song dedications, occasionally makes people cry and even has been glorified by a singing psychic. She's considering adding "Call Me Maybe" to her personal karaoke repertoire, and she hates herself for it. Bug her with karaoke nonsense on Twitter at @ambabka, and use #rftkaraoke.