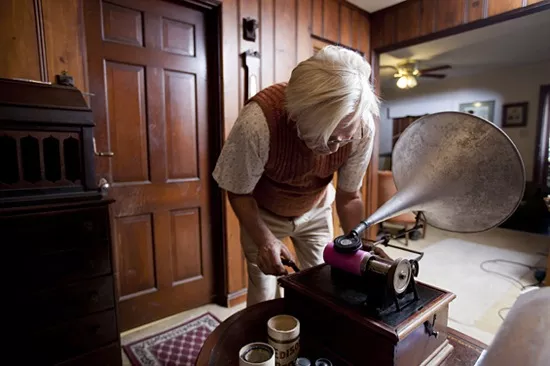 Jennifer Silverberg
Bruce Stinchcomb is one of three collectors maintaining the Missouri 78 PRM Archive in Ferguson.
In this week's Riverfront Times feature, "Hold the Phono," we pay a visit to the Missouri 78 RPM Archive, which encompasses more than a quarter of a million records spread over three houses in one neighborhood in Ferguson.
The three collectors whose records make up the archive, Bruce Stinchcomb, Alan Carell and Richard Tussey, describe the archive as a core sample of everything in America from about 1895 to 1960: not just the music people listened -- and danced -- to, but also their cultural references, their slang, their thoughts on current events and even how they spoke and sang.
Carell and Tussey were kind enough to let us record these gems from the archive for a trip through the twentieth century.
In the beginning, records weren't intended to play music, especially in their original form of resuable wax cylinders. Thomas Edison, the inventor of the phonograph, thought they'd be a good business tool, sort of like a dictaphone. Instead, people thought it would be sorta neat to record themselves goofing around. Then the professionals took over. Thus was born the comedy record. Here's Auction Sale of Household Goods by Leonard G. Spencer, a laff riot from 1902.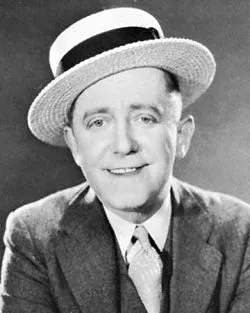 George M. Cohan, the original king of Broadway and, thanks to phonographs, parlors across America.
A few brilliant executives at Columbia and Victor records soon realized there was money to be made by recording music. People who couldn't get to Broadway shows could hear them in the comfort of their very own homes! Well, provided they had a phonograph. Now they could understand what all the fuss over George M. Cohan was about. Here's "I'm Mighty Glad I'm Living, That's All!" from 1911.
Or Paul Robeson's rendition of "It Ain't Necessarily So" from the original Broadway run of Porgy and Bess in 1938.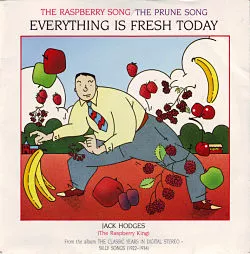 image via
The body fo work of Jack Hodges, the Raspberry King, had a definite theme.
Of course the U.S. was not the only country where records were being made. Imported records could foster moments of cultural understanding, such as this one, "Everything is Fresh Today" by British music hall star Jack Hodges, the Raspberry King, from 1933. The record was banned by the BBC, but it proved to Americans that fart jokes are universal.
You can argue, though, about who produces better fart noises, the Raspberry King or the American Mel Blanc, who provides the sound effects for Mickey Katz's "There's a Hole in the Iron Curtain and the USA is Peeking Through," from 1950.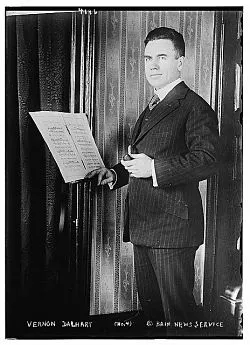 Vernon Dalhart, looking very country.
The Missouri 78 RPM Archive contains the largest collection anywhere of the works of Vernon Dalhart. And who is Vernon Dalhart, you may ask? If Tussey and Carell have their way, this will become a question as ridiculous as "Who was Hank Williams." But for now: Vernon Dalhart was the first country-western recording star. His 1927 recording of "The Wreck of the Old 97" (flip side: "The Prisoner's Song") was the genre's first million-seller.
Dalhart started off as a performer of light opera and parlor songs, and the vocal mannerisms from that more formal style sometimes overwhelm his country-western twang, as in this 1927 rendition of "A Home on the Range." This made his detractors (some of whom refer to him as "VD") doubt his authenticity. But you can rest assured: Dalhart, before he moved to New York to seek fame and fortune as a recording artist, was an actual Texan.
The introduction of radio in 1922 nearly killed the record industry. For one thing, radio was free (well, as long as you had a radio). For another, radio sounded better because it used electronic equipment to amplify voices instead of relying on singers and musicians to belt out their stuff, as records did. But the record companies recovered. They stole radio's amplification methods (notice how much better Dalhart and the Raspberry King sound than George M. Cohan?) and then radio stars, too, such as Cliff Carlisle who yodeled on the air in his native Kentucky and got himself a record deal. Here's his "Virginia Blues," recorded three years after Dalhart's "A Home on the Range." It sounds a lot more like the sort of country record we twenty-first century folk know.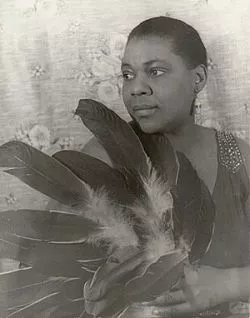 image via
Bessie Smith
Some of these records are curiosities, it's true. But records can also bring you closer to something sublime. Sure, you can hear Bessie Smith sing "Nobody Knows You When You're Down and Out" (1929) all over the Internet, with all the crackles and scratches digitally erased. (You can hear lots of people sing it, from the Allman Brothers Band to Carla Bruni.) Maybe that's the way it was meant to be heard, all clear and pristine. But, as Vintage Vinyl co-owner Lew Prince puts it, you can't really smell the era on a CD or mp3 the way you can with an old 78 rpm.
You won't really get that with this, either:
But give the archive a call at 314-522-8333. The archivists are waiting to give you a big whiff.
Read "Hold the Phono: If you meet three fellows from Ferguson who happen to mention they've got tons of old 78s, they ain't kidding."
---