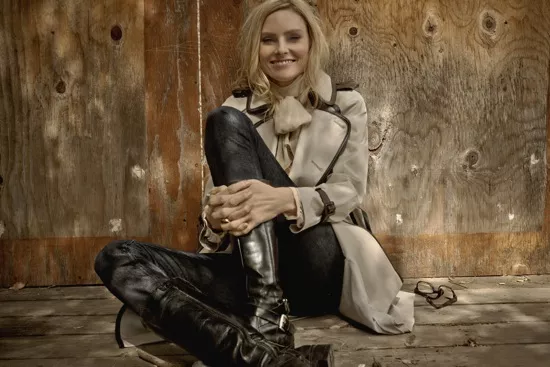 For all of Aimee Mann's readily apparent songwriting gifts - lyrical turns of phrase, sophisticated melodies, compelling character sketches - humor would not be at the top of the list. A droll wit, certainly, but Mann's catalogue of recalcitrant sinners, bruised lovers and reckless addicts does not lend itself to out-and-out guffaws. This year's excellent Charmer continued the path she laid on her string of solo albums dating back to the late '90s; the LP traipses through portraits of emotional charlatans who, if not entirely hopeless, are stuck on their own personal road to perdition.
So perhaps it makes sense that Mann has taken pains to show another side of her personality through her videos, guest spots and one-offs. YouTube is peppered with such gems; here are a handful to get you geared up for tonight's show at the Pageant.
See also: -Preview: Aimee Mann and Ted Leo at the Pageant -Show Review: Squeeze and Aimee Mann at the Pageant, Tuesday, September 2 -Ted Leo at Off Broadway, 5/8/11: Review and Setlist
5. Like Extras But with More Indie Rock Mann's 2008 Christmas album One More Drifter in the Snow was a part bittersweet, part sentimental toast to the season, and her annual Christmas shows in Los Angeles have become a magnet for guest stars in Mann's milieu. This 20-minute video takes some dedication to power through, but the faithful are rewarded with Mann's tete-a-tete's with Paul F. Tompkins, Patton Oswalt and Ben Stiller, among others, as Mann scrambles to find guest stars for her show. Were this done up in Claymation, it would certainly be an ABC Family hit.
4. Dipshit with a Nine-Toed Woman Before her soundtrack work on Magnolia made her a semi-star, Mann's turn on the big screen came in a 30-second clip in the deathless, endlessly quoteable The Big Lebowski. As the girlfriend of one of the Nihilists (which, you know, must be exhausting), Mann spits out enough German to order ze Lingonberry pancakes and reveal her missing digit. It's a restrained performance, to be sure, but a cameo in the world's funniest movie is nothing to sneeze at.
3. "Soon Enough" Goes for Confron-tainment Following the thread of pairing Charmer's poignant songs with humorous videos, "Soon Enough" centers around Mann's "surprise" intervention thrown by Tim Heidecker, best known as half of Tim and Eric Awesome Show, Great Job! duo. (He also co-wrote the track with Mann.) Eagle-eyed viewers will note Mann's husband, the esteemed Michael Penn, as an unwitting member of the clan. 2. She Was Thinking She Could Clean Up for Portlandia Fred Armisen and Carrie Brownstein have caught fire by lampooning the locally sourced, chakra-aligning spirit of the Pacific Northwest with their IFC program Portlandia, but having Mann play herself, playing a cleaning lady, allowed the pair a chance to comment on the "crazy" music industry. Worth watching for the imagined rivalry between Mann and other female singer-songwriters and Armisen and Brownstein seem bent on perpetuating.
1. "Labrador" Revisits her MTV Heyday For the Charmer single "Labrador," Mann and director Tom Scharpling concocted a story-within-a-story in which Mann is tricked into filming a shot-for-shot remake of her iconic Til Tuesday video for "Voices Carry." Not only is the fidelity to the original painstakingly achieved, but guest stars Jon Hamm (as a doofus iteration of Scharpling) and Superchunk/Mountain Goats drummer Jon Wurster (as leading man Denny Rock) steal a few scenes as well. Peep tonight's opener Ted Leo as a particularly wan-looking guitarist in the clip.
---