70-year-old Paul McCartney tripped and fell face-first from his piano riser onto the stage at the Scottrade Center. It was halfway through the 35th song of a three hour set. He sprang back up, struck a pose like a cartoon thief caught in a spotlight, strapped on his guitar and started trading solos with his two guitarists.
Sir Paul has a reputation as the frivolous Beatle. When he wanted to speak out for those fighting for their civil rights in America in the late '60s, he wrote the pastoral "Blackbird" to comfort and encourage them. And he's spent much of the past half-century perfecting the art of arena sing-alongs.
But for all the silliness of his songs and his affable demeanor (he never would have tripped if he weren't practically skipping down the steps in the first place), Paul McCartney is deadly serious about his performances. When someone flubs a solo, as Rusty Anderson did during "And I Love Her," he makes him do it again so all these people who bought tickets hear the thing the way it was meant to be played. And when the most youthful grandpa on the planet falls down, he hauls himself up without so much as a wince.
See also: -Slideshow: Paul McCartney at the Scottrade Center -Paul McCartney's Six Best Moustaches -Paul McCartney's Ram: An Appreciation
I got there really early. The lines for concessions were short; the lines for merch (Just $95 for a zip-up hoodie!) were enormous. Two middle-aged women asked me to take their picture in front of a stand with a "Fresh Nuts" sign. The first few eager fans to their seats were treated to meditative sitar music. It was raining and cold, not that the weather was going to keep away any of the people who bought tickets to the instantly sold-out show. "This is a very special night to me," said someone Paul's age sitting just behind me. "I don't care if it were raining or snowing, I was gonna come." Paul works hard for us; we work hard for him.
Chris Holmes of very modern hippie band Ashtar Command did a half-hour DJ set with vocal tracks comprising entirely Beatles samples. He was wearing velvet cloak-type garment I would describe as "wizard-like." If you were uncomfortable with the idea of hearing Paul McCartney's voice over thumping bass tracks as a prelude to a Paul McCartney concert, you wouldn't find respite even after Holmes took his leave some forty minutes before the show actually started. A scrolling McCartney timeline played in a loop on the video screen to much the same soundtrack. Did you know the guy about to take the stage was a Beatle?
For many people in the audience, this was more of a pilgrimage than a concert. After all, the St. Louis show was the first of only two United States stops on this leg of the tour (the second is later this week in Houston). One fan came from Staten Island, Sandy be damned -- I know because she had a sign saying as much. There were lots of signs in the crowd: Pleas for sweaty hugs and signatures to be turned into tattoos. One fan took the time to write in huge letters on a highlighter yellow poster, "Need Pic With You 4 Facebook." Maybe that seemed like a less paltry appeal before whoever brought it saw the competition for Paul's affections, which included at least one couple who named their kid Jude.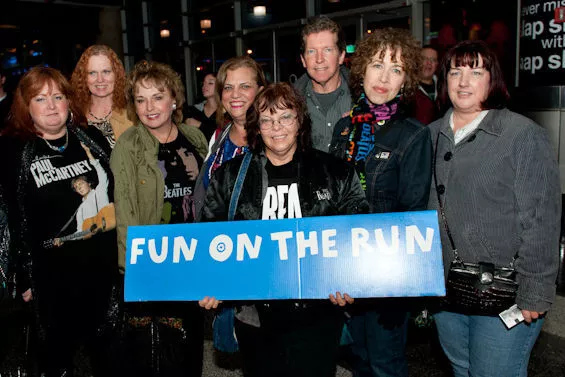 At 8:30 p.m., the Cute One bounced to center stage and took up the bass guitar he played in the most famous rock & roll band ever. He has hits for days and days -- a three hour set is just enough time to make sure everyone hears the classics. At this point, it feels a bit less like a rock concert than the world's greatest rock history musical. The setlists are consistent, the banter is consistent (you hear the one about the Russian Defense Minister?), the fireworks and columns of flame during "Live and Let Die" are consistent (as are the several thousand mini-heart attacks that accompany that initial explosion. It pretty much comes out of nowhere and we are indoors, after all).
Not that I'm complaining. The band is perfect (well, except for that "And I Love Her" solo, though as Paul informs us, "Rusty has never goofed that" before). Anderson is joined by Brian Ray up front on the stringed instruments. Paul Wickens mans the keys, the bloops, the extra guitars, the random endless palette these songs demand. And Abe Laboriel, Jr. practically steals the show on drums, so effortlessly nailing arrangements Ringo never could that he has focus and energy left over to just generally get way into it -- making absurd facial expressions and doing the Macarena to "Dance Tonight." ("That's the choreography for the evening," Paul tells us.) Everyone sings, beautifully.
Jon Gitchoff
See?
But this group of exceptional talent is not the Fireman (Paul's electronic diversion from which one song made last night's set list) or Wings, never you mind for a second the Beatles. This band is Paul McCartney. And at 70, he is well more than capable of holding down the spotlight.
Hearing selections from his scattered song book like this is a shocking experience. This is a man who has long since entered the pop culture stratosphere reserved for people whose names have been repeated so often for so long that they've lost meaning the way something mundane will if you just say it over and over. Many of his hits are similarly canonical. So you forget just how great the actual songs are, how thoroughly this man has defined the way pop music is constructed. Over and over, a little snippet of melody or a chord change hit me like a heartbeat. And not until I was standing a hundred feet away could I absorb the idea that the person in front of me, holding his suspenders under his thumbs and grinning like a boy, invented and reinvented a language I know as well as English.
"Let it Be" deserves whatever superlative you want to throw at it. Paul played it from his Yamaha grand piano while videos of candles filled the screen behind him and the arena melted. There is no one I wouldn't have greeted as my best friend right then. That's all the more remarkable when you consider that I was physically rolling my eyes the second before that when he transitioned "A Day in the Life" into "Give Peace a Chance," creating a forced narrative arc that manages to take all the impact out of both songs.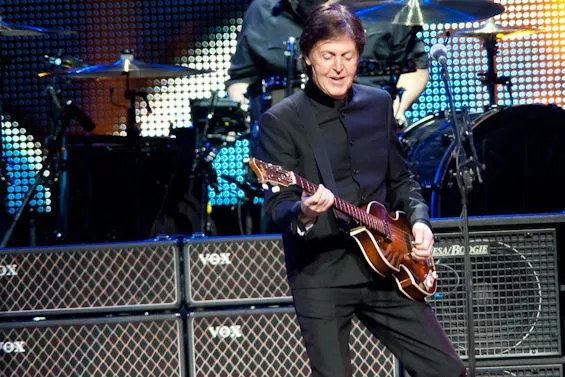 What else can you say? "Maybe I'm Amazed" was surprisingly beautiful, "Birthday" is still a dumb song and "Helter Skelter" could have been written by a progressive musical genius yesterday. Tears were shed, cross-generational bonding was had and everyone had a good time singing goofily along to "Ob la di ob la da." Totally worth the insane cost of admission; twice as many people will one day say they were there as actually were there. No one can fill the world so full of silly love songs as Paul McCartney.
Critic's Notebook
Personal Bias: To reverse a turn of phrase by the excellent Dan Moore, Lennon over McCartney, specifically and in general. That said, this show was unforgettably great.
Overheard: The couple in front of me was seeing McCartney for the tenth and eighth times, respectively. He knew all the tricks before they happened -- he was giving me as much narration about what was coming next as he could get me to listen to. And still they acted like it was the first time. There is no such thing as too much of a thing this good.
Random Detail: One of McCartney's exquisite guitars, an acoustic, was adorned with stickers for the Detroit Red Wings and Pittsburgh Penguins. Maybe I'm missing a reference that a more devoted fan can fill us in on, or maybe he's just a very confused (and very bummed, presumably) NHL fan.
Paul McCartney On the Run Tour Setlist: St. Louis Magical Mystery Tour Junior's Farm All My Loving Jet Drive My Car Sing The Changes The Night Before Let Me Roll It Paperback Writer The Long & Winding Road 1985 Maybe I'm Amazed I've Just Seen A Face And I Love Her My Valentine Blackbird Here Today Dance Tonight Mrs. Vandebilt Eleanor Rigby Something Band on the Run Ob la di ob la da Back in the USSR I Got A Feeling A Day In The Life/Give Peace a Chance Let It Be Live & Let Die Hey Jude Encore Lady Madonna Birthday Day Tripper Get Back Encore Yesterday Helter Skelter Golden Slumbers/Carry That Weight/The End
---