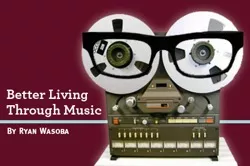 Art and life co-habitate, informing, imitating, and enriching each other constantly. Each week in Better Living Through Music, RFT Music writer Ryan Wasoba explores this symbiotic relationship
I was raised in a very Christian household, and this affected my musical upbringing in two significant ways. First, I listened to my fair share of Christian rock. (For those unfamiliar, Christian rock is like vegan food. It vaguely resembles the normal version, but something about it never tastes right.) Secondly, and more importantly, my well-meaning parents did not allow me to listen to "profane" music. Any album with a parental advisory sticker was out of the question and anything questionable was scrutinized before I could make a purchase. Today, I believe I developed a better relationship with music due to this frustrating and dictatorial limitation.
Fifth grade: After school, nobody else is home and I have complete access to the CD player my family recently bought so I blast Cracked Rear View by Hootie & The Blowfish. The song "Drowning" comes on, and Darius Rucker sings "Tired of hearing this shit..." I feel sick, because this is the first disc I purchased and it violates the rules of the house. I play the track back to confirm, and he definitely says "shit." I think, "Shit" and work out the possible scenarios. I decide to come clean, and when my dad comes home from work I tell him the CD I had just bought has a dirty word in it and I didn't know and I'm really sorry and I promise I won't ever listen to that song and I don't even like that one anyway and can I keep it please? He graciously allows me to keep the disc, and years later I will realize he didn't really care.
Sixth grade: My friends and I start making "music surveys" and passing them around the classroom of our Lutheran school. Categories like "Best song" and "Best female artist" with multiple choice answers. I come back from lunch to find my teacher has confiscated the most recent survey and written the name of every artist on the board. He points to the first name, Alanis Morissette, and asks "Does her music glorify God?" I run through the lyrics to "You Oughta Know" in my head. Seconds later I raise my hand and answer, "No."
Eighth grade: My parents have loosened up, but they are visibly worried about my new fascination with ska. My mom and I are at the mall, and while she gets her hair cut I buy Pezcore by Less Than Jake. I return and show her my new CD, and she reads the titles "Liquor Store," "Where In The Hell Is Mike Sinkovich?" and "Three Quarts Drunk." She gently says, "I think you should take this back" and I shame-walk back to Sam Goody and return the album.
Freshman year: CD burners, which totally weren't a thing before, become a thing. MP3 downloading is still in its infancy and the burning process is tedious, but this allows me to bypass parental approval when owning music. I burn a copy of Insomniac by Green Day and listen to the song "Brain Stew." I have grown so accustomed to the radio edit, that weird zipper noise that bleeps out "Fucked up and spun out in my room," that hearing the actual word come out of Billie Joe Armstrong's mouth makes me uncomfortable. Junior year: I get too comfortable and I leave a copy of Goddammit! by Alkaline Trio in my parents' car. My mom says, "I want to ask to you about the language on that CD you left in the car." Awkward conversation ensues.
Senior year: My adult music tastes are developing and most of my favorite albums will become my favorites for years to follow. I do not fear profanity in music; if anything, the censorship of my upbringing has made me aware of the power of profanity. I see it is not something to be thrown around carelessly. I see how a well placed f-bomb can strengthen a song. I know now that musical rules are made to be broken, but only if you do it right.
Age 20: I leave a copy of Tremulant EP by Mars Volta in the car and my mom says "I want to ask you about the language on that CD you left in the car." I do not know what bad words are on the disc, but I respond, "Mom, I am twenty years old and I have the right to listen to what I want and I'm sorry if that offends you, but I have to stand up for myself on this one." She laughs and says, "No, no, no. Not that. I think it's in Spanish."
Age 28: I teach guitar lessons at a music store, and a kid comes in wanting to learn an Eminem song on his iPod. I see the song listed as "Love The Way You Lie (Edited)" and I instinctively think, "This kid's going to be alright."
---