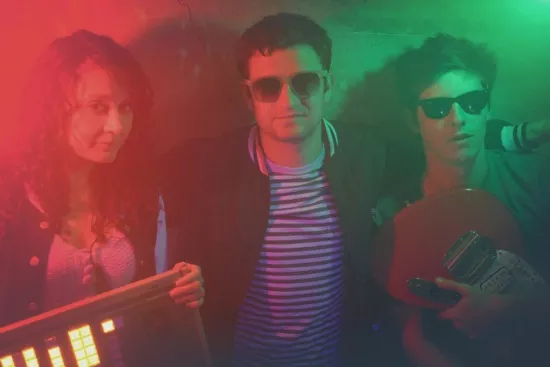 Dragon Inn 3 is a new Springfield band featuring Roni Dickey, Phil Dickey and Brook Linder. The first thing you should know about DI3 is that it started as a project to write a "Will Smith meets Ghostbusters" style theme song for Linder's short film Ghoul School, which not for nothing is very much set in the '80s. The second thing you need to know is that Phil Dickey is that Phil Dickey, a key member of the excellent Someone Still Loves You Boris Yeltsin. Most of the rest of the things you might want to know can be found in this week's music feature, wherein I interviewed Phil and Brook and they described the DIY roots of DI3. We also talked a bit about sincerity and the honest value of a good cuddle jam.
Below: The world blog premier of the music video for the Ghoul School EP's debut track, "Dragon Inn 3 Theme Song (TV edit)."
See also: -Girl, Hold Me: Dragon Inn 3 Knows a Good Thing When it Sees One -Someone Still Loves You Boris Yeltsin and Elsinore At The Firebird, 11/4/11: Review And Setlist -Someone Still Loves You Boris Yeltsin at Art Hill: Video
Look familiar from anywhere?
You can buy that track as well as the three that accompany it on the cassete via bandcamp. You also get a bonus digital download of covers of "Danger Zone" and "Don't You (Forget About Me)." I strongly, strongly recommend the whole thing.
Meanwhile, the group held a release show for this thing last weekend at Red Velvet Shop in Springfield. They played the EP over the PA, with found and original video clips to accompany each song. Those who purchased the cassette got their copy dubbed right there on the spot. The affair was Springfield through-and-through, from the band to the venue to the factory that made the cassettes: National Audio.
---