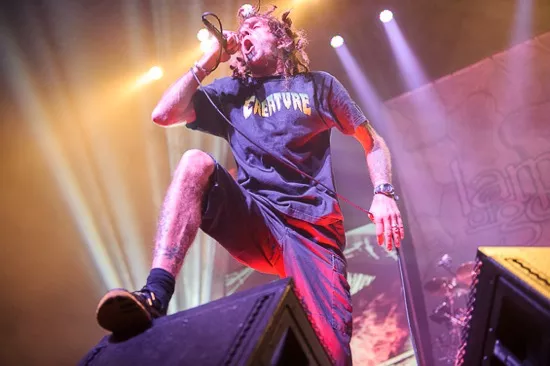 Lamb of God | Hatebreed | In Flames | Sylosis The Pageant November 7, 2012
Before I start trashing one of the most popular metal bands on the planet, let me offer my credentials: In 1989, I saw Sepultura at the Bridgeton Soccer club at just nine years old. I got in trouble for spray painting the Slayer logo on the side of someone's house at ten. I met Danzig when I was eleven. I've been playing in metal bands just about as long as I have had my own dick.
See also: -Yob at Fubar, 9/13/12: Review and Photos -Randy Blythe is Free! (For now)
I was first introduced to Lamb of God in the fall of 2003 when I decided to check out MTV's Headbanger's Ball tour. Unearth opened the show, and while I enjoyed some of the Iron Maiden inspired riffing, I was mostly bored. Killswitch Engage played second and it sounded pretty much just like the last band, minus the interesting guitar leads.
Shadows Fall was up next and I don't think I'd of even been able to tell it was a different band if they didn't switch out the super big black guy singer for the super long dreadlock guy singer.
When I was told the headliner was named Lamb of God, I got excited. Surely, this was a death-metal band that was about to steal the show. But boy did they save the exact same fucking thing for last. Little did I know this style (or lack of) would soon become known as the "second wave of American heavy metal."
Subtract what you think makes any of your favorite metal bands special and you have the bands of this second wave. Tell King Diamond to stop singing so high. Tell Slipknot to lose the ridiculous masks and chill out with the grooves. Tell High on Fire to stop smoking so much weed and fantasizing about war-vikings. Tell Phil Anselmo to start making some goddamn sense when he talks.
Given singer Randy Blythe's recent Prague imprisonment nonsense, along with how relieved and excited fans are that he has been freed, I realize that this is not the easiest time to give the band an unfavorable review. Judging by the few interviews I've ever seen with the members of Lamb of God, they are most likely pretty nice guys. This review has nothing to do with them as people. I wouldn't wish imprisonment abroad with no bail on Fred Durst himself (well shit, maybe I would. This is about the music.
I admit my explanation that my argument against it -- "I just think its boring" -- is about as strong as the counter-argument: "dude it fucking kicks ass". It is metal. I won't argue that. But that's all it is. It isn't death-metal, stoner-metal, sex-metal or lunch-metal... it is just metal. It never reaches too far in any one direction. It just lingers, secure and comfortable, in the safety of just being... metal.
A look at the t-shirts being displayed on store walls and teenagers' chests at any shopping plaza that is actually still open also tells me that if "mall-metal" is a real thing, Lamb of God is the Jay and Silent Bob of the genre.
All that said, I entered this show with as open a mind as possible. Why go anywhere with the intention of having a bad time? I've seen Hatebreed before and enjoyed it, I was excited about In Flames and it had been nearly ten years since I'd seen Lamb of God. A lot of growth can take place in ten years.
I ignored the cold and headed to the Pageant in good spirits, which started to fade when I passed the merch area on the way inside. 30 dollars for a fucking t-shirt?? That comes with like a double 180 gram vinyl and poster or something right? Wrong.
Let me fill everyone in on a little secret for those who don't know... Smaller independent bands pay around five or six dollars per t-shirt from the manufacturer for shorter runs of designs. As the quantity of the shirts increases, the price per unit does the opposite. That means bands like tonight's monsters of metal probably pay two or three dollars per shirt since they are ordering thousands at a time. The indie band pays $6, sells for $10... the metal monsters pay $3, sell for $30. Sounds like someone is getting a big hundred percent cotton dick right up the ass.
By 7:15 p.m., the British band Sylosis was already opening the show. It was metalcore and looked and sounded like every metalcore band. Does any more really need to be said?
Up next was the favorite band of any teenage boy who is really, really mad at his parents, Hatebreed. Now, I know Hatebreed is super tough and bad-ass (after all, what is more hardcore than hosting a TV show?), but its shtick has been tired for nearly ten years now and its forced "anger" just isn't believable. It's hard to imagine how pissed they must be as they nibble on craft services backstage before hitting the road in their mega-rock-bus and prep for their 9th or 10th world tour with Slayer.
This band was last in town with Cannibal Corpse opening the show. Vocalist Jamey Jasta gets to front a band with the legendary Kirk Windstein of Crowbar fame, and these dudes have even been nominated for Grammy's. Hatebreed should change its name to the fucking Happy Goofballs.
The Goofballs played well, and with about as much enthusiasm as they could seem to conjure, but given the simplicity of its chug-a-lug guitar riffs and watered down hip-hop drumming, playing it well shouldn't be too difficult. When I first heard the song "Destroy Everything" on 2006's Supremacy, I realized the band's creativity must be completely tapped, because it was one of the silliest songs I'd ever heard. Naturally it was the set closer.
Jasta then plugged the band's upcoming record and thanked the crowd for "spending an hour of your job's pay to support heavy music" like it was a charity for starving children. Did I mention this was a $38 show? T-shirts were 30 bucks and sweatshirts were $50. Even if he was only talking about his band's new album; CD's are what nowdays, $17.99? Vinyl is even more. I don't think too many members of this audience work for Goldman Sachs, and more likely an hour of their paycheck will barely cover one of the beers they are drinking.
Todd Owyoung
In Flames
The next band, In Flames, has been credited as an influence by countless metal bands and has been on the forefront of the Swedish metal scene since the early '90s. The band's early work was fast and brutal yet melodic and epic in scale. It was quite impressive and ahead of its time. Unfortunately, none of that material was played. Instead that band focused on its newer songs, which sound shockingly like Disturbed or Linkin Park. Think I'm just being a jerk? Go listen for yourself. It's not just bad; it's Pointfest bad.
Despite all the blinding strobe lights and real, honest begging from vocalist Anders Fridén for people to get out of their seats and get into the music, no one really seemed to care too much about them. In Flames' 45 minute set was followed by dimming of the lights as set up for the encore, but the silent audience did not summon the band back to the stage and no encore was given.
Crew members frantically ran around piecing together a new super-stage featuring a huge drum riser made of metal (oh, I get it!) with ramps and steps leading up and down, which looked a little like overkill on the Pageant's non-arena sized stage. Extra lights were set up, video monitors were put into place, and... are those Lamb of God floor mats being taped to the stage? Boom, ticket price totally justified!
The band finally got up there around 10 p.m. and the place fully erupted. Devil horns reached upward like flange antennae, people were shove-moshing in the seating areas off to the sides, and nearly every head in the room was banging as if someone had just said to this particular group of people, "Shake your head yes if you like titties and beer." Singer Randy Blythe's onstage charisma was top notch. As far as front men go, he's one of the best around. It was hard to take your eyes off him as he ran around the stage like a possessed Iggy Pop, screaming his dreadlock-covered head off. Maybe it was the Prague incident, which is still fresh in everyone's minds, but he truly seemed very happy to be on that stage and gave a great, full-assed performance.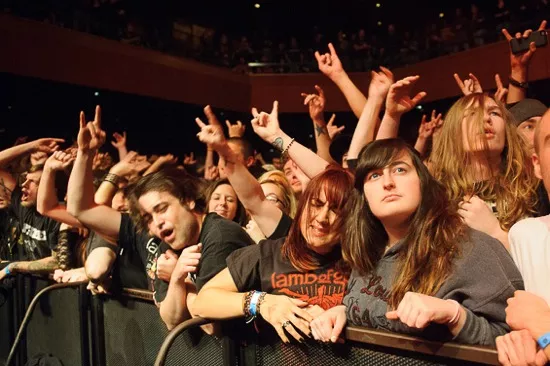 He did do one thing with the microphone I hated though: He spoke into it. I wish there had been a swear jar for him to put a nickel into every time he called the audience "motherfuckers." By the end of the show he'd probably have enough money in there to buy one of his own band's shirts.
Drummer Chris Adler is considered one of the genre's best drummers and he, as one would expect, played flawlessly. The giant screens on stage showed him playing from multiple angles, which felt much like watching an instructional metal drumming DVD. Guitarists Willie Adler and Mark Morton shredded though standard metal riffs and solos like they were showing off in the middle of a Guitar Center. While I didn't notice anything very interesting or unique about their styles, they both have unquestionably mastered the art of heavy metal guitar.
Bassist John Campbell had a cool gray beard.
The set list covered many fan favorites, including "Laid to Rest" and "Redneck" (Really? Why not just call your next album Git-R-Done?), as well many new songs which fans will be happy to know sound exactly like the old songs. Fourteen of them were played in total.
The band played together tightly, with impressive musicianship and skill, and put on an energetic and entertaining live show. The sound was great, the light show dazzled, the audience was on fire, but for me there was one problem... The music was still just not good.
It was metal for the sake of metal; riffing to showcase flashy guitar riffs; screaming just to scream. Nothing sticks in the mind aside from a stock metal lyric or two, every drum-beat and every riff seem interchangeable and every song seems to follow the same formula in the same key.
Now it isn't Nicki Minaj or "Ballroom Blitz" (the song I hate more than any other) or some equally irritating garbage that makes you want to set fire to an elementary school... it simply isn't anything. How can something be heavy if it's empty?
And ohhhh, the breakdowns. Where on earth did all these atrocious breakdowns come from? A song is moving along at a nice pace, and then we have to listen to chug-chug-pause-chug-chug-chug-pause over and over for 90 seconds before getting back to the damn song.
But I digress... My point was I feel like Lamb of God is just going through the motions - much like its second-wave peers. They love Slayer and Pantera and Black Sabbath and all the same metals bands we all do. They want to play the style of music that they love, but the critical difference is that those bands played with style, originality and purpose. It's like listening to the blues if they just stopped striking those notes that made you feel something, stop singing heartfelt lyrics with pain or joy and just kind of went through the motions. It might still be the blues, but why not listen to the real thing?
The audience was a show of its own. Unbeatable people-watching. The majority of them I had never seen at a show before. There was this vibe in the room that people came to air out their problems, whether it was trouble with the law or just trouble getting their D&D characters to advance levels. Whatever the case, a lot of the audience appeared to be blowing off steam, and whatever was going wrong in their lives at the time didn't matter for that hour and a half while they were loving the shit out of some Lamb of God. You really can't fault people for that, but when you see plenty of great metal bands come to town and play to only twenty people while this does huge numbers, it's hard not to feel a little frustrated.
But maybe that frustration is in vain. I think this new second wave is metal for people who don't normally like metal. It is easy and accessible. It never goes too slow, it never goes too fast. It never gets too angry, too dark, or too sincere. Its just kind of there, doing what it thinks its supposed to do, saying what it thinks its supposed to say. I encourage fans of this band to dig deeper, for there has really been so much incredible heavy metal released over the last four decades to be explored. You're on the right track, but you just stopped at the vending machine when there's a goddamn Red Lobster a little way down the road. Can you smell the cheddar bay biscuits ©? Sure you can. See you at the Red Lobster. I'll be the guy in the corner crafting a pentagram out of my shrimp scampi and making fun of your $30 Lamb of God shirt.
---