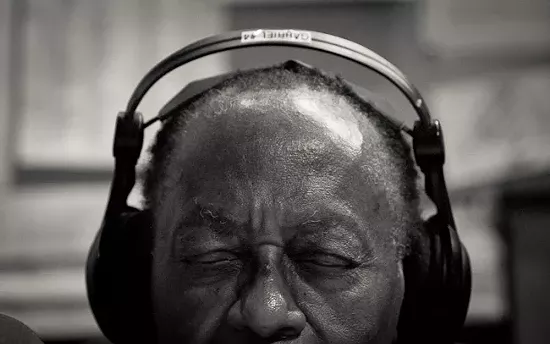 Brian Heffernan
Gabriel, host of Gabriel's Tin Pan Alley, Monday mornings from midnight to 3 a.m. on KDHX 88.1 FM.
The rooms where music is made and experienced affect everything from the sound of the instruments to the mood of the people in them. Each week in Space Explorer, Brian Heffernan will take you inside a different room with significance to St. Louis music.
He doesn't want to know what the name of the song is. No, Gabriel wants to know the lady's name who sang this next song -- it was a big one in the '60s. The name of the singer. Call in if you know it.
It's early in the midnight hour on Monday, and the song finishes without the control board's yellow bulb flashing inside KDHX's main studio. "Nobody remembers Linda Scott," he says into the microphone. Poor gal.
Stream the Nov. 5 episode of Gabriel's Tin Pan Alley here.
Gabriel swivels in his chair and cues the next tune before quizzing his audience again a few minutes later. The quizzes, his theme song (played, comically, every half hour) and his rambling anecdotes, quick to veer into absurdity, are nearly as defining as his single-moniker call sign or lyrical vocal style -- a dinosaur (of the chillest variety) in the modern spectrum of timbres and cadences.
Radio personalities are the only media types that can still maintain a shred of mystique. The best manage to take residence in the imagination -- their faces unseen. For years, even Ira Glass, now public radio's most visible star, used to hide his face in portraits. Sitting inside a radio studio is like sneaking behind the Wizard of Oz's curtain. There are knobs and levers and buttons and a man with a voice.
This voice plays blues, holy blues (what Gabriel calls gospel music) and country classics and gives historical insights about them, like how Howlin' Wolf hated cutting that version of "Evil" with the wah-pedal guitar. The voice also tells them funny stories, its opinions on local up-and-coming newsboys (Anthony Kiekow on Channel 2 and "Something Patterson" on Channel 5) and voter information: "Tomorrow is election day, and, of course, I'm running for the high muckity muck... Vote for Gabriel. Hell, I can't make it no worse."
And people listen to the voice. They call in to answer Gabriel's questions, to donate money to the station because they like the program so much (even when the pledge drive is already weeks past), and to call in just to say they're listening. They're a dedicated and faceless amalgamation of mostly night-owl blues fans and third shifters--like Dennis Brannaker used to be.
Brian Heffernan
Gabriel (bottom) sits at the control desk in KDHX's main studio with Dennis Brannaker (right) and Hound Dog Brown (left)
Dennis worked the overnight shift for Victory Cab Company in the '60s. After 2 a.m. when business would die down, he and the other drivers would pile into one car and tune in. Gabriel was on KATZ then, from midnight to 6 a.m. "He kept that clock spinning like we was workin," says Dennis.
Gabriel came to KDHX 23 years ago. Dennis joined him a few years later as his in-studio sidekick. He makes weather forecasts, laughs heartedly at Gabriel's jokes and answers the phones. Together, they run Gabriel's Tin Pan Alley from midnight to 3 a.m. on Monday morning. Gabriel wears two hearing aids that he dials in to hear the program through his wireless headphones but not much else. The only way to ask a question is to write it down on scratch paper that Dennis brings. Dennis says they've worked out a bit of their own sign language to communicate easier.
Brian Heffernan
Gabriel's suitcase. He used to bring two, but now brings all of his CDs to play on-air in one.
Sometimes, Dennis writes down songs that listeners call in to request, but the playlist is usually completely planned out by Thursday or Friday. One listener calls in to ask for a Johnny Winter tune, but all of Gabriel's Johnny Winter collection got burned up in a 2010 fire that ravaged his home. "Sorry," Gabriel responds on-air.
The walls are lined with racks of red-labeled rock CDs, but none are touched. The only songs Gabriel plays, he hauls in with him in a leather-bound burgundy suitcase filled with burned mix CDs, rubberbanded together in colorful plastic cases, and a few cassette tapes.
Playback on Gabriel's show is imperfect--a technology hiccup here and there. "I have trouble with these mp3s--these monkey paws. That's what mp3 stands for. Did you know that, Brian?" But the looseness makes it all the more listenable. It gives the sense that there's some semblance of a real man behind the voice, not just a corporatized radio machine.
And tonight, as the clock ticks close to 3 a.m., that man is getting tired.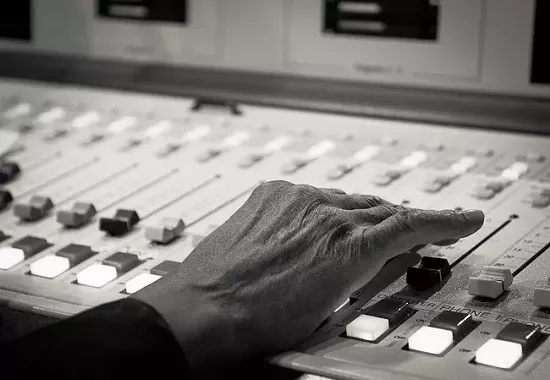 ---