Bob Reuter (front) and Bassamp (back) of KDHX's Bob's Scratchy Records. Photo by David Mitchell
Every Friday afternoon, St. Louis listens to his sporadic and scratchy radio show and tries to dissect host Bob Reuter. Perhaps we should leave this task to the professionals. Trying to comprehend Reuter is like trying to piece together a four piece puzzle with no corners.
See also: -The Complete Bob Reuter Interview -Best Music Radio Program - 2012: Bob's Scratchy Records
Yet his newest book, Tales of a Talking Dog, is a set of snap shot stories that further cement his legendary status. Published by JK Publishing and Saint Louis Projects, Tales of a Talking Dog will be released tonight at Off Broadway at 8 p.m. Bob Reuter's Alley Ghost, the Trio Project, Rat Heart and the Griddle Kids will play the show.
Reuter unconsciously imparts wisdom in every conversation, despite his self-deprecating opinion of himself. Sometimes it's big stuff and sometimes it's not: I learned during our interview that he enjoys the classic American breakfast (eggs, bacon, fried potatoes and toast) for his afternoon meals.
Cassie Kohler: You call yourself a "talking dog" and "a bad man". Can you explain your perception of yourself as that?
Bob Reuter: Well, it comes from the short story in the book, "Out of the Jungle." I once did a collection of songs under the title, "Bobby the Dog Boy Raised by Wolves." I think that's where that dog stuff comes from. I feel like the family I was raised in didn't know what to make of me. I always had this feeling that I was a bad person. It was definitely hammered home to me. I got that all through my life. The first guy I ever smoked any dope with, he was the one that had it, but I was the bad kid. So if I say I'm a bad man, it's partly because I actually believe that still.
Why write these memoirs now? What's your intention for putting these stories out there?
Just to tell my story. I had this one therapist one time that said the more I tell the story the more I'll be free of the stuff. Really, it was other people's ideas to publish it. My ex-wife used to always say, "You don't have to tell everything to everybody." I figured why not just say it and no one could ever use it against you?
You focus on the other characters in your life much more than your own personal commentary. It's really a collection of short stories about people that bounce in and out of your life. Who are some of your favorites?
Little Ricky. I feel a connection to bad people because I understand what it's like to be the bad person. And Little Ricky, he became what they made him. He got applause for singing songs holding his dick on the street corner. Just how far off was hitting a 40-year old woman with a rubber hose from that? The heroes that I grew up with, people that I thought were really cool, all came to bad ends. It's enough to make you question who you are idealizing. Or maybe they were too cool to live in society. Not that beating old ladies with a rubber hose is cool.
What is cool?
I don't know. Being who you are. Frankie is a huge hero of mine. I don't know if the reasons for him being a hero came across in the book. If ever there was a guy who was just himself. He didn't put on for anybody. Together we made a whole person. It wasn't until he died that I was free to be a whole person on my own. The hardest story to tell was when my friend Sonny killed himself. That was the hardest one to tell and I knew I needed to tell it.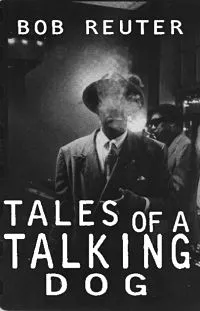 Courtesy of Saint Louis Projects
You tackle death a lot. How do you think you've learned to deal with death?
I think it frees you up. Once you accept death, you know that you only have a limited amount of time. After Frankie died, that's when I dove head long into creating shit. Especially at first, I'd throw everything up against the wall. It's incomplete, but I just got to get it out there. When he died, I went through all his tapes and everything. Hoping there'd be a world of stuff he hadn't shared with everybody and there wasn't. That really freaked me out. I decided that when I die, I'm going to leave a ton of shit that people can look through and know about me when I'm not here.
The majority of the content is not about music. This is about the life outside of that. Do you think people are going to pick this up and think this is all about your musical development?
It never even occurred in my mind that they would pick it up for that.
Why?
It's funny, because music is a huge part of me. But I don't think it's the only part by any means. When I think of myself I don't think of just music. More and more, I think about the writing. I have really examined my life. Before I did, I was killing myself. I was drinking and doing drugs heavy because I didn't want to think about it. And it just hit me that I had to examine my life or I was going to commit suicide.
How do you think that the public is going to take this book?
Like I'm a big freak, that nobody else thinks about these kinds of things. I think there's a large group that would take it that way, but then again they probably aren't going to read it anyway.
What about people who look up to you in the music community?
Honestly, for me to think that there are people that look up to me seems awfully big headed to me. Plus, my experience of people who look up to me, who really look up to me, I'm like: hold on for dear life, because eventually this person is going to realize you are not who they think you are. That's why I wanted to put the book out. Be careful around the people who love you too much too quick, cause that ain't gonna last. I also know that there are probably a lot of people that don't like me. So I can't think of one without the other. Don't believe the good things people say about you unless you are willing to believe the bad things people say about you.
"Part One, A Rabbit in the Jungle: North Side Stories" tackles your childhood and deals with growing up on the north side of St. Louis during the civil rights movement and racism. How do you think that section comes across in the book?
I know that some people will see a certain word and assume that I am racist and they will just shut down there. Those people are idiots.
What statement are you making with that section?
That was a real world. Especially, I think that young kids need to appreciate why older people act the way they do. I'm so sick of people that say 'race means nothing to me.' The world's a bunch of hypocrites. It really was like that, when I was kid. The black people lived one side of Grand and Natural Bridge and the white people on the other. If you went into the other's territory, you were asking for trouble. It look the longest time for me to not be on guard when I saw a group of young black men on the sidewalk. It was just a natural reaction for me. That's not something you can just turn around; you have to fight to turn that around. Look, we all have feelings on the races, it's what you do with them that matters. I was really slow in changing. I would use the n-word and it got to be a habit. My band [Alley Ghost] finally called me out on it, these young guys. They were like 'okay, it's kinda funny, but it's not really funny, so why don't you stop it?'
St. Louis has a reputation for being a segregated city.
Yeah, this is a tough town. People come from out of town and say, 'God this really is a dirty old town.' And I'm like, 'Yeah, don't you love it?'
Can you talk about that more? Why do you love that?
I don't know, that's just what people say, and I love it. I'm upset when they tear down an old building and put a new building. That makes me sick. And they say, 'What do you want it stay old and decrepit?' Yes, because that's how I feel inside.
The chronology is very fragmented. Why did you arrange it that way? It's a little confusing sometimes.
Really, that is what life is about. You know? It never comes in any orderly fashion. It's like the past doesn't really exist, except for the parts that exist for you, that are real for you. The only things that are real are the things that are affecting you now. So it's just like a collage of things that affected me. If you put things in a chronological order, it's almost as if you are assigning importance to it. The mind doesn't really work like that I don't think.
You mentioned your ex-wife in our conversation and you quote her in the book. But you don't give us any stories on her. Why?
Maybe it will be in the next one. Most everything in the book, I think, sort of ends in 1980. The sort of looking back remembrances. But I haven't really been reflecting on the recent stuff yet. I don't have stories in there about being a house painter either.
So there's more to come?
We also got another book coming out, a poetry book. There was so much stuff, so the shorter, more poetry stuff is called Where the Dark Ones Run. This book [Tales of a Talking Dog] was sort of an accident, so the next one won't be. Maybe it won't be as good.
Your book is the about life of an artist. Where does the drive to create, write, make music, or photograph all come from within you?
Trying to work out a fucked up life. You know, there's a misconception that people talk about all the time. You don't have to be poor and lead a life of suffering to be an artist. But you have to experience pain to be an artist, because you have to be able to feel you're feelings. No, you don't have to be suffering and poor, but you if you really are going to be a creative person; you are going to have felt a fair amount of pain in life.
---