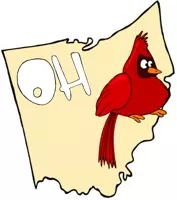 If you are a human with access to the news, you are probably sick of hearing about Ohio, the swing state that will likely determine the shape of today's Presidential election. Luckily, Ohio sounds better out of some musician's mouths than it does coming out of Rush Limbaugh's. Here are the six best songs about Ohio. Let us know your favorites in the comments below, and we'll overanalyze the results well into next week.
6. The Black Keys - "Ohio" "Ohio" is a non-specific love note to The Black Keys' home state. There are few details to link the song to the state, and none to reference the duo's town of Akron. If The Black Keys hailed from Tulsa, this song would still work with a chorus of "Woah- oh -oh -oh -oh -oh -oh -oh -Oklahoma!" The point of "Ohio" is not geographic. The song is a fortunately non-whiny reflection from a burned out touring band. Even somebody who's never lived in a van for months on end can relate to the longing of home.
5. The Ohio Players - "O-H-I-O" The Ohio Players is a group best known for "Love Rollercoaster" and the ridiculous legend that some girl was murdered during that song's recording session. "O-H-I-O" is, in the great funk tradition, lyrically meaningless. It's all about the beat, the bass, the horns, those synth space noises. But if there is a message to "O-H-I-O," it's to not underestimate this state. This track is for anybody who needs proof that Ohioans can party, that a swing state can swing. 4. Gillian Welch - "Look At Miss Ohio" "Look At Miss Ohio" by Gillian Welch (co-written by her frequent collaborator David Rawlings) is a song about small towns and big plans. Welch details a girl who is not ready to be an adult just yet. "I wanna do right but not right now," she sings at the tail end of each verse. At various points, this refers to moving, to getting hitched, to "straightening out" and settling down. "Look At Miss Ohio" is both beautiful and sad, and it's one of the least haunting tracks in the Gillian Welch and David Rawlings songbook.
3. Modest Mouse - "Ohio" "Ohio" appears on the second half of Modest Mouse's proper debut This Is A Long Drive For Someone With Nothing To Think About. The title sums up the album well; it's all highway lines and that vague area between night and morning. The entire record sounds like it was played while the members of Modest Mouse were half awake. "Ohio," like The Black Keys' entry on this list, is state-specific in that the state happens to be a fun word to say. But unlike the aforementioned Akronians, Ohio means something different to the Washington-based Modest Mouse. By the time Isaac Brock and company entered Ohio, the monotony of the road was likely in full effect. Brock outlines this with lyrics like "Truly lonely / This place is flatter than it seems," and Jeremiah Green's rickety drumming feels like a wheel that could dislodge from its axle at any moment.
2. The National - "Bloodbuzz Ohio" NPR recently ran a great interview with The National about the song "Bloodbuzz Ohio" in which singer Matt Berninger talks about the song's many topics: credit card debt, the shrinking middle class, young love. It's a complicated song for only having about 8 unique lyrics. This is the best song on High Violet, the best record to date by one of the best bands around. If you think of The National as a boring post-Interpol suit band headed by a baritone crooner, "Bloodbuzz Ohio" is the song to change your mind. 1. Crosby Stills, Nash, & Young - "Ohio" As of 6:15 AM on November 6, I suspect that nobody in the state of Ohio is going to be killed today because of their political beliefs. Theoretically, then, today's election is less politically scandalous than the shooting at Kent State University that was immortalized by "Ohio" by Crosby, Stills, Nash & Young. "Ohio" was written by Neil Young, and it may be the most Young-ish in the CSNY catalog, if only because it's angry and it's built around a muddy groove not unlike "Southern Man" and "Down By The River." Hopefully the phrase "Four dead in Ohio" won't be relevant tomorrow; today's hateful polarizing political junkies are thankfully more bark than bite.
---