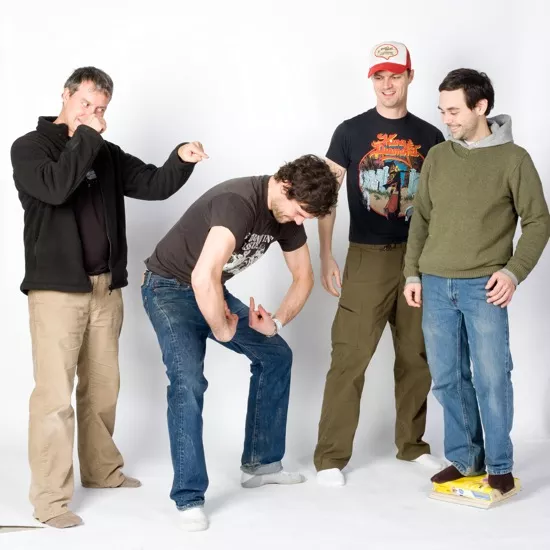 Propagandhi The Firebird November 4, 2012
Before it became a simple formula, punk was a term used to describe bands whose urgent and passionate sound didn't conform to any typical rock n' roll standards; punk bands had actual unique identities. How do you easily summarize the differences between bands like the Dead Kennedys, the Misfits, Fear, and so many others?
But soon enough punk rock became a stagnant mold of its own: One Propagandhi seem dead set on shattering into a thousand intricate little pieces.
Forget ideology for a second. The band's technicality and precision are unreal - the albums are full of the kind of impossible passages you might find in a Dillinger Escape Plan or Meshuggah song. Even more shocking is how effortless it all looks as Propaghandi perform it live. Fingers move across fret boards at lightning speeds, grabbing chords you can't make sense of one after another in rapid complex patterns, typically while the heads attached to those hands are singing completely different vocal melodies on top of it all.
Bassist/vocalist Todd Kowalski also acts as the bands cheerleader while flawlessly playing his parts, hopping around with so much enthusiasm that on several occasions this weekend he actually ran off the side of the stage completely.
Drummer Jord Samolesky, by comparison, looks calm and collected. His hands move so fast they are a blur, hitting every drum and cymbal seemingly at random like a Garth Algar solo spazz-out. And oh yeah, all those "double bass drum" parts you hear on the record...that sonofabitch is doing with a single kick pedal.
These guys show the kind of musical talent that make you want to pawn your guitar, purchase a shotgun, and put it to your own head because you will never, ever be able to play like that. But Propagandhi doesn't want you to blow your brains out in frustration; the band sells a guitar and bass tablature book at its merch table so that with 40 or 50 years of practice maybe you too can become a guitar wizard.
All this unholy riffing may also explain why there were more metal heads in attendance than you'd find at an average punk rock show, but one glance at singer/guitarist Chris Hannah's Celtic Frost t-shirt made it clear the connection runs deeper. Hannah even had a Venom sticker on his guitar, which made me think of the days when Slayer guitarist Jeff Hanneman proudly sported one for the Dead Kennedys on his guitar. Just as Slayer was metal that punks could like, Propagandhi is punk that metal heads can appreciate. This band writes with purpose as well as flash. Its lyrics have been somewhat political since its first record, 1993's How to Clean Everything, but that theme became more predominant after a brief hiatus and Today's Empires, Tomorrow's Ashes in 2001.
The subject matter of some of the songs was mentioned during Sunday night's set alongside encouragement to the audience to dig deeper and learn more. There was also a small table set up next to the merch booth (featuring organic, sweat-shop free t-shirts) distributing free information on animal abuse, worker's rights and other hard sorrows that will send you straight to the bar for a good drowning. "Things are looking pretty bleak, eh?" said Hannah (oh right: A Canadian!) by way of introducing a new song.
But it wasn't all doom and gloom. The band's lyrical style is sometimes reminiscent of old political cartoons, covering deathly seriously subject matter but always sure to deliver it with a punch line or two. Lyrics on the new album range from the bleak (eh?) -- "so much for your hopes and your dreams and your children" -- to the incredibly poignant "I like Kurt Russell as Captain Ron."
The surprisingly minimal stage banter (see last Thursday's OFF! show for the opposite) fit the same archetype, with horror stories of child prostitution followed by impromptu reciting of the lyrics to "Footloose". When Propagandhi is angry, its passion and outrage is moving, and when these dudes are being funny, well, they are actually pretty goddamn funny.
Most of the material played was from the frantic and fast-paced Failed States, the band's impressive latest release. While a trio of simpler early songs created massive crowd sing-a-longs, the band explained that it has always been about moving forward and chose to focus on playing mostly newer material because, "We like it". And judging from the crowd's response and the critical acclaim the record has been receiving, many agree.
Failed States is one of the most exciting and interesting things I've heard in a long time, and the accompanying live show does not disappoint. It reminds me of the early days of punk rock, although I don't feel like the term punk fits anymore. Maybe we should call this new sound something else. Fury boogie? Jazz race? Shred tardz? For now let's just call it Propagandhi.
---