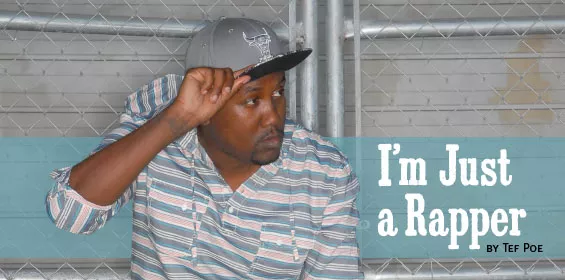 Editor: Tef Poe is an artist from St. Louis City. Through powerful imagery and complicated honesty, he has earned a reputation as one of the best rappers telling the story of St. Louis, which is about much more than one place. Poe has been featured in music publications such as XXL and Urb Magazine. His newest project War Machine 2 was released on June 5th and will be followed up by a full-length with DJ Burn One entitled Cheer For The Villain. Follow him on twitter @tefpoe. Get War Machine 2 here.
I have been a Kendrick Lamar fan every since Allhiphop.com posted a freestyle from his crew entitled "Westcoast Wu Tang". This was a few years ago and his alias was still K. Dot. I didn't know much about him, but he spit an insane verse and dumbed out over a Wu-Tang styled instrumental with his fellow crew members (including Black Hippy). His career started to progress and his buzz within his hometown grew enormously and steadily spread throughout the country once it was revealed on Twitter that he was on Dr. Dre's radar. This all happened a few years ago, and now we're finally being gifted Kendrick's major label debut album entitled good kid m.A.A.d. city.
See also: -What Makes a Hip-Hop Classic? -An Open Fan Letter to Mitt Romney and Todd Akin from Tef Poe -I'm Just a Rapper Archives
The project is an experimental body of hip-hop songs about a good kid growing up and dealing with the pressures that come with being influenced by the madness offered to him by life in the ghetto. The album is mixed by Dr. Dre and each song plays a specific role in the overall concept. Kendrick Lamar's singles don't sound like typical singles, and his album is not a typical rap album. Most music critics have labeled this one of the most important hip-hop releases of our time.
There is a growing generation gap in hip-hop music and some people refuse to acknowledge the fact that the legends of old aren't always as innovative as they once were. The 40 year old hip-hop heads are typically trapped in a time bubble and don't really acknowledge the new music being created by younger artists. If they do acknowledge it, they complain about the lack of creativity the music carries.
When innovative new artists actually create music that deserves their attention, they often don't acknowledge it until it has basically become as commercial as the music they hate. By then they are either members of the late train, or the artist has lost the flare that made them so unique in the first place.
So yes, you've finally heard of Kendrick now that he's been on BET and has a record spinning on every radio station in the nation. The problem is you otherwise complain about BET and the radio, yet you rely on them both to expose you to new talent because it's not like you're actually proactively supporting new music without help from these two institutions. I've been a fan of J. Cole for a while, but there were people that had no clue who he was until his video made it to BET.
As much as some of us hate to admit it the average fan still needs specific institutions such as radio and television to influence and alert them of what's taking place in the culture. Television and radio basically determine whether you'll be a underground king or a mainstream hero.
We've received album after album from the same exact people for the last twenty years. There have been a few new faces added to the pool, but the industry at some point suffered from a severe emotional disconnect between the young fans, old record label execs and old deejays that have been spinning basically the same exact records for decades.
Kendrick Lamar represents a new face, the new era, and new talent that speaks for itself. He can rap, but he also innovative, and his story is one that is unique enough to stand out in a genre of clutter. I decided to write this blog as a response to one of the most brilliant up and coming voices in the blogger world. My good friend Darryl Frierson wrote brief blog about this subject.
Darryl posed the question: Is it too early to call the Kendrick Lamar album a classic? I had this thought and pondered on it for a while because let's face it, today people are quick to label a body of music as a classic prematurely. In the case of K.Dot, I don't believe this is what we're witnessing.
I think we're witnessing a legitimate case of the hype machine getting it right. He can rap better than the average rapper. The West Coast has had hot and cold spurts within the last decade. Aftermath Records has always been a stronghold for new talent and has offered us plenty of game-changing moments that have helped the genre evolve and create new careers.
You have, in this case, a rapper who started out as a fan favorite on the Internet getting signed by Dr. Dre to release an album that has brought life back into not only the West coast but possibly hip-hop as a whole for the current moment. I think it's often difficult for us as fans nowadays to realize when we are actually witnessing history in the making.
Kendrick has had a sea of underground releases that have helped emotionally attach his music to thousands of listeners. A few years ago, I bought Common's Like Water From Chocolate, rushed home shut my basement door and played the CD on repeat until my ears couldn't stand to hear any more music. At the time I had heard nothing like this body of music, and I can honestly say my life was changed by this album.
At the time I don't think I had heard Illmatic or Reasonable Doubt. Naturally, these albums were released years before LWFC, but I'm from a different generation and didn't hear these albums until my early adult years. Common's LWFC was a flawless body of music from one of the best rappers alive. It may not have received the credit it deserved because honestly certain fans from the older demographic were stuck on comparing it to the first time they heard their first piece of flawless music, and the feeling such a moment gave them when they were young. I think the timing, the energy, the moment, and the rapper himself have all combined to get it right this time. I feel like the Kendrick Lamar album is sending a message to the public at large.
As a rapper building a indie career myself, I often feel burned out by how hard it is to get hip-hop fans from a certain age bracket to get over it. You had the classics from Snoop, Jay-Z, Eminem, Nas and all the other greats. These guys are living legends. Nothing can be taken from them and the rappers of today should listen and learn from these men.
I continually study these artists and I am a proud student of theirs. But here's the reality check: At some point you have to open the doors and let new talent shine. or else this genre will continue to fade off and lack innovation. Deep down inside, I feel like if Kendrick's debut album doesn't get the credit it deserves then as a new rapper in the wings waiting to be introduced on the national level myself, there's no way my debut album will get the credit it deserves.
I am not saying my album will or won't be released on a platform as large as K.Dot's. I'm simply saying new music must be given a chance to have its respectable moments. Dead Prez's Lets Get Free was an instant classic in my mind. It didn't get the respect it deserved because the hype machine wanted to compare it to similar albums that were previously released from older artists. Scarface signed to Def Jam and crafted an entire LP entitled The Fix primarily produced by Kanye West. This project received Five Mics from The Source and was instantly labeled a classic. However, the fans of old decided that the album didn't compare to how they felt about his previous "classics" and this project never really got the respect it fully deserved.
The problem is this type of activity has shelved careers. I also believe this type of activity has played a role in halting the overall creative process when it comes to hip-hop albums. If most of us are currently stuck in a bubble and only believe that Jay-Z and Kanye are capable of making classic albums, we are indeed damaging more brilliant young careers than we realize. I love Nas -- he's my favorite rapper -- but as a fan I currently feel more obligated to prepare for the release of Jay Electronica's debut album. If the album meets the hype I will gladly celebrate it.
We need for the young kids in elementary school to be overly excited about Kendrick's debut album. I feel the same way about indie artists like Rockwell Knuckles and Black Spade. When new, genius music is released we need it to be properly embraced. We need magazine editors to fully comprehend this album and allow it to breathe and shine. If Kendrick flops, then every unsigned artist of his nature, waiting in the wings waiting for an opportunity to break his talent to the world has potentially flopped. If the album sucks, then by all means say so but in this case the hype machine actually got it right.
The kid in middle school walking to school everyday listening to his iPod has never heard anything like this before. The magazine editor that has to write about lackluster albums from stale artists that won't retire year in and year out finally has something refreshing with a mainstream co-sgin and stamp to talk about. I think this is one of the most important projects of our current era. The fight to put creativity back into the offices of every major recording label just took a turn for the better.
Picks of the week. Black Spade-"Build and Destroy" SL Jones- "Acting Bad" Rockwell Knuckles- "Every Angle"
---