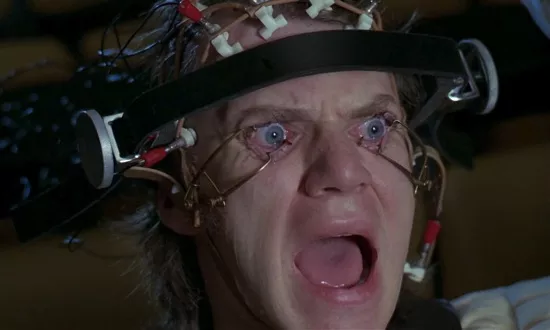 MAKE THE CAMPAIGN ADS STOP
Weather permitting, the end to the 2012 election season will arrive tomorrow night when the votes are tallied up and America prepares for the next four years. Not only does this mean we might be able to turn our TV's on without being lambasted with political rhetoric, this should also mean those annoying politically charged people in our lives will stop spewing out their angle at the bar, in your office, or anywhere else they can find someone to listen (or not -- either way, really).
In an attempt to put the political season and the so called water cooler political experts to rest once for all (or least for four years), the Election Day Debate Show will be taking place at the WestPort Funny bone on Election Night. The show starts at 8 p.m. tonight.
See also: -Jay-Z's Barack Obama Ad: You Can't Stay Rock & Roll Forever -Crotching Whiskey at the Justin Bieber Concert and Getting Thrown Out: A Review -RFT vs. Alive Magazine ... The Rigged Results of Last Night's Debate
The show, now in its third installment, has become an election night tradition in St. Louis, nearly selling out in '04 and '08. The format is simple: Some of St. Louis's best and brightest comedians will play the part of three liberals on one side, three conservatives on the other side, and one moderator pitching the issues for a lively off-colored debate. There will also be one undecided voter pitching some questions at the contestants hoping for some last minute enlightenment.
Make no mistake. This show is important. Just ask the moderator for the evening, playing a nine-year veteran of PBS weekend newscasts: "I'm just hoping someone sees me and puts me on air on a real network before I lose my shit like that dad from Family Ties"
Now let's meet the contestants, although you can take my word for it. You already have!
Representing Democrats:
Volvo Driving Ex-Hippie: "When I'm not boycotting Monsanto, I'm going to Farmers Markets to tell strangers I'm gluten free".
Young Liberal College Student: Question: Does Obama's "Hope and Change" message still resonate with you, despite four more years of an unemployment rate around 8 percent? Answer: "I think so. I mean honestly I'm voting for Obama because my parents are Republican, and they have been giving me shit about my spring break plans at South Padre Island."
Political Science Professor (Community College Pedigree): No quote to publish here. I tried to pin him down on a prediction for next Tuesdays Proposition B vote here in Missouri. For about 30 seconds he sighed at my inability to comprehend his level of expertise on the matter then fell down in sheer mental pain from my stupidity. I never got his prediction but whatever it was, let's assume it was correct.
On the next page: The Young Republican, the Black Republican and the Really Old Conservative Guy. Representing Conservative Republicans:
Young Republican, a man who hopes to make up for his high school dating record with wealth and power later in life: Question: Will the Republican party suffer without a sideshow circus candidate involved like Sarah Palin? Answer: After blushing and stuttering for a few minutes, he said, "I will drive a German car one day. Mark my words."
The Black Republican: Question: Do you think a venture capitalist can really get the black and female vote? Answer: "I am so confused with who I am right now." (He then went on a curse-laced tirade about people looking for handouts and Barack's plan to redistribute wealth. The tirade cannot be published here.)
Really Old Conservative Guy: Question: Do you think Romney compares favorably to Ronald Reagan? Answer: (The contestant voiced his answer to several inanimate objects in the room, not me.) "Obama was born in Africa."
BONUS: Representing the political confused:
The Undecided Voter: "If Barack is so freaking awesome, why hasn't anybody green-lighted a Tommy Boy 2 during his presidency? Or a Chipotle in my neighborhood? Huh"
---