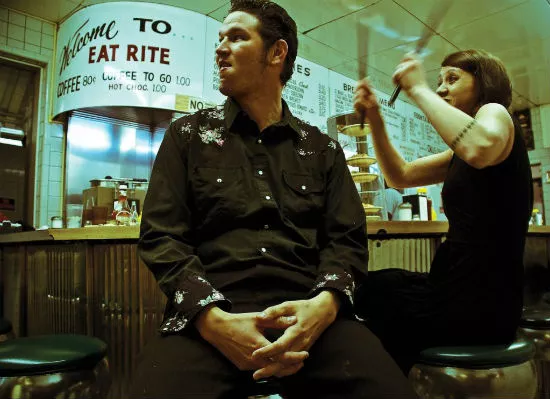 Jump Starts' Album Release Show - Saturday @ Off Broadway
It's Monday, it's shitty outside, and I'm tired. My brain is mush, creativity is lacking, and there's an unknown chirp occurring somewhere in the vicinity of my desk (seemingly overhead somehow, but it is not a smoke detector) that is driving me to distraction. I've played out the coming hours in my head, and if it doesn't stop shortly I will inevitably be found by one of my co-workers hanging halfway out of the ducts in the ceiling, kicking and swearing, surrounded by chunks of drywall and searching for what I'm starting to believe is a cricket that somehow lost its way.
Oh yeah, shows this week: Stevie Nicks's ex will be at the Pageant on Friday. Did you know he wrote the theme song to the Vacation movies? That "Holiday roooooOOOOoooooOOOooOOOad" song. That song rules. Vektor will play Cusumano's on Thursday; fans of ultra technical progressive thrash metal, take note. Giant Giant Sand will play Blueberry Hill on Tuesday; its even Gianter that the normal Giant Sand, believe it or not. The rest of our picks follow.
Sharon Van Etten Mon., 8:00 p.m. November 5 w/ Indian Blanket, Damien Jurado @ The Firebird - $14 By Jason Rosenbaum Sharon Van Etten's journey through the music world included relentless touring, respites on friends' couches and kinship with indie-rock royalty. And now, the Brooklyn-based singer-songwriter's journey is making another 2012 stop in St. Louis after an earlier show at the Luminary Center for the Arts. Her exceptionally personal songwriting and unique sound has garnered national attention, including late night television appearances with Conan O'Brien and Jimmy Fallon. Damien Jurado and St. Louis' Indian Blanket (an RFT Music favorite) open.
Giant Giant Sand Tues., 8:00 p.m. November 6 @ Blueberry Hill - $17 By Christian Schaeffer For too long, Howe Gelb's Giant Sand has been viewed as a charm school for artists to pass through on their way to bigger stages. Famous faces like M. Ward, Neko Case and the Calexico principals have benefited from time spent in Gelb's Tucson, Arizona enclave, and his melding of American and Mexican folk music has left a mark on those who served under his tutelage. In anticipation of the band's 30th birthday in 2013, Gelb has assembled a super-sized version of the group, dubbed Giant Giant Sand, and is touring behind the newly minted album Tucson. Story Songs: Tucson is billed as "A Country Rock Opera," and its nineteen tracks trace the arc of a beautiful loser, and Gelb shares the vocal duties with several band mates.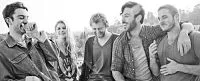 Milo Greene Wed., 9:00 p.m. November 7 @ The Firebird - $10 By Kiernan Maletsky The many-headed Milo Greene has found its national footing this year on the strength of its exceptional self-titled debut full-length. The Los Angeles quintet employs masterful harmony and thoughtful composition to the end of one of the year's best folk efforts. Everyone but drummer Curtis Marrero sings and switches instruments, so what might have been a fairly staid live show should instead be dynamic. This will be Milo Greene's first stop in St. Louis, and given its trajectory you might not have many more chances to see the band this up-close and personal. Alright, Alright: No one in the band is named Milo; that's an arbitrary moniker for the group. Aren't band-name origin stories fun??
Vektor Thurs., 9:00 p.m. November 8 w/ Zuul, Black Fast @ Cusumano's Pizza - $5 By Daniel Hill Tempe's Vektor plays blisteringly fast technical thrash with progressive influences; they'd probably do quite well with fans of the local pioneer of this style, Anacrusis. Expect long-ish song times, intense riffage, lightning-quick tempos, lots of weedily-weedily technicality and some seriously evil, scorched-to-the-bone vocals. Vektor is one of the handful of New Wave of Thrash Metal bands that metal purists tend to agree on. The band was on Heavy Artillery Records when it was recently acquired by Earache, and its Earache debut is pending. Not Pizza Party Thrash, But: Cusumano's has rapidly become the go-to spot for underground metal shows in St. Louis, owing in no small part to its hedonistic inexpensivity: Five-dollar two-topping pizzas, three-dollar Natty pitchers, two-dollar shots -- you've been warned!
Lucy Kaplansky Fri., 7:30 p.m. November 9 @ Off Broadway - $12 By Roy Kasten The therapeutic obsession inherent in the singer-songwriter genre is enough to send listeners straight to the crack pipe (if not the razorblade). Solo strummers often forget that music isn't about getting in touch with the self; it's about getting in touch with music. Though she holds a PhD in clinical psychology, New York new folkie Lucy Kaplansky mostly understands how music trumps confession, even as she's clearly mastered the risky art of self-spelunking. She turns the experience of motherhood into a country-rock workout with enough fuzz-and-sparkle steel guitar, doubled vocals and slapping congas to illuminate the bare acoustic guitar figures -- or to transform Bryan Ferry's "More Than This" into a sonic dreamscape that's more Roxy than folkie.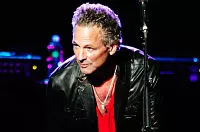 Lindsey Buckingham Fri., 8:00 p.m. November 9 @ The Pageant - $35 By Jaime Lees Lindsey Buckingham is known for his love life just as much as he is known for his talent. This distinction is common for women performers, but it's rare for men. As the guitarist and male lead singer for 1970s sunny Cali-via-London mega-group Fleetwood Mac, the curly-haired Buckingham sang and wrote boatloads of amazing, now-classic songs, all while making up and breaking up with band mate Stevie Nicks. But guitar virtuoso Buckingham is still in the business, and he's still on tour, having released his latest album, Seeds We Sow, just last year. Buckingham has now fully grown from a man defined by one relationship to one who is defined wholly by his talent. Warning: The dude wrote "Go Your Own Way" and he's still very good-looking. Keep an eye out for swooning, squealing, overheated lady baby boomers at the show.
Jon Hardy & The Public Sat., 9:00 p.m. November 10 w/ Oh Sister Oh Brother, As The Crow Flies @ Blueberry Hill - $8 By Christian Schaeffer In late 2010, Jon Hardy & the Public released an EP titled A Hard Year. The band couldn't have known what kind of year lay ahead of it. In September of last year, a few weeks after the Public's well-received performance at LouFest, Hardy took a tumble out of a tree and landed on his head, fracturing two vertebrae and leading to cancelled shows and concerns about Hardy's health -- as well as the future of the band. That period of uncertainty and convalescence came right as the band was poised to record and tour the Midwest. There may never be a good time to fall out of a tree, but the timing of the accident seemed to derail a band that, for some, has long been a favorite to break out of St. Louis and gain national exposure. But over an afternoon drink in South St. Louis, you'll hear no self-pity from Hardy, only excitement for what's to come and an eagerness to play his songs in front of an audience again.
Jump Starts Album Release Show Sat., 9:00 p.m. November 10 @ Off Broadway - $7/$10 By Kiernan Maletsky A possible downside of taking a spot in the lineup of the Firebird's yearly airing of homage, An Under Cover Weekend, is that your band will forever endure comparisons to whomever you cover in the local press. So, uh, it is with some trepidation that we direct you to the Jump Starts' 2011 performance as the Violent Femmes. That's just a starting point for the duo of Justin Johnson (of Pretty Little Empire) and Sarah Ross (of Paper Dolls [R.I.P.]), but it's a pretty good one & particularly in reference to the band's bouncy, punky pop. If PLE finds Johnson in his (powerful) diary, the Jump Starts finds him at a party. After a recent trip to SXSW and a string of highly lauded live shows, he and Ross have found their way onto the tip of many a music-fan's tongue.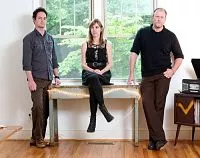 Crooked Fingers Sun., 8:00 p.m. November 11 @ Off Broadway - $15/$18 By Roy Kasten With Archers of Loaf, Eric Bachmann set the gold standard for the brainy, shredding side of indie rock in the '90s. The Chapel Hill, North Carolina band dissolved in 1998 -- but recently reemerged for reissues and reunions -- leaving its leader to test his songwriting mettle in the decidedly more acoustic, even delicately bluesy, Crooked Fingers. On last year's Breaks in the Armor, however, Bachmann puts his nearly one-man-band chops in the service of tight, focused rocking: the songs are spare but still hard-charging, bitterly literate and allusive yet still tender enough for plain-spoken lines like "You guard your love like a burden / Memory is a heavy load." Two Idols for the Price of One: As if Bachmann's appearance in St. Louis weren't enough, John Vanderslice, a self-reliant producer and songwriter, opens with his protean, electronic-conscious tone poems.