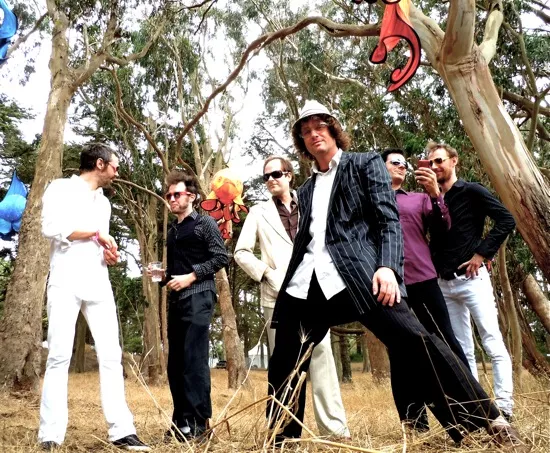 Even for a band that tours frequently, Electric Six rolls into town quite often. The dance-rocker's show tomorrow (Tuesday, November 6) will be its fifth appearance at the relatively young Firebird, and before that E6 also performed at Fubar and the late Creepy Crawl. I've seen almost all of the band's shows in St. Louis. By my count, Tuesday will be my ninth time seeing Detroit's most bitchin' sextet. Even if you aren't as extreme a fan as I am, this band is worth seeing again and again. Here are six reasons why.
6. Variety...
Electric Six has released eight albums, and until this year had been pumping out a new disc every fall. The band takes advantage its vast catalog affords them by never repeating its sets. The "hits" mix freely with deep-cuts from every LP, and the group doesn't skimp on rarities or covers.
Electric Six's variety extends beyond song selection and into the group's voice. Frontman Dick Valentine's description of the Six's sound as Kiss meets Talking Heads is more or less accurate, but the band has never been afraid to take on different styles. This is a good thing. Whether trading in country grooves, glistening electro-pop beats or indulging in Latin-percussion breakdowns and dubby codas, Electric Six brings a lot to the table without biting off more than it can chew. The band expertly balances different influences with its own songwriting voice so that their genre flirtations, while notably different from their regular style, are still recognizably Electric Six songs. This all-encompassing approach keeps the party that is their show fresh.
5. ...But not too much variety
All that said, Electric Six knows what pays its bills. Anyone coming to hear the band's two biggest hits "Danger! High Voltage" and "Gay Bar" will not leave disappointed. Likewise, fan-favorites like "I Buy The Drugs" and "Dance Epidemic" rarely go un-played. Judging by the rowdy crowd response these tracks evoke, this won't and shouldn't change. Speaking of which...
4. Great crowds
Electric Six fans come ready to rock, dance and have a good time. They don't need to be told to yell, "GO!" in the chorus of "Down At McDonnelzz". Good-natured pits are formed, and they don't spill out into the people who don't want to mosh. A party is nothing if the vibe in the room is dead, but the Firebird always comes alive at an E6 show. 3. Stage Banter
Dick Valentine keeps the atmosphere light with sardonic banter and topical, often city-specific conversation. The best known example occurs during the mid-song breakdown in "Future is in the Future,' where Valentine rants about his drummer, Percussion World, always claiming that he's a native of a nearby city or suburb of wherever the group is playing. Percussion World's hometown has migrated from Belleville to Branson over the band's St. Louis stints ("There are lots of horrible people from Belleville, Illinois, but my drummer is not one of them."). Some jokes are repeated, but Valentine does make an appreciated genuine effort to learn about, engage and rib a town on its characteristics.
2. Sweet Merchandise
Hardcore Electric Six nerds are treated well at its merchandise table, which carries all the band's albums, a wide array of t-shirts and side-project and solo records. Best of all is the tour-only rarities disc that contains 30 old songs, demos and scraps of varying recording quality. It comes with hilarious liner notes, gives great insight into the band's creative process. And despite its scattershot nature, the record features many hidden gems.
1. Electric Six a great live band
For all the silly ways I try to intellectualize it, Electric Six's appeal is simple: It's a lot of fun. The group is excellent at translating its music to the stage and dance floor. And beneath the silly antics and funny lyrics lies a tight band dripping with talent and chemistry. They'll have you banging your head one moment and shaking your butt the next. In short, if you leave an Electric Six show in a bad mood, it's probably your fault.
---