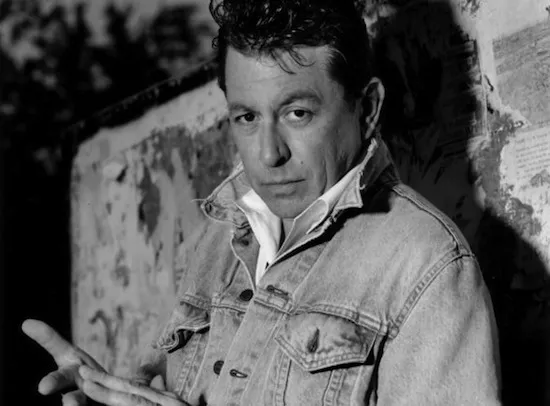 facebook.com/pages/Joe-Ely/197371668968
Of all the clichés of sex, drugs and rock & roll (and any other genre you could name), chemistry is surely greatest, but it has the advantage of being true. There's really no other way to explain what happens with the greatest of bands, and the Flatlanders -- featuring the three distinct voices and talents of Jimmie Dale Gilmore, Butch Hancock and Joe Ely -- has become a four decades-long testament to that truth.
Joe Ely is the youngest of those Lubbock, Texas legends, and though he's staring down the barrel of an AARP membership, he's still on the road, still making music with his friends and still recording some of the best songs of his career. A romantic, a realist, a rock & roller and a humane and observant storyteller, Ely (backed by young guitarist Jeff Plankenhorn) returns to St. Louis for a show on Saturday, October 27 at Off Broadway. He told us the story of the Flatlanders' recently unearthed Odessa Tapes, his growth as a songwriter and how he crossed paths with Uncle Tupelo in Austin, Texas.
Roy Kasten: The Flatlanders' recordings that have now been released as The Odessa Tapes were lost for 40 years. Did you even have a memory of the session?
Joe Ely: I did. I remember driving from Lubbock to Odessa, about 130 miles, getting down there right around dark. I remember this little concrete building, looked like a welder's shop, way out on the outskirts of town, in the middle of some pump jacks in the oil fields. I remember recording all night and walking out at sunrise. We recorded 14 songs, and I don't think we even listened back to anything. We just recorded a song and then another song. I think that was the first time all of the Flatlanders had recorded together. I recorded four songs with Jimmie Dale Gilmore with Buddy Holly's father before that, but that's long lost, and we don't expect to see those.
But we didn't expect to see this tape again. It was presented as a demo, for a guy named Shelby Singleton in Nashville, who had just bought the Sun label, and he was looking for demos. We just recorded the songs we had been playing in our living room in Lubbock. All we did was play music, morning till night, and friends would stop by, and we would put songs together. We didn't take it as a big deal. The tape made its way to Nashville and we wound up there making our first album, which included a lot of those songs.
So we just never thought about it again. It just sat in a closet until my friend Lloyd Maines, a steel guitar player and record producer, who played in my band for about ten years, called me up and said he'd found this tape. He had hard time finding a machine to play it on. He told me, "It's really good." I said, "Lloyd, there's no way that tape could be any good." He challenged me to listen to it. I was shocked. It sounded like it was recorded in a great studio yesterday. And it was recorded in 1972, in Odessa, Texas, which was 400 miles away from anywhere that would have a decent studio, in those days, there were hardly any studios in Texas.
It survived and was in good shape, but before we could hear it, we had to find a 3-track tape machine, so we could hear all the tracks. It took several months to find a machine that could play it. Chet Atkins had one in Nashville but he wouldn't let me use it! He said, "I'm sorry, but I've got too many projects on this machine. I'm real selfish about it." But Capitol Records had one in Los Angeles, four of them in their basement. They'd recorded those Nat King Cole and Frank Sinatra records on that machine. At one time it was the future of recording. A stereo orchestra in the background and a third speaker in the middle where the voice came out.
You're not tempted to go back to Lubbock and start rummaging through closets?
No. I know there's another recording that I did when I was 15 or 16, with my early rock & roll band, four or five songs. I don't know where that tape is either. But aside from that and the recording with Buddy Holly's father, that's about it. Nobody had tape machines back then.
What's always been interesting about the Flatlanders and your relationship with Jimmie Dale and Butch, is, one, how long it's been, and maybe you guys put on a good front, but you still seem like good friends. But your musical careers are so interconnected. You're individual songwriters and singers, but your music is inextricably twined together.
It's a good way to put it. We never thought of ourselves as a band. When you have a band it's a business, you know? In the old days, we were intrigued by the whole mystical magic of a song, and how when it's put together it creates a whole space. That's what intrigued us. I had come out of the rock & roll world, Jimmie Dale had played country music with his dad, and Butch was a real folk singer. So it was an interesting combination. And that magic is still there.
Back then, we never wrote together. That was considered against the law, back in the '60s, nobody except on Music Row or Tin Pan Alley would do that. Lennon and McCartney kind of changed that idea.
But now when we sit down to write a song, I'll tell you, it can be a painful process. It can take a week just to write a line. Maybe the next week we finish the verse. Some songs take months, a few have taken four or five years. It's not an easy thing. Jimmie calls it fun, but it's not fun for me. It's like pulling your hair out. Between the three of us we're hard to please.
On your most recent record, Satisfied at Last, the song I keep coming back to is "Not That Much Has Changed."
That seems to be the sleeper song. I had written that four or five years before working on the record. I hadn't thought about it, but I listened back and thought that it fit right in with the theme of coming and returning, going back to where you started.
I love how the song evolves, and the closing image of returning back to a home and a town after the war.
Originally that wasn't in the song. It was just a love song that had gone bad. But I started seeing all these poor guys coming back from the war, and I was sure they were coming back to their hometowns, and everything looked the same but they had changed so much. So I put myself in their shoes, and that makes the nostalgia even deeper. And then asking the question, "Why do we do this over and over? Why has this been going on for the whole history of human beings?"
You mentioned earlier that you came to the Flatlanders from a rock & roll experience.
When I was growing up in Lubbock, from the time I was in the ninth or tenth grade, I'd put a couple of bands together, one of them was pretty good, we played a lot around Lubbock, at the dances and VFW lodges. When I met Butch and Jimmie, they were completely different from what I did. It was refreshing. I was floored by their songs. They where a few years older than me, and that started me to dig into writing. The whole songwriting thing, even now, I'm more involved in putting songs together than at any time in my life. I've also had the good fortune to go out and tour with songwriters like Guy Clark, John Hiatt and Lyle Lovett. Just to be able to hear a great song all night long is a real inspiration.
I've always been curious how the session with Uncle Tupelo came about. You guys did that Waylon Jennings song "Are You Sure Hank Done It This Way."
I was out on the road and I'd gotten a message that they'd asked me to come down to Cedar Creek Studio in Austin. I had just flown in on a plane and went straight to the studio. I didn't know what we were going to do. The whole thing just fell together that night. I had to take off the next morning. It came together in the course of three or four hours. I'd never met them before. We worked up the song and recorded it right there.
What was your impression of the band? Jay and Jeff were pretty young at the time.
I could tell they were serious about what they were doing. They were really involved in the session. They weren't just sitting back on the couch. It went by in a blur and I wish I could have spent more time hanging out with them.
---