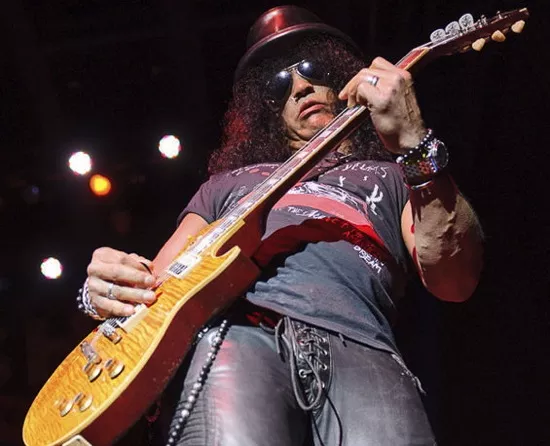 Most rock songs use guitar solos as icing. In some rare cases, the solo is an essential element incorporated into the batter of the proverbial song-cake. Here are the six best songs that are at least 50 percent guitar solo. Let us know your favorites in the comments below.
See also: -The many moods of Slash -The six best bass solos in rock -The six best YEAHs in rock
6. White Stripes - "Ball And Biscuit;" 56% solo "Ball And Biscuit" is one of the White Stripes' bluesiest tracks, so naturally, it features one long-ass solo from Jack White. There's a 37 second tease around the 1:45 mark, but from 3:49 to the end, it's all killer wails, Jack White at his dirtiest. Meg White is sometimes a punching bag for critics, but her cavewoman sloppiness on "Ball And Biscuit" keeps Jack on his toes - toes that sound like they're stomping on some kind of Whammy or other pitch-shifting pedal at a few key spots.
5. Pink Floyd - "Shine On You Crazy Diamond (pt. 1);" 50% solo "Shine On You Crazy Diamond" bookends Pink Floyd's Wish You Were Here album, and it is massively indulgent in the best way. Guitar solo here, Minimoog solo there, fade out on a sax solo, and that's just part one. Roger Waters' vocals are only present for around three of the song's thirteen-plus minutes, and even then every line is answered by David Gilmour's guitar. Multiple solos from Gilmour add up to exactly half of the song's running time, and each one displays his signature - tons of dramatic bends, very slow lines, melodies adjusted for crucial chord changes. Gilmour's solos themselves might be the only economical element to "Shine On You Crazy Diamond."
4. Built To Spill - "Some;" 52% solo The easiest (read: laziest) comparison to Doug Martsch from Built To Spill is Stephen Malkmus from Pavement. Both favor enthusiasm over accuracy, and both like their solos lengthy. The big difference is that Malkmus's sloppiness comes from a defiant apathy and Marsch's sounds like he just got way too high to realize he's being sloppy. "Some" is not the best song on BTS's landmark There's Nothing Wrong With Love, but it might be the most important to the album's structure, functioning as the second half of the adorable and short "Twin Falls, Idaho." Taking turns between whispering verses and maxed out distorted choruses (thanks, Pixies!), "Some" is the essential rock-out on the record. You can just imagine Martsch with his eyes closed, totally "feeling it." 3. Neil Young - "Down By The River" 51% solo We've already awarded Neil Young the best bad guitar solo prize for "Southern Man," so it's only natural that "Down By The River" would make the cut for this list; it's the sinister, mysterious partner to the angry "Southern Man." Young slowly creeps into the chorus of "Down by the river / I shot my baby," which you totally didn't see coming the first time you heard this song. The solos are signature Neil, passion that transcends technical ability and a distortion that is only achieved by pulverizing the strings and making the amplifier cry.
2. Brian Eno - "St. Elmo's Fire;" 55% solo Brian Eno loves his guitar solos, from "Baby's On Fire" to the lengthy Adrian Belew takes throughout Talking Heads' Remain In Light. He employs Robert Fripp on "St. Elmo's Fire," the best song on Another Green World, his best album. Fripp is relentless with a sawtooth tone that makes his work sound like a synthesizer experiment rather than a guitar solo. "St. Elmo's Fire" is only three minutes long, it's essentially structured like a pop song, and Fripp shreds for 55% of the song. Brian Eno loves his guitar solos. 1. Television - "Marquee Moon;" 56% solo For how tightly wound Television's Marquee Moon record is, the ten minute title track is surprisingly sprawling. The structure is as follows: intro, verse, chorus, verse, chorus, solo, verse, chorus, solo, solo, solo, solo, solo, solo, solo, backwards solo, verse, chorus. On top of that, the choruses are backed by miniature solos. There's a lot of solos, okay? But they're all done with musicality in mind. The lengthiest one stretches four and a half minutes from 4:50 to 9:20, and guitarist/singer Tom Verlaine's main motivation throughout seems to be one of a ringleader to the other band members. The solos on "Marquee Moon" are many, and the payoffs are vast. Micro high-fives inserted within a macro high-five. Television is credited as one of the first post-punk bands, but the group may have truly been one of the first to prove that punk could mean more than fast, loud, and short.
---