via Facebook
Martin Evanick (aka Vlad) after a Core of Your Nightmares show in 2010.
The drummer for St. Louis-area death metal band the Core of Your Nightmares is being held with no bond on child pornography charges -- he allegedly filmed himself "engaged in sex acts" with a child and shared it on the internet. Investigators think he is a flight risk and a danger to the community. KMOV's Maggie Crane broke the news late last night.
See also: -Shattermask Lead Singer Brian Dotson Wanted for Five Counts of Statutory Rape and Sodomy
The Core of Your Nightmares is based in Collinsville and has been playing shows for a couple years now. Early this morning the band posted a message about the arrest on its Facebook page:
As most of you may already know, our drummer Vlad has been arrested on child pornography charges; we had no involvement or knowledge about these act, and we in no way condone in such actions, what happened to him is unfortunate, but he brought it on himself.
The offenses pertaining to this arrest happened in June of 2010 and a year later in 2011, according to federal prosecutors. Linda McQuary of the St. Louis Children's Advocacy Center told KMOV it's highly possible there were more offenses -- if you have any information about Evanick, you are urged to contact your local police department.
via Facebook
"Vlad" without his stage makeup at practice.
The press release from the Southern Illinois Department of Justice as well as a clip of the band's music is on the next page.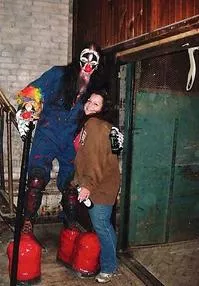 via Reverb Nation
Vlad in his full costume.
Stephen R. Wigginton, United States Attorney for the Southern District of Illinois, announced today that on October 19, 2012, Martin L. Evanick, a/k/a "Vlad," 31, of Collinsville, IL, was arraigned on an one-count Indictment charging him with Production of Child Pornography. The alleged violations took place on June 8, 2010, and April 20, 2011, in Madison County. After a detention hearing, the Court ordered that Evanick be held without bond pending trial.

The offense charged in the indictment alleges that, between April 1, 2012 and April 21, 2012, Evanick took photographs of himself engaged in sexual activity with a minor, as well as close-up photographs of the minor's genitalia. A trial date had not been set. If convicted of Production of Child Pornography, Evanick faces a term of imprisonment of not less than fifteen (15) years but not more than 30 years of imprisonment, a fine up to $250,000, and a term of supervised release of not less than five (5) years to life.

This case was brought as part of Project Safe Childhood, a nationwide initiative launched in 2006 by the Department of Justice to combat the growing epidemic of child sexual exploitation and abuse. Led by the United States Attorneys' Offices and the Criminal Division's Child Exploitation and Obscenity Section, Project Safe Childhood marshals federal, state, and local resources to locate, apprehend, and prosecute individuals who sexually exploit children, and to identify and rescue victims. For more information about Project Safe Childhood, please visit www.usdoj.gov/psc. For more information about internet safety education, please visit www.usdoj.gov/psc and click on the tab "resources."

The case was investigated by the Collinsville, Illinois, Police Department and the Federal Bureau of Investigation's Metro East Cyber Crimes and Analysis Task Force. The case is assigned to Assistant United States Attorney Angela Scott.
---