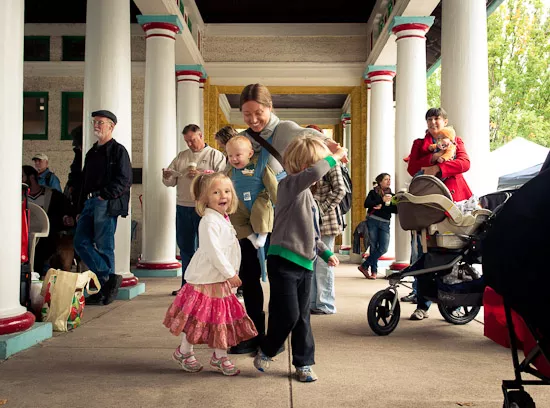 Brian Heffernan
Children dance at the Harvest Session Finale.
The rooms where music is made and experienced affect everything from the sound of the instruments to the mood of the people in them. Each week in Space Explorer, Brian Heffernan will tell you about a different room with significance to St. Louis music.
It's a nice way to start a weekend.
"Nice" is a tame word, but Saturday morning activities, both in practice and portrayal, ought to be subdued. Anything remotely jarring might send folks diving back under the blankets. With cups of coffee and an occasional breakfast sandwich, the crowd and its canine friends pause in and around the almost-century-old Pool Pavilion to take in the cool, 53-degree autumn morning. Children scoot up close and parents with canvas produce bags give a listen to local talent.
See also: -Space Explorer archives -Pretty Little Empire explains how to survive on tour -Meet the 2012 RFT Music Award Nominees: Folk
So, with an acoustic guitar and subtle accompaniment, including a percussionist who finger-pattered tempos on the tops of his thighs, folk songstress Auset welcomed buyers and browsers to the Tower Grove Farmer's Market and the finale of the KDHX-sponsored Harvest Sessions concert series last Saturday, which also included performances by The Lulus and Pretty Little Empire.
"I don't know how many people come for the music," says Beverly Hacker, executive director of KDHX. "But, I definitely think people stay for it." She says one of the goals of the series is to cultivate foot and bike traffic and build a sense of community in the neighborhood.
For Lon Crouch, seated in the rear row of plastic chairs, a stop here is part of his daily exercise regimen. He lives just a couple blocks away and walks the park every morning. "I enjoy the people and the music on Saturday mornings," he says with grin. "I usually get a coffee and a cookie. That's just standard fare." Chocolate chip, today.
Brian Heffernan
Pretty Little Empire performs at the 2012 Harvest Session Finale.
The pavilion was designed and built in 1914 to resemble a Roman bath house. Its performance space, twice as long as it is wide, is lined with 22 support-columns that allow the folk and Americana tunes to waft out among the vendor tents yet provide an intimate enough environment inside to encourage the Lulus' conversational storytelling intros and allow Pretty Little Empire to drop all instruments except for an acoustic guitar and sing four-part harmonies off-mic for one song.
The 25-week series began in May and features different local artists each week, often performing acoustic, stripped down arrangements of their songs. Artists have varied from the Emmy-winning children's entertainer Farmer Jason to latin-jazz and world-music fusionists Farshid Etniko.
"We just like to put a little bit of everything up here, just like the station," says Hacker. One of the only rules of the series is a ban on full drum kits.
The scene has changed since its sticky, humid days. The pool, swimming with splashing children during a Stickley & Canaan set in August, is dry now, and summer's peaches have given way to autumn's pumpkins. Many vendors sell hand-knit hats and gloves, though as morning draws on, the sun shines unabated and such accoutrements seem for a moment like unnecessary precautions for the days ahead.
Warm daylight, a dancing hammer dulcimer lead, and a neighborhood gathered around freshly harvested food--it's nice.
Brian Heffernan
The Pool Pavilion at Tower Grove Park.
---