Last night, Die Antwoord shifted reality for a room full of screaming Midwesterners. Arms were reflexively clutched in elation. Hands were thrown into the air. Voices were raised in a garbled mix of Afrikaans, English and swears. How have they captured our American hearts so completely? It's all about the imperatives.
See also: -Die Antwoord at the Pageant: Slideshow -The 15 Most Ridiculous Band Promo Photos
Habit 1: Be Proactive Die Antwoord wasted no time with pleasantries and launched directly into DJ Hi-Tek Rulez, which described to the audience Hi-Tek's plan to make you love him... by fucking you in the ass.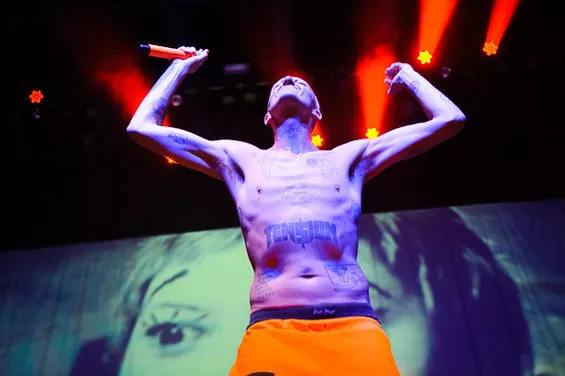 Habit 2: Begin with the End in Mind As principles Ninja and Yolandi joined Hi-Tek (in this case presumably actually DJ Vuilgeboost) on stage wearing matching orange jumpsuits, the crowd burst into a wild display of fandom. Their outfits were designed perfectly to allow them to undress for success. Piece by piece, the suits came off, until the burly Hi-Tek was shirtless, Ninja sported only his Pink Floyd-themed boxer shorts and Yolandi was finally able to showcase some booty-meat for her adoring fans clad in a crop top and short shorts.
Habit 3: Put First Things First On debut album $o$, Ninja stood mainly as the front man with Yolandi running hype, providing squeaks and looking awesome in tight gold lame. This time around, on Ten$ion, she takes center stage. Wearing gold from head to toe, she commanded the stage and audience, bouncing and scampering during "Rich Bitch."
Habit 4: Think Win-Win There was a definite air of "What kind of crazy shit will they do?" and "I'm here to enjoy a spectacle" among those in attendance. There seemed also to be a large contingent there for the music: "I hope they play 'Rich Bitch'" and "I love this part." The group delivered on both fronts. A loose choreography comprised wild arm flailing, jumping, phallic microphone references and a heavy dose of good old-fashioned crotch grabs, while both Ninja and Yolandi delivered each song with aplomb and contagious energy.
Habit 5: Seek First to Understand, Then to be Understood Although Die Antwoord uses a slang mixture of Afrikaans and English, most songs -- particularly "Wat Pomp", "Fok Julle Naaiers" and "Fatty Boom Boom" -- provoked a raucous sing-a-long and mass jumping.
Habit 6: Synergize Catchy hooks, endless charisma and a, "Fokk off, we're having fun" attitude captured the audience. Die Antwoord has created and carefully cultivated its image, supported by shocking and impressive music videos and photos that people pull up on their phones and computers at parties to disturb their friends. There is tireless creativity in every aspect of the group's public image. Ever conscious of context, the duo sported STL apparel during the last encore.
Habit 7: Sharpen the Saw As a fan and I-wish-I-was-a-more-Yolandi-er-type person, I can say that I was impressed by Die Antwoord live. As my nearby friend grabbed my shoulder and shouted, "This is the rave I've always wanted to go to but never did," I empathized. It was a party. A strange party with strange people, to be sure, but the overall atmosphere was completely celebratory. For a band that started half a world away in relative obscurity and is now capable of filling a large-capacity venue in middle America, Die Antwoord has stayed surprisingly true to its original art-project feel and bizarre awesomeness. Ninja and Yolandi are just getting better.
Editor: Kristin Dennis is the mastermind behind the St. Louis band most likely to pull of gold lame on stage, Née. You can find her music on the band's website.
---