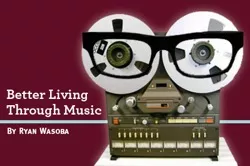 Art and life co-habitate, informing, imitating, and enriching each other constantly. Each week in Better Living Through Music, RFT Music writer Ryan Wasoba explores this symbiotic relationship
When I was joined in legal holy matrimony with my lovely wife, Megan, three and a half years ago, we officially moved in together. Our earthly possessions were therefore combined, and this entails hundreds of CDs, mostly discs burned for casual car listening. The stacks are daunting, and we've gradually chipped away at them by recycling ones we don't care for and filing the rest into booklets we will eventually have to sort through again later. An occasional disc makes it into car rotation, giving me a chance to revisit and reevaluate the music of my past.
See also: -Better Living Through Music archives -Elvis Costello at the Pageant: Our favorite show of 2011 -Los Lobos at the Sheldon: No one does it better
One disc that pops up often is It Had To Do With Love by Koufax, an early 2000s synth-pop band whose notoriety is almost exclusively linked to its friendship with the Get Up Kids. It's not a great album. I don't even know if it's a good album, but I am starting to suspect that it doesn't matter. If anybody asked me if I like Koufax, I would say "yes" without hesitation. Similarly, if somebody asked me the same question about a band I theoretically like more, say, Sonic Youth or Led Zeppelin, my answer would probably start with "Kind of, but...."
The enjoyment of any song/album/artist is often circumstantial, and my circumstance happens to include significant time with bands that I would probably not care for if I heard them for the first time right now. Too many among us subscribe to the pretentious idea that people would listen to "better music" if they were only exposed to it, and preach personal taste like universal truth. Too many among us think like missionaries.
I have been writing about music semi-professionally for five years now, and even before that I listened to recordings from a critical perspective. Part of this is an active attempt to dissect what makes songs work or not, and part of it is the necessary evil of forming an opinion. I listen differently when I hear something from my past. I don't listen to decide if it's good or not; when I hear a bad third-wave ska album I loved in high school, I know it's bad. I listen to try to figure out something about myself, however vague and meaningless that may be. Then what does It Had To Do With Love by Koufax say about me? Hell if I know, but listening to it and still smiling during the hook of "Minor Chords" makes me feel grounded. It makes my Grinch heart grow.
So much intellectualizing of music involves erasing yourself and listening objectively. This may be a necessary practice from time to time, but it's no fun. The love of music involves personal investment, and when you do it right, music pays dividends through memories. Maybe not directly, like recalling a specific experience that happened while listening to, I dunno, "Work Will Never End" by Koufax. But those little comforts of familiarity, of hearing a melody you once forgot, are magical. They can make a bad song good, or even disintegrate the good/bad dynamic entirely.
My specific musical circumstance involves listening to the song "Gyroscope" by the Dismemberment Plan many times, maybe more than any other song. This is neither particularly cool or uncool; it's just true. At the climax of "Gyroscope," the lyric "Happiness is such hard work" appears. If your happiness comes from music, this is often the case. We music lovers are a restless sort, and we frequently give our time, energy, effort, money and patience to music. Let us also allow ourselves to be open to what music has to give us in return.
---