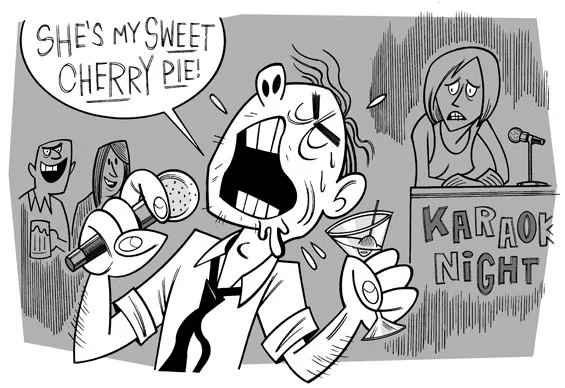 Illustration by Mike Gorman
Karaoke can be a dangerous endeavor. What can you sing that won't make friends shun you? How can you go balls-out during your next performance? Each week in "Ask a Karaoke Host," RFT Music writer and professional karaoke host Allison Babka answers your burning questions about maximizing your melodious mutterings and minimizing your friends' pain. Ask her stuff by emailing rftkaraoke@gmail.com or hashtagging #rftkaraoke on Twitter.
See also: -Ask a Karaoke Host archives -Best Karaoke 2012: DD's Irish Pub & Karaoke
How many articles of clothing are too many to take off during a karaoke performance? -- Magic Mike
This seems to be a popular subject -- I'm often asked online and in person about karaoke nudity. I hate to disappoint you, but I've not had anyone take anything off at my bar -- yet (You volunteering?). My customers tend to be singers instead of performers, so they're relatively tame. Go to another area bar, though, and... well... let's just say I've heard stories.
That said, if you can pull off singing while simultaneously unbuttoning your dress shirt (t-shirt or tank top below) or hiking up your skirt (shorts or leggings underneath), I'm certainly not going to stop you. Pseudo-stripping is theatrical and fun, right? If you don't violate any indecent exposure laws, I'll be the one cheering the loudest.
What surprises you about the age demographics of karaoke? -- Hope I Die Before I Get Old
I think it all depends on the general demographics of your bar, really. My bar has a good showing of people in their 30s-50s, with some older and younger folks thrown in. Thus, I know that playing and performing 80s and 90s songs as a default will go over well.
I've been surprised to find, though, that once these customers guzzle some liquid courage, they'll venture outside of their age demographics when selecting songs. When this happens, the older folks sing current pop music (One of my regulars does "Call Me Maybe) and the 20-somethings sing oldies ("Runaround Sue" is a hit every week). I don't pretend to understand it, but it's fun for me because I can slot different genres "sets" and keep the night moving.
What's the best way for a straight white guy to get around truly offensive words (such as derogatory terms for specific races or gender orientations) in a song? Are those words ever appropriate for someone like me to sing? -- I'm Speechless
Hoooooo, boy. This could get really uncomfortable.
Knowing which songs contain those words -- and how often those words are repeated -- is important for me as a karaoke host. When someone submits a request for such a song, I pay close attention to the singer before it's their turn: Are they drunk? Are they with a diverse group of friends? Do they seem like they'd go more for shock value or for the true spirit of their chosen song? I also take in the whole bar scene: How many older patrons are there? Is it a party atmosphere or a mellow one? Are any kids around? It's all definitely subjective, but I evaluate all of this and then decide if I'm just going to turn down the mic during the controversial words or if I'm going to ask the singer to find another song altogether.
From your own description, you don't appear to fit into the racial or gender groups typically represented by those words, plus you seem a bit hesitant to sing what might pop up on the screen. In that case, I'd recommend doing your song but skipping over the offensive words without drawing attention to what you're doing. Confession: At one point, I thought I might be able to disengage from my conscience and perform those words in "American Idiot" and "Oliver's Army," but I just haven't been able to do it. I'm OK with that.
As a scrawny white girl from rural Ohio, however, I'm not an expert in this matter. As such, I've asked a few friends -- some black, some gay -- for their opinions. The consensus seems to be that personally, they don't mind when they hear those words at karaoke because they're within the song's context and not directed at anyone in particular. However, my friends also said that they know of others within their groups who certainly would take offense. They'd suggest simply skipping the offensive language.
Really, it all comes down to my life's rule: Don't be a douche.
---