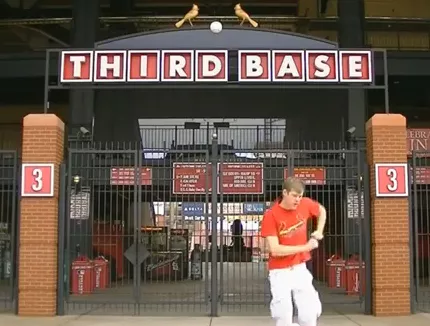 Every sport has its fan-written songs, but in Major League Baseball today, it seems like no community seems to write as many as St. Louis Cardinals fans. And most of them are awful.
See Also: - Cardinals World Series Fan Songs: A Remix, A Rally Squirrel And A Career High Point - A Whole New Ballgame: Riverfront Times uncovers secret plan for Ballpark Village cultural landmark - Cardinals-Nationals Playoff Rally
While you might find yourself embarrassed for the musicians in the videos below, don't forget that all of them are completely earnest, so it's really hard to hate them. But it is not difficult to make fun of them -- until you find yourself singing it after eight beverages at whatever sports bar you find yourself this week. Who's laughing, then?
In that spirit, here are Cardinals songs that will make you cringe, but before you laugh at the "12 in '12"-chanting Best Fans in Baseball® (or #BFIBs), try to not become obsessed with a few of these ear worms. (Except maybe this one, no one's going to be able to replicate this tuneless number by KMOX's Brian Kelly.)
Onto the list, which is sure to grow if St. Louis advances.
8. "DAVID FREESE" (THEME SONG)
YouTube Description: "'David Freese' is the best player on the "Saint Louis Cardinals" and GOD told me that he will lead the entire MLB team to win another ring this year 2012."
Cringe-Inducing Line: "Mr. Freese is so cold he might make you sneeze."
7. "Colby Rasmus Fire Burning In The Outfield"
YouTube Description "This is a music video I made about Colby Rasmus (my favorite baseball player) for his birthday August 11th. I made it from facts and observations that I already knew about him and I really hope all the Colby fans out there like it. I'm a huge fan!"
Cringe-Inducing Line: "I love Number 28, Colby's fire burning in the outfield."
Note: This one became sort of internet-famous, which is to say not famous at all. And even though this is from 2009, it needs to be heard again. You can bet Colby isn't getting this reception in Toronto.
6. "'ST. LOU' (rally squirrel)"
YouTube Description: "STL ARTIST T-WILL DA DEAL HOLDING IT DOWN FOR DA CITY """ CHECKOUT THE ORIGINAL VERSION"
Cringe-Inducing Line: "You see a rally squirrel, he's just tryna get a nut.""
5. "Cardinal Fan Song"
YouTube Description: "A great song for any true Cardinal Fan"
Rips Off: "Ramblin' Man by The Allman Brothers Band
Cringe-Inducing Line: "Lord I was a born a Cardinal fan."
4. "BIRDS" by YouTube user Shorty da Prince
YouTube Description: "Shorty da Prince goin hard for the hometeam!!! Follow on twitter @ShortydaPrince Let's GO BIRDS!!!"
Cringe-Inducing Line: "BIRDS! BIRDS! BIRDS! BIRDS!"
3. "St. Louis Cardinals Stomp"
YouTube Description: "Song from the St.Louis radio Craig Cornett in the Morning on 93.7 the Bull. Hope you enjoy it."
Cringe-Inducing Line: "Who let the Cards out?"
2. "It's Playoff Time"
YouTube Description: "Song for the St. Louis cardinals playoffs. Let's get 12 in '12."
Rips Off: This is unclear, but it seems original? Let us know in the comments.
Cringe-Inducing Line: "All right, I'm going to give you ... The line-up."
Get ready for Number 1, on the next page.
1. "Cardinals are going, going, going to the World Series"
YouTube Description: "Video and lyrics by Katie, Cori, Ashley and Jill."
Cringe-Inducing Line: "You're winners and you're going all the way, obvi'".
---