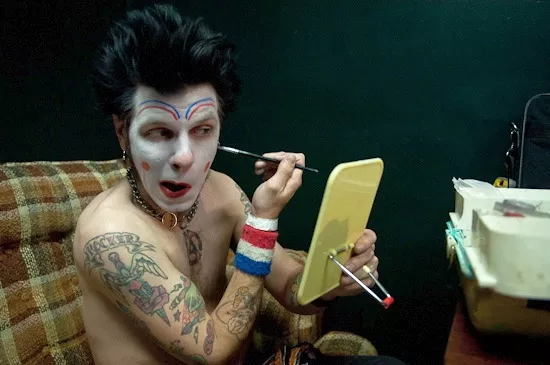 Brian Heffernan
Clownvis Presley prepares in the green room at the Firebird.
The rooms where music is made and experienced affect everything from the sound of the instruments to the mood of the people in them. Each week in Space Explorer, Brian Heffernan will tell you about a different room with significance to St. Louis music.
A hypothetical: "Would it ruin it if you went to see Chuck E. Cheese perform, but you saw Steve walking around all night before the show, and everybody knows that Steve is Chuck E. Cheese?" That's the question Mike Leahy, the man behind the Clownvis Presley makeup, poses backstage at the Firebird.
See also: -Clownvis Presley at the Firebird, 10/11/2012: Highlights -Thousands of Old Singles, Looking for Some Love: The 45 Room at Record Exchange - Clownvis Presley, King of Clowns, Pisses Off Sharon Osbourne, Mocks Howie Mandel on America's Got Talent
St. Louis is a homecoming gig. Leahy lived here until 2010, when he moved to Hollywood. A handful of close friends trickle into the green room to see him, ask how family members are doing and reminisce about his days fronting local psychobilly-glam rockers, the 7 Shot Screamers. Leahy still looks much the same now as back then--a wardrobe mostly of black, a chain wallet, black spiked upright--more rocker than clown. He steps out of the room when the openers, The Griddle Kids (led by 7SS bassist Chris Powers Jr. on guitar) and Little Rachel (featuring 7SS drummer, Kevin O'Connor) start performing, but keeps a low profile for most of the night before suiting up backstage.
The green room itself is three years old and just wide enough to squeeze an empty-shelved mini-fridge alongside a worn, autumn-colored plaid loveseat. And yes, the walls are green, a deep hunter-green, but they weren't always. Mike Cracchiolo, owner of the Firebird, says for a while they were accumulated an eclectic assortment of signatures and drawings, including a self-portrait by a member of Dead Prez, a spot-on Mona Lisa, and love letters that members of Bomb The Music Industry! wrote to fellow bands scheduled to play the Firebird after them. Then, almost inevitably, the penises came, loads of them. (Ahem.) The prickasso collection grew until it covered the walls then got greenwashed.
Rather than curate a signature wall, Cracchiolo says, they'd prefer to just keep the room looking clean, a small refuge where the touring artists can find privacy and a clown can try out a new gag. Tonight, it's a wand that packs a hidden stem of flowers that bloom in a dinky plastic potting plant. He bought it for $21.95 at Gibbol's novelty store in Laclede's Landing and tests it out a few times in front of friends backstage. The third time, he waves the wand, does a jokey little dance and wahlah, nothing happens. The audience, a few of his former band members and long-time friends chuckle and heckle their seemingly unpolished pal. He tries and fails once more before getting it on the third attempt.
But, of course, this isn't an honest demonstration of ineptitude, it's Clownvis' best schtick. He's trying out new material. He employs the cult of anti-humor with an increasingly deft sleight of hand, approaching the art of clowning as Neil Hamburger does stand-up comedy. It's so bad, so over-the-top B-level, that it's good, brilliantly satirical at some moments. Behind the costume-store Elvis sunglasses, is a man winking at those who are in on the joke and disappointing and mocking those who aren't.
Leahy started performing as Clownvis Presley six years ago, a fact that he and his local stage assistants mention with a slight sense of awe, and achieved some national notoriety after a performance on America's Got Talent in 2010, where he managed to get both Sharon Osborne and Howie Mandel to tell him to "fuck off." He recently finished a video to be released on YouTube for his song, "Barack O's Tacos," produced by the guys who do the Epic Rap Battles of History series.
As Little Rachel starts belting, Clownvis sits on the couch and begins finding his face in a seafoam-green Kaboodle he painted gold that holds his makeup.
The first step is the white base coat. His face has changed throughout the years; there were subtle variations of sideburn lengths, and the red-circle cheeks were once hearts. He's ditched the "broke ass makeup" he used to when he was starting out. Lois Lobbig of Gibbol's showed him the good stuff--the stuff Ronald McDonald buys when he comes into the store. "I ain't clowning around anymore," he says. (Wah wah.)
Soon, the other layers of makeup, a hive of impossibly tall hair, a new red nose, a sequined-blue jumpsuit, rings, glasses, a blanket of cotton-candy scented aerosol spray and the voice all pile on and bury Mike Leahy. He is Clownvis Presley now, The King of Clowns. He runs through a few stage cues with his assistants, Narvel P. Tuffnuts and "Butcher" Bautista, the sound man, accompanying musicians and Foxy LaFeelion, who provides a dazzling burlesque interlude midway through the set.
Then, his entrance music begins. It's showtime. He grabs his suitcase of props, takes a breath and hustles out the door and onto the Firebird's stage-right, just like hundreds of acts before him.
"Our greenroom's history is much the same as the venue it sits in," Cracchiolo says. "There is no room or venue that is inherently cool. It's the people who occupy it that make it cool."
---