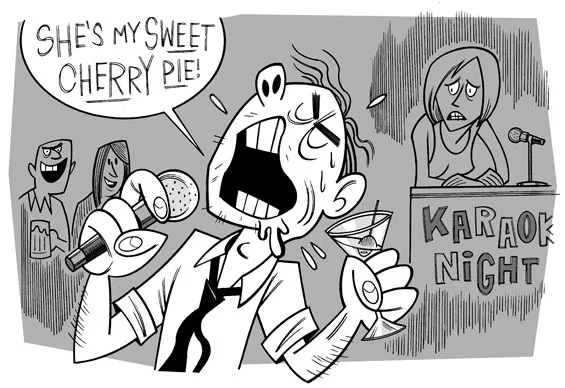 Illustration by Mike Gorman
Karaoke can be a dangerous endeavor. What can you sing that won't make friends shun you? How can you go balls-out during your next performance? Each week in "Ask a Karaoke Host," RFT Music writer and professional karaoke host Allison Babka answers your burning questions about maximizing your melodious mutterings and minimizing your friends' pain. Ask her stuff by emailing rftkaraoke@gmail.com or hashtagging #rftkaraoke on Twitter.
See also: -Ask a Karaoke Host archives -Best Karaoke 2012: DD's Irish Pub & Karaoke
Are there karaoke songs that you, as a host, are dying to hear people do, but people never sing them because they're too busy doing duets of "Picture" or other terrible things? - Tommy from the Dock
I'm so glad you asked about awesome tunes, because I was starting to feel like a real bitch for putting the smackdown on people's dream songs last week. Karaoke singers are creatures of habit - there are exceptions, but they tend to sing a handful of well-worn songs week after week. I keep my fingers crossed, though, that someone occasionally will treat me to the following gems: "Laid" by James, "Flagpole Sitta" by Harvey Danger, "Somebody to Love" and "Under Pressure" by Queen (and David Bowie), "Drunken Lullabies" by Flogging Molly, "Magnificent Seven" by The Clash and "Supermassive Black Hole" by Muse. Bring that funk, and I'll totally high five you. Like, hard.
Why does it seem like karaoke DJs have trouble transitioning between songs? There is never a flow. Is it because of us singers? - I Wanna Dance with My Baby
Yep, it's your fault. I mean, really, a lot of the flow problems happen because you guys don't pay attention to what's going over well with the crowd. Think about it: unless you're purposely listening to one of those spaztastic radio stations that genre hop enough to give you migraines, isn't it jarring to go from a full-bar singalong of "Party Rock Anthem" to a guy doing "End of the Road" with a single tear trickling down his cheek? You force us karaoke DJs to stop the party with your stupid song selections, people.
But good DJs (ahem) have ways to mitigate that nonsense through music and videos between singers as well as inspired karaoke song slotting. Everyone has their own methods, but personally, I like to think of karaoke in genre sets, just like a multi-act concert might be. Before I start the show, I arrange my first hour's worth of in-between music and choose my own karaoke selections from that genre. Sometimes I announce this genre to the crowd ("I'm in the mood for '80s! Give me some Rick Springfield or Debbie Gibson, and I'll high-five you!"), and that often gets people thinking along those lines. As people bring their song requests to me, I arrange them according to submission time, tune speed, genre and other stuff. I note song similarities and start arranging the next hour's genre set around what's popular, periodically reassessing throughout the evening. But obviously, some individual song requests don't fit into any genre during the night, derailing my queue and forcing us into that jarring effect of disparate songs being too close together. I hate it just as much as my audience does, believe me.
My advice: ride the wave of whatever is motivating the clientele that evening or, better yet, be the first one up and set that night's trend yourself. When is it OK to ask one of your friends to call it a night because they either have peaked or have simply sung too much? Can you ask without looking like you're trying to ruin their joy? - Not 2 Legit 2 Quit
There comes a point in every karaoke night when you just can't give anymore. Your voice is shot, you're tired and you've got no tolerance left for drunk people hitting on you. You're ready to go. Unfortunately, the friend you come with doesn't always agree; in his world, he's still capable of belting out "Eye of the Tiger." Screw that. If it's past 11:30 p.m., it's perfectly OK to yawn cartoonishly, high five your bud for a great evening and suggest heading back home so you can rest up for the next day's important meeting (real or fake, your choice). He may not realize that his voice has cracked from the strain he's put on it, but that's why you're there. Friends have wingmen to help pick up potential sex partners - why not use them for karaoke protection, too?
The Make-a-Wish Foundation informs you that a very sick child's one wish is to sing both the Sandy and Danny parts of "Summer Loving" at your packed karaoke night. Do you allow it? Is it ethically appropriate to make others suffer for the pleasure of one? - Silence Is Golden
Let me get this out of the way: I hate kids. Ok, I don't hate (all) kids, but I hate hearing kids sing. Sometimes entire soccer teams of urchins dine at the bar after games, and I end up babysitting those anklebiters end as they shriek Bieber songs until 11 p.m. because Mommy likes her drinky-drink too much to go home. It's not fun.
That said, I'm occasionally compassionate. I mean, everybody has a secret wish, right. Mine happens to be fully recreating the "Buffy the Vampire Slayer" musical episode starring cats, which is pretty much the best idea ever, but I can also understand some sick kid wanting to belt out songs from Grease. If cancer-ridden little Billy only wants to sing the one song, I'd allow it. Hell, the hardest part would be not jumping in on the "Shoo-da-bop-bops."
Also, you're going to hell for hating sick kids. Jerk.
As a Friday-night karaoke host at a South County bar, Allison Babka receives her share of drunken song dedications, occasionally makes people cry and even has been glorified by a singing psychic. She's considering adding "Call Me Maybe" to her personal karaoke repertoire, and she hates herself for it. Bug her with karaoke nonsense on Twitter at @ambabka, and use #rftkaraoke.
---