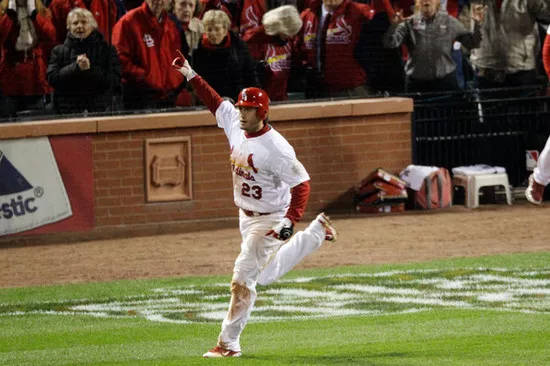 Wondering why you're suddenly hearing a Tinie Tempah song in your head?
The MLB postseason began again over the weekend--you might have noticed your sports-agnostic fans living and dying with the Cardinals' Wild Card play-in game win on Friday. You might even have noticed, in yourself, a newfound interest in the vagaries of the infield fly rule. If you noticed those things last year, you probably remember wonderful things--a city-wide revel, a shared experience of something remarkable and unlikely, people telling you how thisclose they were to David Freese in high school. You probably also remember this --"Oh / written in the stars / a million miles away."
It's the hook to a song by an English rapper named Tinie Tempah. Played under baseball highlights -- and it was, all day, multiple times during every game in last year's postseason -- it sounded, the first time, like dramatic filler music. Around five times it got melodramatic; at ten it got absurd; at fifteen it became grating and unavoidable. At twenty it wasn't even a song anymore.
That's bumper music. If you watch the same sports enough times -- the same playoffs, really, or the weeks leading up to an All-Star Game, or something else that can be packaged on TV -- you'll be assaulted by the piece of mood music some well-meaning design team chose out of hundreds more to be the perfect representation of MLB-Postseason-ness.
Right now the Cardinals are in the National League Division Series, which airs on TBS. They aren't as serious an offender in this respect as FOX, as their particular vice is to run Conan ads until you wish Jay Leno were hosting it. So I won't know until the NLCS which song FOX will defamiliarize for me this year.
But they will. More than any modern artist or academic deconstructionist or well-meaning noise band, FOX knows how to defamiliarize songs.
It's because you can't tune them out. Elevator music and easy listening, for all their various ills, are polite; if you don't want to listen, they're happy to shuffle off into the background and make sure you don't hear everyone else in the grocery store breathing. Pop music, not designed for commercials and repeated partial listens, isn't like that; the "Written in the Stars" hook insists that you're listening it, because you'll probably only hear it once before you decide to buy it or not buy it.
So I listened to the hook once, and twice, and so on. What gets you about hearing "Written in the Stars" over and over while you watch baseball is that no matter how you feel at a given moment, it's always about to pull its own heart out and show it to you. This guy has reached the point at which his dreams will either flourish into an endless string of hits and money and women or wither into nothing, and he is always singing to you from there.
You, meanwhile, are on the couch, kind of pissed about how the Cardinals aren't hitting, a little angry at your girlfriend's guy friend for putting his shoes on your futon. "Oh! Written in the stars!!" You're eating dinner and not paying much attention to it. "A million miles away!!" You're watching as they're eliminated from the postseason, and it's asking you to get psyched for another chance to watch Tim McCarver talk about all the sad and bright things inside Derek Jeter's eyes.
"Written in the Stars" only works once. It works if you're excited about the postseason, and your team is in it, and you like histrionic rap hooks. Every other time it hits you crosswise, at a weird off-putting angle, until you can't ever empathize with the singer again.
The "Written in the Stars" experience -- and if you missed it, be sure to mute FOX during all the ads this year -- is why elevator music exists. It's why grocery stores will play Phil Collins at low volume until the sun swallows the last cassette copy of We Can't Dance. When you listen to music like this--when you listen to music as open-veiny and confessional as pop hooks have been for years--you have to do it on your own time. If your listener can't choose what he's listening to, make it something without a point of view.
---