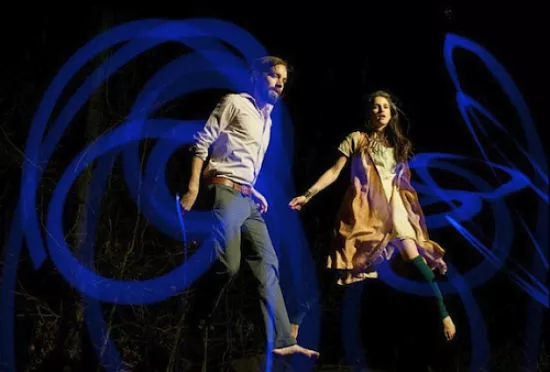 Bowerbirds - Wednesday @ Off Broadway
Before we get into it: I am sure you are all already aware that White Rabbits is playing in town this week. And I am sure you've all seen this ubiquitous press photo, wherein all the members of the band are sprawled lazily on the floor, haphazardly surrounded by their hopelessly-tangled instrument cables. Well, when looking up a suitable press photo of the band to use for this post I came across this one, wherein all band members are standing at attention with cables neatly wound and hung carefully on the wall. I mention this because I just think that it's nice that the White Rabbits are finally getting their shit together, ya know? Finally taking proper care of their gear, getting up off the damn floor already....I mean, they've shown real evolution and growth on their latest band photo. Couple that with the band's recent line-up changes (check their Facebook status update from Friday for details) and it seems like the White Rabbits just may have what it takes after all.
On to the show post: This week is chock-full, so I'm going to provide some alternates for some of the days, in addition to the picks listed below. Zammuto plays the Luminary tonight; fellow RFT Music writer Ryan Wasoba thinks you should go. The Features return to town Tuesday; the show is at the Firebird. Finally, not to spoil the weekend post, but here's a little advance notice about what's up this weekend: Ssion, Sonny Rollins, Future, and My Life with the Thrill Kill Kult will all be in town. Again, the shows listed above are bonus super add-ons to this post, so click through and see our official picks below.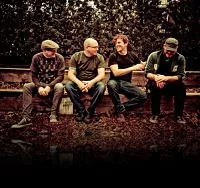 The Smoking Popes Mon., 7:30 p.m. October 8 w/ The Humanoids, Sink The Bismark @ The Firebird - $12 By Daniel Hill The brothers Caterer had no way of knowing the far-reaching effect they would have on the music world when they formed the Smoking Popes in 1991. How could they? At the time the youngest of the three, guitarist Eli, was only sixteen years old. Fast forward over twenty years, and the seminal pop-punk band's work is cited by many of today's giants of the field as an influence. Alkaline Trio's Matt Skiba has said they were one of the reasons he started a band in the first place; Fall Out Boy's Pete Wentz has compared the group favorably to fellow Chicago act Naked Raygun. In this writer's opinion, Smoking Popes blows all of the bands mentioned above out of the water. Born To Quit: In addition to some choice singles, the band will be playing its 1994 fan favorite Born to Quit in its entirety at this show. The album is also set for a late October re-release on Side One Dummy Records.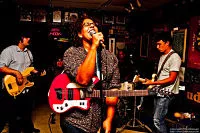 Alabama Shakes Tues., 8:00 p.m. October 9 @ The Pageant - $22.50/$25 By Christian Schaeffer Alabama Shakes can thank some famous fans with a few thousand Twitter followers for the band's recent spike in popularity -- both Adele and Bon Iver's Justin Vernon have sung the bluesy, Southern rock quartet's praises of late. But a million retweets can't take the place of Brittany Howard's soulful howl, which hides its sweetness inside sweat and thorns and razor-wire guitar licks. There's a short but loaded four-song EP to the band's credit, but it's enough to raise eyebrows and increase heart rates. Can a band this good stay this good without some indie-famous producer fucking them up or a Black Keys-style media saturation assault? Here's hoping. In Good Company: The Shakes finds itself increasingly mentioned alongside soul revivalists like Sharon Jones & the Dap-Kings, JC Brooks & the Uptown Sound, and Black Joe Lewis & the Honeybears.
Psychosomatic Wed., 9:00 p.m. October 10 w/ Black Fast @ Cusumano's Pizza - $5 By Daniel Hill Sacramento's Psychosomatic has been playing blistering crossover thrash since the genre's heyday over 20 years ago. Their style is moreso from the early Corrosion of Conformity school of thought than the DRI one, with intense technical riffage over thunderous drumbeats and gnarly vocals. The thrash resurgence of the last decade has exposed this classic band to legions of new fans, and it's good to see a relentless touring schedule bringing the band through St. Louis again.
Bowerbirds Thurs., 8:00 p.m. October 11 @ Off Broadway - $10-$12 By Roy Kasten Freak folk hasn't been freaky since Joanna Newsom put down her harp and started hanging out with MGMT. Even the godfather of the gloaming, Devendra Banhart, has been remixing Oasis and dabbling in tropicalia. But to the young suburban woodsmen and woman of the Bowerbirds, folk and pop have never been enemies. Since 2006 they've been trilling out lo-fi, acoustic ambience that would be unremarkable save their command of texture, tone and beats, even when the latter is but boots on a hardwood floor. For this year's The Clearing the band opens up to plushness -- horns, strings and pianos -- without negating its folk purpose: an eeriness that's rarely studied and often tuneful. Don't Miss: Opening act Strand of Oaks can sound just as quietly fetching as the headliners, but, led by Timothy Showalter, may possess even more compelling material.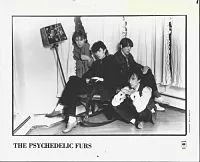 Psychedelic Furs Fri., 8:00 p.m. October 12 w/ The Lemonheads @ The Pageant - $27.50-$30 By Christian Schaeffer Nostalgia package tours normally try to recreate a moment in time or a certain strand of music with the pairings of once-and-again bands. Not so with the Psychedelic Furs and the Lemonheads double-bill -- neither band shared a scene or space on the charts, but the knack for solid pop music is common ground enough. The Furs rode the crest of post-punk and new wave before finding ubiquity thanks to a certain John Hughes film named after one of their songs. The Lemonheads has been the main vehicle for Evan Dando's often glimmering, sometimes shambolic brand of pop-punk and power-pop. You can wrack your brain searching for commonalities, or you can simply sing along to some old favorites.
Roland Johnson & Voo Doo Blues Fri., 10:00 p.m. October 12 @ BB's Jazz, Blues & Soups - $5 By Jaime Lees Roland Johnson is a true entertainer. This charismatic local soul performer can be found any week during regular gigs at Beale on Broadway, BB's Jazz Blues & Soups and Hammerstone's. Usually backed by the Voodoo Blues Band, Johnson steps out on stage ready to entertain. He's smooth, cool, dancing and snapping as he sings classics from Solomon Burke and Tyrone Davis. He's also always dressed to impress, his slick style complimenting the Stax-esque brass blasting at his side. Johnson's impassioned performances are a big hit with blues fans; he wins them over by the hundreds at events like the Big Muddy Blues Festival and the Old Webster Jazz & Blues Festival. True Love: Some call Johnson the St. Louis Otis Redding. Is there a greater compliment?
Los Lobos Sat., 8:00 p.m. October 13 @ Plush - $30/$32 By Roy Kasten It's safe to say no wedding band in history has attained the critical acclaim or artistic heights of Los Lobos. The group's longevity is extraordinary -- five decades with the same core lineup. Its muscular, unyielding transformations of American and Latin folk music truly have no equal. What other band could submit to Mitchell Froom's studio deconstructions and still swing with soul, take Disney soundtrack tunes and keep its rock cajones or so fully embody the immigrant experience that is the story of all of us? And still Los Lobos' guitars and rhythms sizzle with la vida.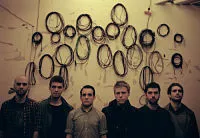 White Rabbits Sat., 8:00 p.m. October 13 @ Off Broadway - $13-$17 By Kiernan Maletsky From this early 2012 interview: White Rabbits formed in Columbia; two of its members grew up in Webster Groves. But all that was forever ago. It's been five years since the band moved to New York, and the three records it has released seem to span several lifetimes of evolution. Relatively early success meant we watched White Rabbits the whole time, through the apocalyptic Calypso of Fort Nightly and the confident rock & roll of the Britt Daniel-produced It's Frightening. And earlier this year Milk Famous, album No. 3, arrived. This time the sextet's sinewy array of drums and guitars moves in strange directions through eleven tracks. If It's Frightening was the tank division, then Milk Famous is guerillas in the jungle. We spoke with guitarist Alex Even just after the record's release about the edge of sanity, expectations and suburbia.
The Octopus Project Sun., 8:00 p.m. October 14 @ The Firebird - $12 By Ryan Wasoba We live in an age where electronic musicians commonly tour in the same circuit as rock bands. In other words, EDM artists are finally catching up with The Octopus Project. The Austin, Texas, quartet has been recording, touring and generally kicking ass live since the year 2000 (or about as long as the average Skrillex fan has been alive). With a barrage of instruments from thrift store Casios to electric guitars and a healthy serving of theremin, the Octopus Project perfects the Jetsons-esque view of the present millenium in which nostalgia and futurism coexist in a delightful panic. The Company It Keeps: The Octopus Project can list Explosions In The Sky, ...Trail Of Dead, the Sword, and Man Or Astro Man? as its tour buddies. Oh, and Devo. The band toured with Devo.
---