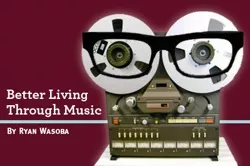 Art and life co-habitate, informing, imitating, and enriching each other constantly. Each week in Better Living Through Music, RFT Music writer Ryan Wasoba explores this symbiotic relationship
This weekend, the Site/Sound exhibition opens at Laumeier Sculpture Park. Local electronic sensei Eric Hall invited 70 or so local musicians to record pieces inspired by different sculptures in the park. These folks range from seasoned sound scientists (Raglani, Darin Gray) to oddball rock bands (Humdrum, The Conformists) to pretentious ass clowns who are genetically unable to grow a "noise guy" beard (Ryan Wasoba).
I leapt at the opportunity to contribute. I was giddy when I received Hall's email, but I wasn't anticipating the tension between the visual and aural mediums. The beauty of any art form is its vagueness. A song may hint at images but it leaves space for interpretation. A piece of visual art is arguably less suggestive toward an accompanying sound. This issue manifests in music videos. I can't hear "Today" by the Smashing Pumpkins without thinking of an ice cream truck, or "Fell In Love With A Girl" by the White Stripes without thinking about Legos. This is not necessarily negative, but the practice takes away some mystery by implanting an image into a song.
The larger tension with Site/Sound is one of time. A sculpture might inspire a sound, but it gives little suggestion to how long the sound should occur. An observer may need to examine a sculpture for a while before its details are fully revealed, but a listener can only comprehend a track in real time. How long can a Laumeier visitor be expected to stay in one place, listening to one piece of music while looking at one sculpture? Eric Hall posted the artists' contributions on his Bandcamp, and it's fascinating to see the variety of reactions to the park's collection. I worried that my piece for "House Of The Minotaur" was too long, but its five minutes is only an eighth of N. Nomurai's take on "St. Louis Bones." I thought my interpretation of "Laumeier U-ME-UM" may be too abrasive, but many other locals took noisy routes with their sculptures. Most fascinating to me are the tracks with words, ones like Mikey Wehling & The Reverbs' "Walking Roots" (with its awesome Neil Young goes jazz guitar solo) and Death Of Yeti's sludgy "Eclipse"; writing a quasi-conventional song for an abstract sculpture seems to me like a daring venture.
This experience has made me rethink my attitude towards visual and sonic pairings. I don't feel that the musicians of Site/Sound are bossy, that they set out to create the definitive sound for each sculpture. I have probably harbored a negative attitude toward music videos as well. I recently saw a screening of Koyaanisqatsi, a film of brilliant cinematography set to the music of Philip Glass. Some of those visuals are intense - bombs, building implosions, hot dog factories - but I find it possible to hear Glass's music without thinking of stop-motion photography, unless I really want to.
I am curious to hear what people think about Site/Sound, not so much about the music itself but how the tracks coordinate with the artworks. I am sure some will be received more positively than others, that some will be replayed while others will rarely be listened to in entirety. I am sure some will leave heads scratching as to how the sculpture could inspire its soundscape. I am positive I will hear a few hesitant "Uh...good job..." responses about some of my pieces.
The best thing this exhibition can accomplish, the greatest thing any piece of art can hope for, is an open discussion - about art, sound, vision, noise, music, composition, improvisation, form, structure, time, space, energy. Even if we're not all better people after Site/Sound, we'll at least have something to think about.
---